Christopher Allen
is creating a world of new talented photographers
Select a membership level
Digital Dopeness Investor
Get up to date content information regarding our Digital Dopeness Kids and their progress. Your $8 monthly contribution will help fund camera supplies, accessories., and gift cards.  



Digital Dopeness Kid's Club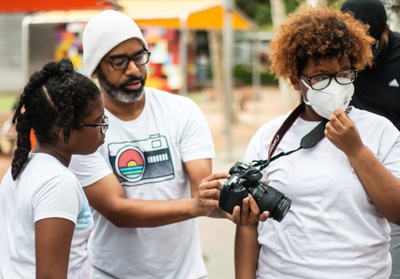 Monthly photography class taught by Photographer Christopher Allen

* Will learn the difference between smartphone photography & DSLR Cameras
*Will learn how lighting can make or break your photos 
* Will learn the different types of photography 
* Will MEET and LEARN from professional photographers from different genres of photography 
*Will meet up once a month for hands on photo walks
About
Welcome to our Digital Dopeness Kid's Club

Digital Dopeness Kids is created for kids between the ages of 6-16 who want to take their photography and video skills to the next level.

I have over 10 years experience as a professional photographer. I have photographed hundreds of different types of events from concerts, birthday parties, celebrities, red carpet, to weddings and real estate.

My mission is to teach students how exciting the field of photography can be. I will be their personal photography coach. I will introduce them to other professional photographers who offer different styles and photography interest.
Welcome to the Club. D I G I T A L D O P E N E S S K I D S You can cancel at any time.

*****100% MONEY BACK GUARANTEE*****
Once you register your child for Digital Dopeness Kids or sign up and aren't totally blown away by the results, just send me an email and I'll send your $49 back. [email protected]

You're able to cancel any time you want. You're not locked into any sort of contract.

My mission is to truly teach, motivate, and inspire students by sharing my knowledge and experience being a professional photographer. Photography is a skill that can open doors for future opportunities. PLEASE NOTE - PATREON ONLY HAS THE OPTION TO BILL AT THE 1ST OF EVERY MONTH. IF IT'S TOWARDS THE END OF THE MONTH, AND YOU CAN WAIT - MARK IT ON YOUR CALENDAR TO JOIN THE 1ST OF THE FOLLOWING MONTH!Our Websites
www.digitaldopenesskids.com
www.shootyourshottx.com
My Direct Contact
713-855-0436