Dina Norlund
is creating Illustrations and Stories
Select a membership level
Scout
★ Join the monthly community Art Jam challenge! Every month we host an art challenge over on our Discord community and we base it on a collectively chosen theme. After the deadline I feature all the entries on Patreon and Instagram Stories!

★ Monthly QnA podcast answering any questions you might have about anything! 

★ Vote on monthly themes and other decisions I need to make!

★ Access to the Art Community on Discord! 


Includes Discord benefits
Apprentice

★ A monthly written newsletter
with thoughts, projects, sketches and everything going on in my life/career! All the secrets and experience I have working as a freelance artist with my own projects. 

★ Private Patreon-only livestreams!
Where I will draw whatever you want me to draw for 1-2 hours. Could be requests, challenges, critiques, absolutely anything! Once a month, around the first week!

★ Monthly "Learn with me" videos!
Starts from January, slow videos where I explain how I do stuff. You will also get to vote on what the video will be about. Very excited to offer this! :D
☆ + All previous tier rewards!
Includes Discord benefits
Hush-Hush' Explorer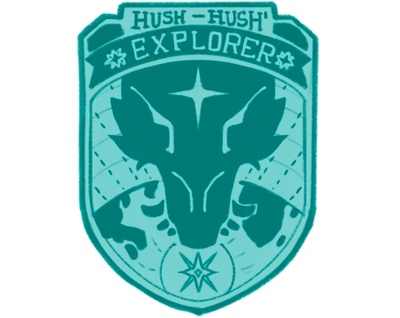 ★ 1 Monthly exlusive Hush-Hush' explorer postcard A postcard from Juniper Marlee's travels around the world! It might be from the rainy UK or the tropics of Thailand, but in every location Juniper visit she will attempt to illustrate the creatures she discovers. The creature will be based on the habitat, nature, people and mythologies of the native area of which I— *ehem* Juniper finds herself that given month. Join in the design of these creatures monthly on Twitch where Patreons will get the loudest voice and help me figure out exactly what these newly discovered creatures might be!

FYI: The postcard will not have an envelope, it will look like a classic, old style postcard directly in your mailbox! More like a tourist sending a update from a country... but with my art! Postcard also comes with a custom stamp.

★ 2 Patreon Request Streams When we have our private stream twice a month you will have the chance to request a custom sketch from me, it can be anything: a original character, DND character, your pet or yourself! We usually manage 3-4 sketches per stream and the requests are chosen by a random number system. Apprentice tier Patreons will join the chat but can't request.The streams will happen the 2nd and 4th week of the month.

★ 20% discount code on Teespring and my personal Shop! As a thank you for being a Patreon you will recieve a discount code every month in a message that you may use in my shop (for books) or on Teespring (T-shirts and Merch). Since my personal shop might only have new products once every few months I have also included Teespring as an option. There I will create a new t-shirt, mug and tote every month based on our monthly Art Jam piece!

☆ + All previous tier rewards!
Includes Discord benefits
About
★

DINA

NORLUND

'S

PATREON PAGE

★
Welcome to my Patreon page! My name is
Dina Norlund
and I'm an artist from Norway. If you have stumbled upon this page you might know me from Instagram, Twitch or even Youtube! Or maybe you picked up one of my books at one point. Either way, thank you so much for stopping by
♥

I enjoy all sorts of art, both digital and traditional, but my main focus overall is to create stories! In 2018 I quit my full-time concept art job (yes, I am actually a concept artist) and decided to plunge straight into the unknown of working with my own art and community. Since then I have become self-sufficient (and supported fully by Patreon), created a children's book, short comic zine, art-book and even a graphic novel. Easy to say I have no idea what I will do next, but I'm sure it will be an adventure!
Speaking of adventures, my highest tier
Hush-Hush' Explorer Club
is actually funding an expedition of Miss Juniper Marlee! She is traveling to the worlds' hidden places and documenting creatures of all sorts of mythical origin. From unicorns to mermaids, gnomes and fairies and even some completely new, never before seen beasts. You'll receive an exclusive physical postcard from her every month with a new documented creature and a small note from Juniper about her experience and life. See it as a new form of storytelling through postcards!
Her postcards are also funding my (Dina) travels as a digital nomad around the world! The creature will be based on the habitat, nature, people and mythologies of the native area of which I — *ehem* I mean Juniper, finds herself that given month.
Please check out all the other cool rewards for the tiers above (or below) and do let me know if you have any questions by DM-ing me on Instagram or Twitter
@dinanorlund
or if you're already a Patreon send me a message directly here on Patreon!
You can join at anytime and leave at anytime!
You get access to all previous post as soon as you pledge. If you pledge to the Explorer Club that includes the physical postcard, you will receive your first package after your pledge has been processed at the beginning of the next month.
Example: You join 15th of July. Your card will be charged 1st of August and your postcard will be shipped on th 5th of August. This is then the July postcard and not the August postcard!
Thank you for your support!
If you do decide to pledge to my Patreon you are directly supporting me and enabling me to start and finish bigger comic and story projects without the help of publishers! Thank you for allowing me to live doing what I love
♥
$3,136.33 of $4,000
per month
If we we hit the 4k again we will do another massive 12 hours stream party with cake and sketch requests for everyone! :D

Reached once in December 2019!


4 of 5
Become a patron to
Unlock 203 exclusive posts
Connect via private message
Recent posts by Dina Norlund