Disabled Domme Diaries
is creating a diary space for kinky convos, erotic art, & sensual self-care!
Select a membership level
A Dear Dollar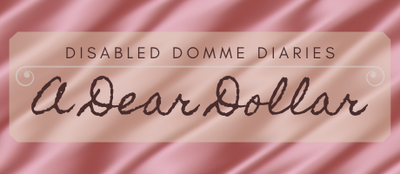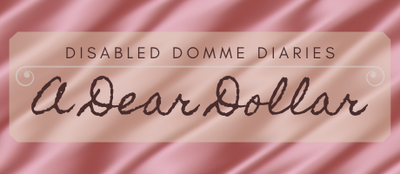 This tier is simply a way to show Their Majesty what support one can. Even if there's nothing to give for a higher tier, still come here and join the community. Even a dollar funds fun to be shared.

Affirmation Station
A self-care space for anyone who wants it; disabled, kinky, both, or neither. Here, find reminders of our power; of the amazing strength we carry as individuals and as communities; and of the amazing things we can do regardless of our limits.

The Kink Castle
Used properly, Kink can be an amazing opportunity for self growth. Here I share some of the tools that have helped me best in my kink practice, privately, professionally, and even personally. Tune in for upcoming discussions spanning from kink history and the basics to hardcore BDSM practices, and anything else requested. Let's indulge our kinky curiosities!

This tier also includes early access to advice column responses and original Fetish-education texts and bonuses relating to consultations, workshops, and more!

About Disabled Domme Diaries
Welcome! I'm Princess Camellia, a fetish artist, dominatrix, and lifestyle kinkster. I started
Disabled Domme Diaries
to create a guilt-free space where I can discuss my personal relationships with both kink and chronic illness. Here and on my other platforms, I invite others to do the same.
I've engaged with kink and alternate expressions of sexuality in small, even academic, ways since the beginning of my sensual journey. After years of avid reading, writing, and research, I finally found the opportunity to start seeking out workshops and the kink community I knew was waiting for me. This is where I stay, writing my journey and sharing my work.
I solidified my hands-on kink work by studying with The Taillor Group and in other workshop spaces. There, I not only finalized the base skills I needed to play safely and confidently, but gained tools to expand my practice into my personal life and art practice as a way to finally give my body acces to a form of care and appreciation that has been so inaccessible for so many years.
I was born with
Sickle Cell Anemia
, a genetic blood disorder that touches every part of my life. It's a hard thing to spend decades simply trying to reckon with the body you inhabit. Even harder when you realize that half the barriers in your way are social opposed to medical. Handling either is hard enough; both is a separate journey entirely: a journey I welcome you to share in.
I'm an artist at heart, and even think of my domme work as not just play and scene work, but personalized experience curation. I'm endlessly proud of the creative work I do and the effect it's had not only in my life, but in the lives of those I've been lucky enough to play, learn, create, and grow with.
In my work as artist and writer, I want to live a life that fully embraces my sensuality as one of the great things my body is capable of. My work and education in kink has been a wonderful extension of that. Even as it makes the world look at me as more and more taboo, I can't help but feel happier and more thoroughly enabled each day.
The healing process is not linear; the rules are not clear. Luckily, I happen to be someone who likes to make her own rules. I am more than the flesh that binds me, but that doesn't mean it's not equally worthy of the love, respect, and pleasure I crave.
So come with me to heal, to change, to get to know ourselves intimately and beautifully, and to get in a little trouble along the way.
xoxo,
Their Majesty, Princess Camellia Diarist

Disabled Domme Diaries
.
👑🌺
At the goal of $350/month I'll be able to fully fund all of the repeat expenses of my practice! At this monthly goal, I hope to add to the variety of ways I'm able to connect with all of you. I would love to offer audio versions of my content for increased accessibility.

1 of 4
Become a patron to
Unlock 67 exclusive posts
Connect via private message
Recent posts by Disabled Domme Diaries
How it works
Get started in 2 minutes