DM Dave
is creating all things Fifth Edition.
Select a membership level
Neverending Dungeon Pass
This tier gets you access to all of the Neverending Dungeon rooms. You also get access to the Discord, polls, and all free content on the site.
Note: this tier does not include the other PDFs that come with being a DMDave patron, only the Neverending Dungeon PDFs and free content.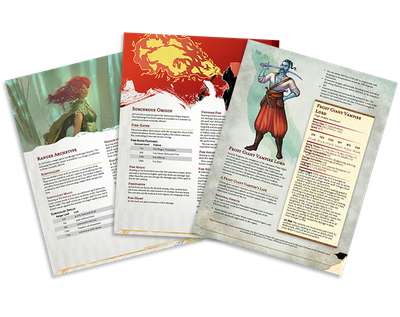 Copper Club
Copper Club members get the following benefits:
Daily PDFs.  The majority of the Patreon Exclusive PDFs you will receive (excluding Silver+, Premium Collections, and BroadSword).
Ability to vote in all surveys.
Discord Channel Access. You can join our Discord channel and speak directly to DMDave. 
Requests. Once per month, I ask for requests. The rules for requests are detailed when they are called for.
Silver Club
 Silver Club members get the following benefits:

All previous benefits.
The Archive. Looking for an easy way to navigate all of DMDave's content? The Archive organizes everything—Patreon and the blog both—by content type, sub-type, and alphabetical order.
Premium PDF Collections. Once per month, I'll sew up all of the PDFs into a Premium PDF for easier downloading in both a separate zip file and a single PDF.
Silver+ content. Some of the content created is for members of Silver-tier only.
About DM Dave
Join now and get more than 90 PDFs
Here's what else patrons get:
DAILY PATREON EXCLUSIVE CONTENT PDFs
Each day (or at least mostly each day) I try to create PDFs and material exclusive only to Patrons. Usually, these are requests that I'm working on or cool ideas that I get. They can be anything from new monsters to new classes and subclasses, magic items, or whatever pops into my head!
Once a month, I wrap them up into supersized collections called Buckler (Silver Tier and up) which allows you to print and organize them as you see fit.
Neverending Dungeon
Neverending Dungeon is exactly what it sounds like: a dungeon that never ends. At least once a week (and each time I gain 10 new patrons) I create one room of this sprawling dungeon.
SPECIAL NEVERENDING DUNGEON PASS
Interested in just the Neverending Dungeon? For only $1, you get access to all the Neverending Dungeon Rooms.
Stretch Goals
Unlock new campaign settings, how-to books, and more with DMDave's stretch goals. So far, Patrons have unlocked a book on race creation, a Wizard of Oz campaign setting, and Aberranterra, a gonzo post-apocalyptic world that's like "Lovecraft meets Zombieland."
BROADSWORD MONTHLY
BroadSword Monthly
is a physical hardcover book with 100-pages of DMDave adventures and goodies.
Subscribers of the Electrum tier and up get the
PDF copy
of BroadSword magazine. And subscribers of the Gold Tier and up get the actual
physical copy
.
Plus, starting in the fall, platinum subscribers will get the BroadSword Swag box which will have all sorts of goodies packed into it.
POLLS, SWAG, AND MORE
All Patrons get to participate in all the major polls which influence the content that I create here on the site and on DMDave.com. 
There's also swag (coming soon) and certain tiers get to win a copy of the Kickstarter books when they come out, such as BroadSword Monthly.
===
This page and its content follow the guidelines for the Open License Agreement. You can read more about the 
OGL by clicking here.
Homebrew School
At 575, this Patreon account will officially surpass my day job, making my side hustle my day job and my day job my side hustle (wife won't let me quit then, though womp womp). However, I plan on adding an official weekly "class" on helping people create their own original Fifth Edition content. I don't know all the details yet, but this is by far the thing that gets requested the most.
6 of 7
Recent posts by DM Dave
By becoming a patron, you'll instantly unlock access to 379 exclusive posts
By becoming a patron, you'll instantly unlock access to 379 exclusive posts