Shawn Wallace
is creating music and podcasts
Select a membership level
Transcribable
Transcribable is a new series of improvisations on Instagram, Facebook and TikTok; intended to provide clear jazz vocabulary performed over standard chord changes. Each improvisation will focus on change playing, feel and eighth notes in order to clearly communicate voice-leading, proper chromaticism and resolutions. Everyone will be able to benefit from this series; but it will be particularly helpful for advanced high school to college improvisation students. 

Thanks for the Support!
Blue Pill Testimonials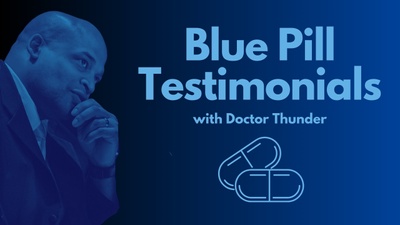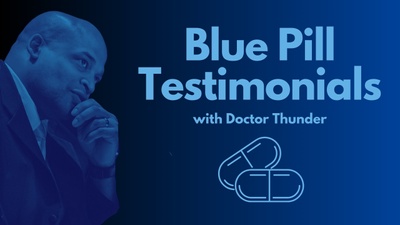 Blue Pill Testimonials with Doctor Thunder Doctor

Thunder takes you down memory lane with frank discussions about past romantic relationships. It is his hope that by bringing light to his failures with women that you will see that you're not the only one that has struggled with romantic relationships. And, that you can avoid making the same mistakes. These discussions are not intended to expose anyone from Doctor Thunder's past nor are they meant to cast a dark shadow over all women. However, they are intended to show that many of the common narratives about toxic masculinity, the unavailability of good men, the general low quality of men and etc. do not agree with his experience.

Thanks for the Support!
Professor Hot Licks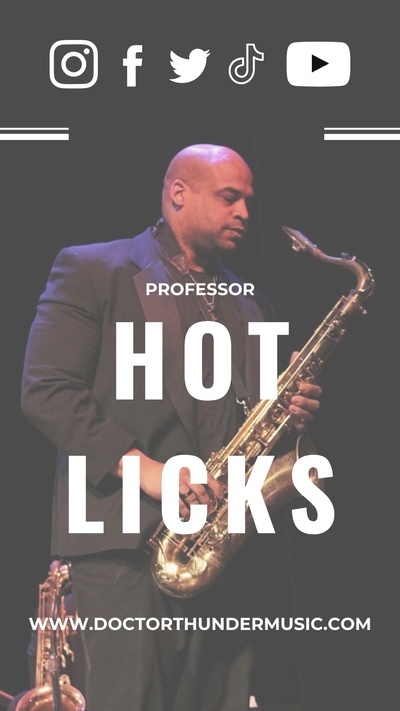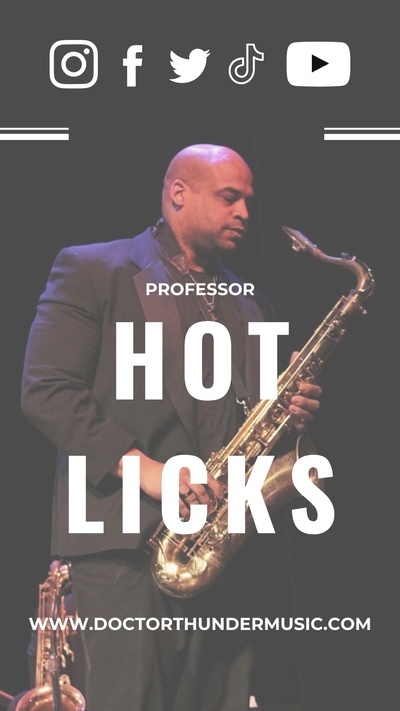 Doctor Thunder (aka) Professor Hot Licks set out to video an improvised lick "Hot Lick" every day for a year; plus a day for leap year! Now, there's a book with all of these Hot Licks written out in 12 keys and for every instrument! This will be a great way for you to develop technique and a mastery of bebop and modern jazz patterns and vocabulary.

Thanks for the support!
About Shawn Wallace
Shawn "Thunder" Wallace is a versatile performer, recording artist, composer, clinician and arranger, skilled in jazz music and equally comfortable with classical, contemporary Christian and gospel music. He has been seen and heard nationally on CBS, BET, NBC, and NPR. In addition to receiving recognition from many newspapers and publications including
Billboard
and
Contemporary ChristianMusic Magazine
, he is a winner of
Downbeat
magazine's Outstanding Soloist award.
Dr. Wallace is the director of Jazz Studies and associate professor of jazz saxophone at The Ohio State University. He is also the minister of music and worship arts at Second Baptist Church. He has released eight CDs, is a multi-instrumentalist (saxophone, flute, clarinet, piano, bass, and guitar) and is the leader of Perfect Storm and The Shawn "Thunder" Wallace Quartet. Dr. Wallace is a Vandoren Artist and endorses Gemeinhardt musical instruments. He appeared in the 2017 movie
Miles Ahead and
authored the book
How to Improvise over Chord Changes
(Hal Leonard, 2018). Dr. Wallace tours frequently with The Count Basie Orchestra and also regularly performs with The Columbus Jazz Orchestra.
Content Descriptions:
The Quarantine Interviews
- Series of interviews that were/ are video'd during the Corona Virus pandemic. I interview successful artists, musicians, motivational speakers and pastors. So far I've interviewed Dr. James Bunte, Kris Johnson, Hamilton Hardin, Byron Stripling, Trent Kynaston, Rodney Whitaker, Quincy Davis, Quamon Fowler, T.K. Coleman, John Wojciechowski, Richie Castellano, Frank Greene, Victor Wooten, Dave Powers, Bobby Floyd, Brian Skonberg, Donald Harrison, Dr. Scott Belck! Upcoming guests include Carmen Bradford, Vincent Chandler, Benny Green, JD Allen, Doug Lawrence, Joel Brooks, Jr, Rick Beato, Jimmy Greene and etc.
Live Performance Videos
I regularly video my performances and frequently post excerpts and sometimes even complete concerts! I perform with world class musicians and produce premium live performance content!
Lessons with Doctor Thunder
Lessons with Doctor Thunder are short clips from Dr. Shawn 'Thunder' Wallace's applied lesson studio.
Lectures with Doctor Thunder
There are several complete lectures on my YouTube channel that range in topics from Practicing, Professionalism, Jazz Concepts and etc.
How I Can Use Your Support:
I have written several compositions for DTQ (The Doctor Thunder Quartet). These selections have yet to be recorded. I'm raising $1500 in order to produce my next jazz album. Thanks for your support in advance!
By becoming a patron, you'll instantly unlock access to 2 exclusive posts
By becoming a patron, you'll instantly unlock access to 2 exclusive posts
Recent posts by Shawn Wallace
How it works
Get started in 2 minutes