Doig & Swift
is creating Animation & Comics
Select a membership level
Adventurers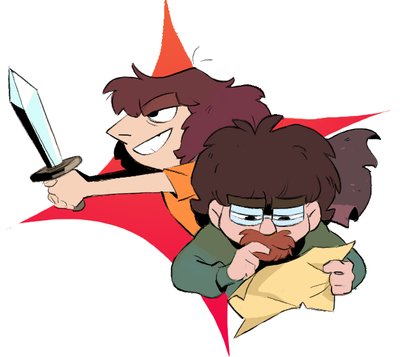 There's no tiers here. This is a 'donate whatever you'd like to' system. We'll post our content here, no strings attached.


As patrons, your support will directly provide us with the time and stability to make and share illustrations, comics, animations and tutorials.

About
Hello! Thanks for spending some time to check out our Patreon! We hope you've found your way here because you've seen some of our animations, and we just want to say thank you for watching our work! If you're curious about how to support us further, you're in the right place.
Who are Doig & Swift?India Swift
is a 2D animator with big dreams and
Michael Doig
loves to colour.
Together, we're a couple of storytellers who love making animated films with heart and sincerity. We run the
Doig & Swift Youtube channel
, where we post finished animations alongside process videos, and tutorials.
We recently directed the music video
TWRP | Starlight Brigade (feat Dan Avidan)


What will the Money be used for?
Animation is a time consuming process, the most important things this money affords us is the time and stability to create great and meaningful work. Between us we animate, light, colour, paint and composite which requires several weeks / months worth of us working full time.
We've been making independent comics and animations for while now, and we're determined to keep making stories we care about. To expand what is possible for us, in the future we will use patreon to pay illustrators & animators to collaborate with us!
What will you post to Patreon each month?
We want you to join us as we strive to bring our projects to life. We love to share the things we've learned and so we'll be heaping our posts with behind the scenes material and
tips & advice
on how we make stuff!
Here is a summary and guide for helpful posts from last year.
REWARDS (for everyone!)
Every post we make on Patreon will be public, and will remain free for everyone. Our aim is to
de-mystify
the process of creating to help inspire other artists to create what they can imagine.
Do you livestream?
We do! We stream to
Youtube
and
Twitch
regularly to share insights into our process, answer questions and make cool stuff. Our streams are chill and wholesome, and everyone's welcome.
ANIMATION BREAKFAST STREAMS 7:30-9:00AM BST | MON WED FRI
Thanks for checking out our patreon! We're thankful from the bottom of our hearts for anything we receive, it helps us to continue doing what we love.
$307.19 of $2,000
per month
Patreon Fulltime!

Working on the projects which excite us most, we'll be able to dedicate our work hours to creating amazing comics and animations at full steam!

3 of 5
Recent posts by Doig & Swift