dollipop
is creating POPart • bold lines, bold colors, bold girls
Select a membership level
✨poplings✨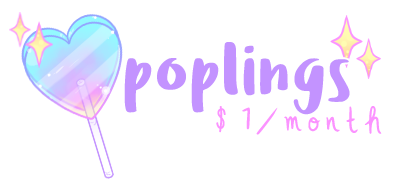 Aka the "more art" tier. This tier is for those who need a little extra POPart in their lives. Think of it as a premium art feed with behind-the-scenes looks, bonus content, and more! 


For just $1, you will get:
• Access to lenses + the IG "close friends" feed. Lenses are Patreon's version of stories on IG. You'll also get added to my IG "close friends" group for even more WIPs, life updates, and behind the scenes goodies - just make sure to send me your IG name!
• Access to WIPs + sketches. You'll see WIPs and studies that nobody else sees, as well as an (almost) weekly sketch that is usually for Patrons' eyes only!
• Early access to all of my finished art, before the rest of the internet sees!
• Access to polls about new drawings, future blog posts, big projects, and more. Help me decide what to draw next!
• High-resolution images* of my polished pieces so you can see them in all their glory - tiny details and all.
• Wallpapers* of nearly all of my pieces that are tailor-fit to phones, tablets, and computers. (2+ per month)
• Specially-formatted coloring pages* - these pieces are drawn specifically to be colored. Either take them into your favorite drawing program, or print them out and attack them with colored pencils. It's your choice! (1+ per month)
• Printable goodies* that fit with the month's theme, such as planner sheets, calendars, to do lists, etc! (1+ per month)


PLUS a digital "welcome package" containing a speed paint with accompanying PSD and tutorial, a coloring sheet, wallpapers, and more!


* items marked with an asterisk are archived at the end of the month.

✨pop fans✨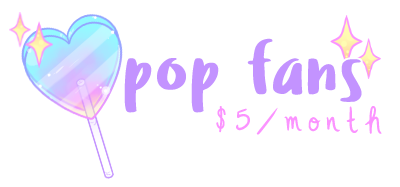 Aka the "teach me" tier. This tier is for those who are more serious about learning from my creations through tutorials and critique - and even includes a one-time physical reward!


For just $5, you will get:
• All previous rewards (lenses, WIPS, Patreon-only content, polls, early access, high-res images, wallpapers, coloring pages, printables, AND digital welcome package)
• A critique of ONE piece of art per month. Help me put my degrees to good use! I can offer anatomy help, composition help, coloring help, Photoshop help, networking help, answer any technical questions, and more. These critiques take place via email.
• Alternatively, you may make ONE doodle request if you would prefer that over a critique!
• PDF-format tutorials or process steps with explanations for either full pieces or specific techniques - usually around 15-20 pages worth of detailed information. (1+ tutorial per month)
• Access to my PSD files, fully labeled and annotated, so you can follow along with the image tutorial. (1+ per month)
• Access to exclusive video tutorials - now just for Patrons! These tutorial videos will teach specific techniques or give you a broader understanding of a topic. (1+ per month)
• Access to the archives. Missed a tutorial? Want to reference back to a PSD from before you first pledged? Need a new wallpaper? Instantly gain access to the content archive with this tier! (Please be responsible with archives and do not redistribute archived material.)


PLUS I will send you a sticker and a handwritten welcome note when you first pledge! (International letter mail, no tracking.)

✨pop stars✨
Limited (7 remaining)
Aka the "sticker club" tier. This tier is for people who like the idea of collecting my art through a monthly exclusive sticker and trading card club, and custom created pieces. NOTE: once my online shop opens, this tier will gain additional benefits!


For just $10, you will get:
• All previous rewards (lenses, WIPS, Patreon-only content, polls, high-res images, wallpapers, coloring pages, printables, speed paints, tutorials, PSDs, critiques or doodle requests, early post access, access to the archives, AND digital welcome package AND sticker and handwritten welcome note - WHEW!)
• One high-quality, weatherproof vinyl sticker will be sent to you every month. The stickers change each month, and once sold out will never be re-printed! (Note: extras may be offered in giveaways or sold later on during a Patron-only sale.) 
• One special dollipop trading card per month. These trading cards are mini-mini prints (trading card sized!) that fit with the monthly sticker theme, and will never be re-printed! They're also individually numbered and signed. Collect them all!
• One original sketch per month. This is a one-of-a-kind traditional sketch that fits with the theme of the sticker and trading card.
• Advanced commission slotting when commissions are open. I always open commissions in limited slot availability, but members at this tier will have first dibs on slots.
• 15% off of commissions! All types, all sizes, every single time.


PLUS you will get a one-time postcard-sized print when you first join! This will be a stiffer, larger print than the normal trading cards and is holographic!

Please note that all physical rewards are mailed with free international letter mail, but do not include tracking. Additional tracking may be added for a fee.

About
✨ WELCOME TO THE POPNATION ✨
What's up! I'm
Rosie
, but online I usually go by
dollipop
. I'm an artist in my late twenties from San Antonio, TX, and I mostly specialize in
character illustration
. My passion is drawing kickass girls who are a little rough around the edges, and I love to reclaim the pinup genre using bright colors and bold lines paired with tongue-in-cheek, pro-feminism humor in my artwork.
I create what I like to call
POPart
- which is my own brand of in-your-face, positive illustration. POPart stems from my belief that
art can be
light-hearted and fun, but still change the world for the better
. If that sounds like something you're into, you've come to the right place. Welcome to the POPnation.
✨WHY PATREON? FOLLOW-UP, WHAT IS PATREON?✨
Patreon is, essentially,
a subscription service
to support your favorite artists. By getting the people who truly appreciate my work most to pledge small amounts each month, I can continue to create the things I love - and more. Ambitious illustrative projects, world domination, opening an online shop? Two out of three of these options are very real things I can accomplish with your help!
Real talk, though, some of the things I hope to accomplish via Patreon include:
Doing art full-time (also known as "The Dream™")
Opening an online shop with prints, stickers, stationary, charms, trinkets....
Upgrading my equipment to make better videos and traditional art time lapses
Creating zines, art books, enamel pins, apparel, and more!
In return for helping me accomplish these dreams, you get so much more than just knowing you make a difference - which is awesome, too - but you'll also get
sneak peeks
at my art,
sketches
that I don't post anywhere else,
high-resolution
images,
wallpapers
... and the rewards only build from there.
In addition to monthly rewards,
every Patron
will receive a link to a one-time digital welcome package as a thank you! Think of this as a little preview of what you can expect to see each month from me. The package includes:
A pack of high-res images of some of my most loved artwork
A wallpaper pack, specially tailored to phones, tablets, and computers
Several sketch dumps featuring never-before-seen artwork
One coloring sheet
A special Patreon-exclusive video tutorial - "Making Your Portraits POP" - which covers the steps I take to make my headshots look polished and vibrant.
An image-format tutorial of the video explaining the process simply and visually
A PSD with labeled layers and annotations to accompany the tutorial - compatible with Photoshop, Procreate, Clip Studio Paint, and any other programs that can open PSD format files!
✨I'M SOLD. HOW DOES THIS WORK?✨
Becoming a Patron is super easy! Here's what you need to know.
Step one - choose a tier. The higher the tier you choose, the more benefits you'll get. Additionally, as you move up in tiers you will get all the benefits of tiers below you.
When you choose a tier, you will be immediately charged that amount from Patreon. You'll also be able to access the entire history of the Patreon-only feed, as well as this month's goodies dependent on your tier! You can upgrade tiers at any time, and will be charged the difference upon upgrade.
You will be charged again on the first of the month, and subsequently on the first of every month as long as you remain a Patron. This means that the best time to join is generally near the beginning of a new month!
If you are in a tier that offers physical rewards as a benefit, your rewards will be shipped in the beginning of the following month. For example, if you join Patreon at the Pop Star tier in the beginning of September, you will be charged $10 immediately. Your September envelope will be sent at the beginning of October. If you were to cancel your $10 pledge or downgrade to a lower tier amount before packages were sent, you'd still get your September goodies at the beginning of October, since you paid that immediate $10 for September.
That's pretty much all you need to know! If you have any more questions, don't hesitate to email me at
[email protected]
. I hope to see you soon!
When we reach this goal, the Pop Stars tier's sticker will get a material upgrade  - each month, part of the sticker will either be holographic, sparkly, semitransparent, or something else!
1 of 5
By becoming a patron, you'll instantly unlock access to 286 exclusive posts
By becoming a patron, you'll instantly unlock access to 286 exclusive posts
How it works
Get started in 2 minutes