Domina Mara
is creating BDSM Digital Art and Pin-up Self-Portraits
Select a membership level
| bottom bunny |
-Access to sexy ideation polls
-Seasonal Updates + Brainstorms
-Sneak previews of my ideas for future photo sets
-Sketches [if any]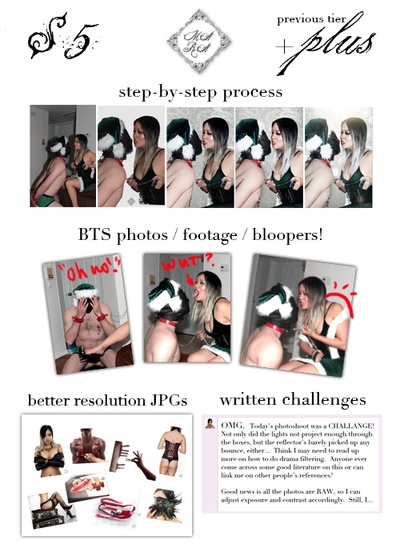 | pet |
Access to previous tier AND
-Step-by-step photo process
-Written challenges on edits / shooting
-BTS Video clips of location / shooting
-Better resolution images
| toy |
Access to previous tiers AND
-My favorite monthly 4x6 print of the featured set, signed/kissed
-Time-lapse video of my photo editing process on my favorite monthly print with voice-over analysis

About Domina Mara
WELCOME~
I am Domina Mara, a professional traveling Dominant that started at a local dungeon in Los Angeles mid-2013. I am now working as a full-time independent Domme, but I also have an artistic side that I want to continue incorporating into my life. My 9-5 trade used to be in graphic design and illustration. At the end of 2016, I decided I wanted to create a bridge between art and BDSM, allowing me tell my story thru visual design. My goal is to build my own studio with industry equipment where I can produce professional photography and have more fluid forms of editing so that I can create higher-quality content for my audience.
Below are explanations of who I am, what my plans are, and how you will be rewarded for supporting my endeavors. If by the end, you are not interested in becoming a Patron, but would still love to support and tribute to me, take a peek at my website at 
www.dominamara.org
. My site has instructions on how to go about contributing, and if there are any 
Portraits
or Possessions you fancy, you may 
donate
to receive them as rewards as well.
Let's begin this adventure~
AS A DOMINA:
I hail from international waters with Chinese, Filipino, and Spanish blood. My tropical exotic mix has taught me to be bilingual in Spanish, and to have an ear for Brazilian Portuguese. My career began over 3 years ago as a professional BDSM player at a local dungeon in Los Angeles, and created a solid foundation for my knowledge of Bondage/Discipline, Dominance/Submission, and Sado-Masochism. As a Dominant, my greatest joy is watching you transform into the most humble and genuine submissive with PURPOSE.
My personal stature has been described as female with a masculine perspective. Power exchange and impact will both be harsh and gentle, mimicking my fierce and sensual moods. These various methods woven with my skills will challenge you, rewarding your efforts with the freedom in mind, body, and soul. As our relations evolve, so will your understanding of your deepest secrets and our time together becomes a ray of light even during your darkest hours.
AS AN ARTIST:
All of my content featured here is exclusively for Patreon. I will post all final images on my 
Instagram
and 
Twitter
, but each platform deviates in their own respective types of posts. Instagram is where I post all of my polished pictures to promote my look per month and/or season. Twitter is used for short comments and quick photos at an event, self-portraits, and anything else I find interesting during the day. I'm excited to share that Twitter will also be used for posting any fan images from Patrons [see below for details].
The content here is solely for those interested in my creative side, those who appreciate the graphic arts, and those who would like to support my passions. Rewards will be mailed out the next month after payments are received. Tag me
@maradomina
on any of your received goodies on social media posts, and I will repost on my Twitter~
The top monthly contributors of each tier $50+ will be placed in a lottery and will be rewarded a private Skype session scheduled with me, in addition to everything else in that tier. The Skype session will be in the form of an exclusive open-forum Q+A [art / BDSM related] and the duration is based on how much is contributed.  To be clear, I will not be posting anything showing complete nudity - so if you find any photos of my face with genitals in the same picture, it's
not
me!
**If you find that any of my Patreon content is leaked anywhere else, and/or if you find that any naughty person has done the flattering unthinkable [literally] by copying my words,
please
link me so that I may issue a Cease/Desist!   It took a lot of hard brainpower work to come up with my content and images, so let us punish any plagiarizer we may find!  You will be featured on my social media as a token of my appreciation~
FINAL WORDS:
Why limit myself? I'm tired of working solely on a laptop and external hard drives! My goals are set high so that they are attainable over time, even after fees are subtracted from the total earnings. I am aspiring to create something different, yet timeless, using reality and fantasy with my body and my imagination that people will remember.
I am doubling as a professional Domina, so please keep this in mind, and I will do my absolute best on replying to your messages and discussions. I do accept constructive feedback - I value learning and evolving to my next potential stage. Bring your best, and I will bring mine~
THANK YOU FOR YOUR PATRONAGE!
Amazing! I will have Adobe Photoshop Creative Cloud for an entire year along with the ability to purchase a microphone and mini pocket video recorder to stream my videos in high quality, and so that I can use my laptop for other things such as photoshoot uploads during BTS, video renderings, etc.

1 of 6
Recent posts by Domina Mara