Dominion Sanctuary
is creating a sanctuary where animals are cared for and humans connect.
Select a membership level
Piggystar
Buy us a bale of straw each month- thank you!
Receive:
• Access to our Patreon-only videos, conversations & community
• Invitation to our animal hangouts
• Our gratitude!

Big Carlos Care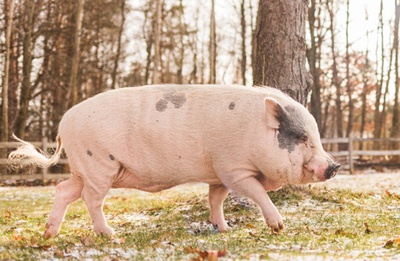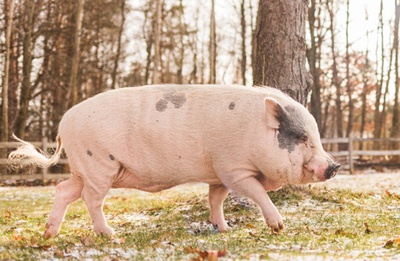 Pays for Carlos' grains for a week! 
Donate $10 per month and receive:
•  Previous tier's benefits.
• 10% off any shirts, decals, mugs or hats at wearyourhaiku.com - just ask for the coupon code!
• Our gratitude!

Sanctuary Supporter
Buy us a 50 lb bag of grains for the pigs! This feeds 7 pigs for about 5 days.
Donate $20 per month and receive:
• Previous tier's benefits
• A decal of your choice- look at the options on our website & let us know which one you'd like!
• Our immense gratitude!


About Dominion Sanctuary
Welcome! Thank you for being here. We are a nonprofit animal sanctuary in Sparta, Michigan, founded in January 2019. Find Dominion Sanctuary on
Instagram
& on
Facebook
- We post photos or videos almost every day! We are also on
YouTube
showing snippets of our days. Our main website is
dominionsanctuary.org
. You can also sponsor an individual chicken or pig at
dominionsanctuary.org/pages/our-residents
.
Your support here through patreon helps us maintain excellent care of the animals, their straw/hay, food and vitamin supplements, veterinary care including annual checkups, new intake health assessments, and hoof and tusk trims. The funds collected here also help with shelter maintenance and security, build an emergency fund for unexpected expenses, and may provide a base for future growth and expansion. 
I'm Allie- caretaker of pigs & chickens and founder of Dominion Sanctuary, a 501(c)(3) nonprofit.
We took in our first 3 residents in May of 2018, and created a simple, beautiful sanctuary life for a herd of three wonderful potbelly pigs in need of a home.
In January 2019 we became a nonprofit, in May 2019, we adopted three precious chickens (two hens and a special needs rooster) from
All Species Kinship
, who continues to mentor us on chicken care. With community support and volunteer help, in late summer of 2019, we expanded our sanctuary's secure fenced area so that we could offer refuge to another abandoned potbelly pig from a severe household neglect situation and we ended the summer by taking in 3 more pigs from
this
horrifying situation, with the help and support of
Kanda Farm Sanctuary
, one of our pig mentors. On Jan. 3, we took in Scott, found under someone's pine tree in Muskegon, and then 3 days later, Hank, found in a residential wood pile. As of March, 2020, we have 7 rescued pigs and 5 rescued chickens (3 of whom are roosters.)
We believe in not only providing a safe and permanent home for the residents who live here- which is our first priority- but to also share their beauty with the community in ways that help people connect with an innate compassion inside of them.
Our commitment to spreading compassion in the community is a clear part of our mission.
We aren't here to only give the animals the best life they can have, but to spread a message that removing animals and their byproducts from your diet creates a beautiful non-violent (and healthy) life. We spread this  message by hosting regular tours and events open to the public.
We are founded on vegan principles and believe that a plant based lifestyle is key to less violence in the world, and a planet/environment that thrives without the immense damage of animal agriculture.
With that being said, we also believe in incremental change and promote that every improvement towards a life that involves less violence is worthwhile! We support movements
towards
plant based living.
It is you, the patrons through this website, who carry us the most in terms of daily operational expenses (food supplements, vitamins, treats, straw, enrichment, and help with structural improvements and flea & parasite treatments) as well as their necessary but very costly veterinary care- vaccinations, hoof trims, check ups.
"Thank you," seems insufficient. It is a tremendous support to be able to rely on your support for those expenses.

Besides this website, other ways to support us are through:
- Paypal (
paypal.me/dominionsanctuary
- our email is [email protected])
- Venmo (ID is dominionsanctuary)
- Amazon Smile (Please shop using our link: smile.amazon.com/ch/83-3222000)
- Amazon Wish List

Remember, all of your donations are tax deductible. Our tax-exempt 501(c)(3) EIN number is 83-3222000.

All posts are visible to patrons who donate $5 a month or more, thanks for considering becoming a patreon here- once you do, please check out what's been going on with us. Thank you for your support!
Photos used on this page are by the wonderful
Paulina M Photography
.
By becoming a patron, you'll instantly unlock access to 109 exclusive posts
By becoming a patron, you'll instantly unlock access to 109 exclusive posts
Recent posts by Dominion Sanctuary
How it works
Get started in 2 minutes