Donkey Listener
is creating Donkey Training videos, educational downloads and ebooks.
Select a membership level
Lessons From Donkeys
This level of membership will give you access to complete case study videos with many different donkeys. Donkeys for these videos will be from my core herd and also from rescue cases I take in to rehome. 
All my donkeys are at different stages of training. Some need more basic skills, some are ready for things like driving or other advanced training. 
Some videos will be on enrichment sessions such as obstacles or walking while training sessions. 
I'll also share my training plans. This can help you create your own training plans with your donkeys.
Training Videos and PDFs will be added every 2 weeks.
So every 2 weeks you will get:
* At least 2 Training Videos
* Examples of training plans
*Discounts on any ebooks I write about donkeys
I am available if you have any questions about training videos or plans.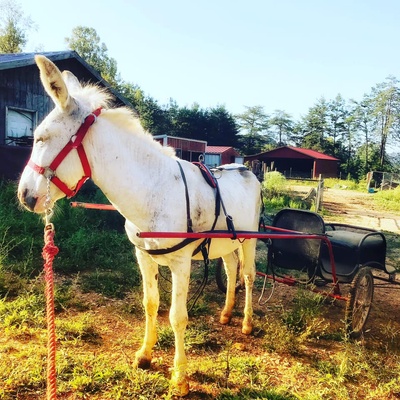 Donkeys and More
With this level, you get what is offered above. The videos and training plans.
AND you also get any ebooks on donkeys I release for FREE on PDF.
Currently available is:
Donkey Care Guide
Essential Oils for Donkeys
In the works now:
The Big Book of Natural Donkey Care
Future Books planned:
Herbal Health Support for Donkeys
Training Driving Donkeys, From Start to Cart
Donkeys In-Depth
Limited (4 remaining)
In this level, you get what is offered in the above 2 tiers.
*Training Videos every 2 weeks
*Training plan examples every 2 weeks
*Any donkey ebooks I publish on PDF for Free
* AND a monthly consultation. 
You can send me a video of your training sessions and I will help you one on one with your donkey.
This option is only offered to a limited number of individuals so I can make sure I have plenty of time to give special attention to each case.
About Donkey Listener
It is my mission to help people and donkeys live in balance with each other.
This means understanding and communicating with them. Training them the way they need to learn and keeping them healthy using natural health support when we can. 

I am providing case study training videos, educational PDFs such as training plans, and informative ebooks about donkeys. 
My goal here is I want all donkeys that live in our domestic world to be confident companions and their caregivers give them the training they need to do so. 

I have priced my tiers affordable to everyone. For as little as the cost of a cup of coffee, you can get in on exclusive training videos just about donkeys. Each tier has added benefits. 

I wanted to set up a way everyone could afford to learn to train their donkeys.
Websites and video editors cost money so I needed a way to cover my costs in getting the information out there. I also have goals for rescuing more donkeys from the kill pen when I have funds available. 

In addition to this being affordable, you will get to see many different donkeys being trained for different things. Donkeys are all individuals and I have found watching multiple case studies is the most helpful In training and understanding donkeys. You will see many different donkeys and their personalities in my case study training videos.

My earnings go toward the expenses of running my donkey training resources, like the Donkey listner blog, video equipment, and editing. Also taking care of my donkeys and rescuing more donkeys from the kill pens as I can afford to.
Any rescue donkey I am able to bring home will be the subject of a case study so everyone can see the progress and so it may go to help others train donkeys. 

I hope you'll join up, learn about donkeys and then spread the word about how wonderful they are! 

Recent posts by Donkey Listener