Doodlepeople (Alyce Wood)
is creating behind the scenes peaks and exclusive pins, patches & prints
Select a membership level
Behind the Scenes Tip Jar
A pledge in here is like a little tip in the tip jar - thank you!
- Behind the scenes peaks
- What I'm up to in the studio
- First looks at new designs before listing them

Design Session Tip Jar
Pledge this tier and you get:
- Access to tier 1 benefits (behind the scenes, studio time, exclusive peaks of new designs)
- Screen recorded design sessions straight from my iPad or Laptop
- Real life timelapse videos of me in the studio making badges, patches, etc.
- 10% off in my Etsy store with a new coupon code made available on the 2nd of each month


Exclusive Pin Button Badge Club
Limited (7 of 30 remaining)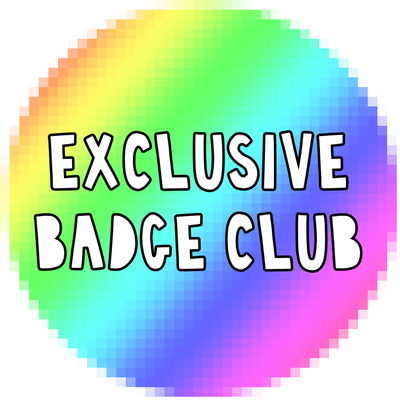 Please add $4 if you are outside of the UK for shipping!

Pledge this tier and you get:
- 1-3 (depending on size!) patron exclusive badges/pin buttons per month - these will not be available anywhere other than here
- Please message me to choose a theme for your badges from any of the following themes: LGBTQIA+ pride, chronic illness, mental health, feminist, social justice or body positive; or if you don't message me or don't mind, I'll select at random :)
- All tier 1 & 2 benefits (behind the scenes, design sessions, etc.)

About
Hi! My name is Alyce and I'm the gobby opinionated one behind the brand
Doodlepeople
!
I make wearable accessories, artwork and jewellery with themes around feminism, social justice, body positivity, mental health, activism, LGBTQIA+ pride, neurodiversity and chronic illness and disability awareness. I do this on my own from my home in Leeds where I live with my husband and baby son. If you wanna see my Etsy store you can click
heeeeeeeere
! It'll give you a pretty good idea of what you would receive if you were to pledge to one of the physical reward tiers.
Doodlepeople started as a little side project while I was studying at university and in the past four or so years, it has become my full time job. I love my work and I want to continue doing it forever. That's it. That's the story.

So that's why I want to do this.

I'd really love to be able to employ my husband and I thought that offering a unique, behind the scenes insight into running a small business would be pretty interesting. I often have people asking me questions about how I run my business, my processes, time management (ahahahahahaha like I have good time management skills) and work life balance (AHAHAHAHAHA that's hilarious).
I'd love to do that here in the form of blogs, posts, photos and videos.
The tiers will vary in their benefits digital and physical, but the most affordable ones are going to allow you an insight into my processes and how I run my business, and/or an insight into, specifically, my design process by way of screen recorded design sessions straight from my iPad or laptop and IRL videos of me doing stuff like making badges.
So why not stick around? Grab a hot drink and biscuit, pop a dollar in the tip jar and watch/read about me running around my studio like a headless chicken, possibly whilst balancing a hungry baby on my boob.
FAQ
1. Do I get charged immediately?

Nope, I have my Patreon set to charge patrons at the beginning of the month. This means that you will only get that month's goodies if you were charged for that month. So if you pledge on the 25th of April, you won't be charge until the first of May and so you will get May's benefits, but not April's.
I may look into charging Patrons as soon as they pledge - this may happen when I start creating more patron exclusive digital content, to make sure that people aren't pledging to access specific posts or downloadable assets, then unpledging without being charged at all. I would really like to avoid doing this though!
2. When will you send my goodies and how long will they take to arrive?

I'm going to aim to send goodies between the 5th and 10th of each month. You're charged on the 1st of the month so this means that it gives time for payments to clear and also for me to get my act together sending stuff.
Your goodies won't be tracked because this is
expensive
and it'll vary as to how long it takes to get them. I'm UK based so a rough estimate is 1-5 working days UK, 1-2 weeks for Europe, 2-4 weeks for the US and Canada, 3-6 weeks for Australia and New Zealand and anywhere from 2-6 weeks for the rest of the world.
Due to COVID19 mail is significantly delayed worldwide right now so expect to wait an extra 1-1.5 weeks within the UK for deliveries, and an extra 1.5-3 weeks internationally. Thanks so much for your patience!
3. Will everything be exclusive to patrons?

Absolutely. Everything that I make for the physical reward tiers will only ever be available to patrons, with the single exception of myself because I made them and I may want to add a few of the exclusives to my own jacket/bag/clothing.
NB: the items I make for patrons will likely not include any swearing because I know not everyone is into that! <3
4. Will there be different stuff every month?

Yep, everything will be different each month because, of course, I am looking to foster a long term relationship with you all and bringing you new stuff is what you want! <3 Everything will be exclusive to that specific month too, so anybody who pledges in June will get June's designs, not May's.
5. Can I pledge multiple tiers?

You can, but it is a wee bit of a faff. So I've made a combo tier for badges and patches because I appreciate that some people want wearable stuff but don't have anywhere to put prints so they don't necessarily want the top tier of goodies. If you wanted two tiers together that aren't available as a combo (so, badges and prints or patches and prints) just pledge the highest tier and then add the value of the lower tier. An example would be: if you want badges and prints, pledge the prints tier ($10) and then add $6 extra to your pledge so you're pledging $16 total, and just send me a message to say you'd like badges in your delivery too and you've added the extra to cover that. If you're outside of the UK please add $4 for postage. This includes the Republic of Ireland (but not Northern Ireland) I'm afraid!
6. Do I have to add $4 for international postage?

So, strictly speaking Patreon isn't going to force you to but I cannot afford to send your goodies if you don't I'm afraid. So please do add the four dollars for postage. If you don't I will have to message you to ask and if you're unable to then unfortunately I can't send your goodies!
7. Will you be doing some more digital benefit tiers?

Yes! I'd like to add a tier for colouring pages and also a tier for printable goods like prints. I know not everyone can afford to add the extra for postage so I hope that a digital print tier will be good for this issue. That way you can print at home or take a file to a local printer to have it made up for you :) obviously digital prints will only be for personal use though!
8. Can I make suggestions for the goodies in the tiers?

Of course! You can always let me know if there's something you'd like to see as a patron exclusive item or an idea for a tier. :)
9. Do I just have to pledge the exact amount?

Nope! You have to pledge the minimum amount for your chosen tier but you can actually choose a tier and pledge any amount above that. So for example if you just wanted access to the digital stuff (behind the scenes and design sessions) but didn't want any physical items, you could pledge tier 2 and pledge like $10 instead of $3 because you want to support me a bit extra for the content (thank you!) but you don't want the badges.
10. How many "themes" can I choose for my benefits?

Strictly speaking you don't really have to at all :) if they all apply to you or you want a mix of stuff from all six of the themes (feminist; social justice; LGBTQIA+; chronic illness; mental health; body positivity) then that's totally fine. If you only want one, that's fine too. If you want a couple, also fine, just let me know. So e.g. you could pick mental health and chronic illness as the themes you want; or you could want all the themes except LGBTQIA+ because you don't identify as LGBTQIA+. It's totally up to you :) Obviously depending on your tier/pledge, you won't always get everything from each theme because number of items will vary each month (and if you're in the patch tier or print tier only, you'll be getting one item a month) but I will try and mix it up so you're getting a good rotation from month to month!
11. Can I change themes?

Yep, you're welcome to change themes from month to month. If you've had enough mental health stuff and you wanna switch it up and start receiving some feminist stuff instead that's cool. If you wanna add themes, that's also fine.
12. Can I choose multiple themes for my different benefits?

Yes! If you're part of, for example, the patch and pin club, you can let me know that you want mental health and body positive pins but for patches you only want LGBTQIA+ and social justice and none of the other themes. Similarly, if you're in the goodie box tier you can let me know that you want only feminist pins, but for prints you want body positivity, and for patches you want something that's social justice themed. The Doodlepeople exclusive goodies world is your oyster my friend!
13. What if I don't let you know which theme I want?

I'll try and contact you to ask what you'd like but if I can't I may have to send your goodies out anyway (obviously, so you're getting what you're paying for!) In this case I'll assume that you're a fan of the Doodlepeople brand and ideals in general (feminism, social justice, positive mental health attitudes, etc.) but I won't send you anything that's very very specific (for example, something that indicates that the wearer has a chronic illness or is a member of the LGBTQIA+ community, as I know that some of the themes, and especially some more niche designs within these themes, won't apply to everyone).
14. I have a question that isn't answered here, can I message you?

100%! You can message me here, or on my Facebook page at facebook.com/doodlepeoplexo or on Instagram at instagram.com/doodlepeoplexo or you can email me at
[email protected]
<3
If I were to reach $500 per month, this would put me in the position to be able to work towards opening up an additional tier where I can design new enamel pins. I need to have a think about how I do this because there are minimum order quantities for enamel pins (usually at least 50 but more often 100) - it will likely be early access for a very limited run of a new design each month. So patrons get first access and whatever is left over will be sold as normal but offered to patrons of other tiers first and there will only ever be 50 or 100 of that month's design.
1 of 3
By becoming a patron, you'll instantly unlock access to 95 exclusive posts
By becoming a patron, you'll instantly unlock access to 95 exclusive posts
Recent posts by Doodlepeople (Alyce Wood)