Douglass Truth
is creating Stories
Select a membership level
In The House
The doorman lifts the rope for you. You're in the house. You're on board. 1 US$ is not much, no, but we know a lot of people don't have much, and we appreciate you immensely when you give even a bit. We most want you to enjoy our work. Of course when you strike it rich, bump on up.  
You'll get access to these stories:
2025 • A Story From The Future An apocalyptic future but one in which Douglass Truth survives and befriends many wonderful animals. A scary delight. 
The El Portal Motel, an edgier story, one from the Bardos, or the Underworld. Perry Mason sits next to you at the bar. Willi Wonka is the motel clerk. The TV will not turn off.
Here We Are blogpodcasts about anything that grabs my attention
I can't bear to paywall them, so please pay what ya can! You now have MY IMMENSE GRATITUDE. Remember, lift with your knees, not your back. 
Right In The Room
BEHIND-THE-SCENES videos, and:
An Intimate Evening With Death, Herself. 
This is the kind of special that only FIVE BUCKS can bring you, high-roller. You get to read the previous stories, like everyone else, but you also will get to see once-a-month  BEHIND-THE-SCENES videos of me doing something—probably talking about some new project. It's all part of my work even if I'm in my plaid pajamas whirring up some celery and pineapple in the blender. And....
The Death, Herself stories: the serialized and much longer version of the beloved stage show, which I could only just get started in the 90-minute live version. Now Dorothy can tell EVERYTHING, in 15-30 minute chunks. 
Secret: for me, doing recordings of stories is WAY different than just standing on stage and letting it rip. Surprise: Way HARDER. It's more work, believe it or not. I write, record, re-write, record, record, record, and edit and mix. And sometimes, when the result isn't what I want, I start at the beginning again, again. And you'll be there for the whole ride. And, AS/B4, with my unending gratitude.
Minister of Truth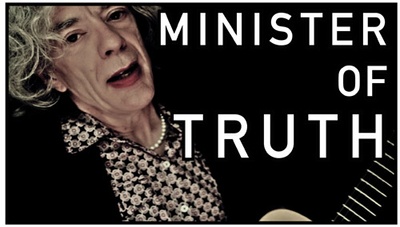 All the above, OF COURSE. Plus.... 
You, having parted with the amount of money I got paid every HOUR in Alaska in 1974, will also be able to WATCH ME PAINT in videos in which I paint, and at times, talk. At my painting demonstrations people have told me that they found watching me paint extremely relaxing. As an avid practitioner of BobRossivism, this comes as no surprise to me. 
I used to listen to Bob Ross on the radio, decades before I ever painted or eve dreamed of painting. Such is the power of BobRossivism.  Side note: in my practice of BOBROSSIVISM I have painted over a million happy trees, mountains, rivers, lakes, streams, clouds, and rocks. It is to these I will go when I die. 
I don't know what's in store for you when your hour arrives, but for now—and forever—you have 
from me.
About
I'm Douglass Truth. I'm a storyteller; I tell stories with paintings, performances, and podcasts. 

The podcast channel is TRUE DREAMS.  We have A Tale Of 2 Fish in 3 Acts. Following: 2025 • A Story From The Future (Chapter 1 in the can,) Drinks With Dorothy, The El Portal Motel, and Here We Are podblogs. 

When we reach 42 community members - a sacred number - I will finish writing a country song for which I've only come up with the title: 24 DRUNKS IN DOWNTOWN DesMOINES. I will then perform and record the song and post it for the world to see and hear. This is my pledge to you.
1 of 1
Become a patron to
Connect via private message
Recent posts by Douglass Truth