Melde
is creating Furry art, Illustrations, Paintings and sometimes Naughty art!
Select a membership level

Access to patron-only digital content, such as:

Access to my Patreon-only Discord!
Early previews of completed works
Work in progress images not available anywhere else!
Access to my full-length, real-time videos instead of time-lapses
Patron-only polls and Q&As
My heartfelt thanks! You are amazing!
Includes Discord benefits
You will receive high resolution digital coloring pages each month (at least 1 per month) for your to color yourself!

You also get:
Access to all Patreon digital content from the previous tier
Includes Discord benefits
Wyrmling's Hoard
Limited (8 of 10 remaining)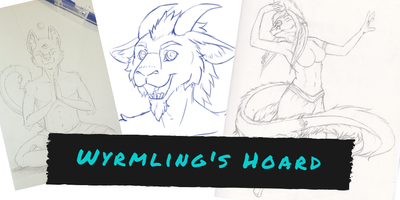 You'll receive a sketch in your inbox each month, lovingly hand-drawn by me! This is the ONLY way to get a custom sketch from me!

You also get:
Opportunity to get Convention-Only deals even if you aren't going to the con! (delivered digitally) 
Access to all Patreon digital content from the previous tier
Includes Discord benefits
About
Hey all! I'm Amy, but I go by Melde most of the time. I'm a Freelance Illustrator and Painter, specializing in anthropomorphic "furry" characters! I have always loved art and anthropomorphic animals, so when I found the Furry fandom, I knew I was home.
You probably are already familiar with my work, but if not, I would be absolutely thrilled if you would check it out on:
Why Patreon?
While I'll always have openings for regular commissions, this will be a way to supplement that income to allow me to focus more on making art for
many
people to enjoy. I have plans for new and improved coloring books (both adult and clean), stickers, prints, and even Dakimakura pillows! Anyone who donates to my Patreon to support this goal will of course get love in return for their kindness. All of my fans are amazing people, but donors truly go above and beyond!
Throughout the month:
Anyone with a $1 or more donation will have access to 
first looks
 at behind-the-scenes photos, works in progress, exclusive polls and Q&As, and access to my time-lapse videos in their full-length! While I will always update my public sites such as Twitter and Furaffinity, you will see things first!
If you have donated at the $10
Hatchling
 tier or more, you will also receive at least one high-resolution
coloring page
per month. This art may be SFW or 18+.
Included types of files will be:
A .psd with the ink layer and the white background layer
A .png with a transparent background
A .jpeg with a white background
All in a high quality printable size and resolution! 
These will come out randomly throughout the month, but they will always come out between the 5th and the end of that month.
What are Hoards? How do they work?
Hoards are custom work I will do for you each month you are a part of that tier! The art will feature your character, but it will be artistic liberty, or "wing-it", which means I get to do all of the designing as far as pose, expression, etc. You just supply your character and I do the rest!
The way it works:
New subscribers:

You will be charged
immediately
for your subscription. After the payment clears, I will message your Patreon inbox for your character's reference. After that I will begin working on your Hoard art! I will use this reference for every subsequent month you are subscribed.
If you subscribe in the middle or towards the end of the month, please keep in mind that you will be charged again on the first.
However, will receive TWO pieces, one for the month in which you subscribed and then one for the following month you. (example: You join on March 22nd. You will be charged on March 22nd, and then I will message you for your ref. Then on April 1, you will be charged again for the subscription. By the end of April, you will receive your art for both March and April!)
Current subscribers: 

On the 1st of every month, the subscription fees will be charged to your account. Patreon gives a few day window to make sure all charges are completed.
After that period of time, I will begin working on your art! They will be delivered by the end of the month so I have time to draw them!
You may change your character for the next month's Hoard by messaging me with an updated reference, but please do so before the 1st so I don't begin working (in progress Hoards cannot be changed!)
Help me pay for an average Dealer's Den table! Conventions are expensive to attend, and a large chunk of my profits go just to paying to be there. Tables tend to cost between $80 and $250, but often don't even include registration to attend the event or electricity needed to run my laptop :O

2 of 3
Become a patron to
Unlock 113 exclusive posts
Connect via private message