The Dragon Trappers Lodge
is creating awesome 3D printable minis for table top RPG's
Select a membership level
Greenie Trapper - first 100
Limited (0 remaining)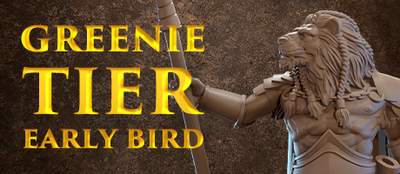 Thank you for supporting us! You are amazing, and very quick!
This tier receives everything from the Greenie Trapper Tier, Monthly Releases, access to Polls; but a little cheaper to reward the early adopters.
Greenie Trapper
Welcome to The Lodge! It's not an easy job but if you're the type who lives for the thrill you'll fit right in! As a new member of The Lodge, as we call 'em around here a "greenie", You'll receive the following benefits from the lodge.
You will get access to the monthly set of 3d Printable Models and Miniatures we sculpt each month as .stl files
4 trapper miniatures..
1 creature mount
1 gargantuan sized dragon
2 huge sized monsters
access to the welcome pack
A sculpted special base for each miniature.
5e stats for use with the monthly dragon
Discount codes to our my mini factory store
Access to the Dragon Trappers Lodge discord server
check out the minis in our store here.
https://www.myminifactory.com/users/The%20Dragon%20Trappers%20Lodge
-
Terms and Conditions: all our files and links you can print these files for personal use, but you are not allowed to distribute or sell them. Check the detailed rules in our main page.
You will have access to our community!  
You will see our design sketches!
You can participate in monthly painting contests!
Your opinion will have an impact on or next releases: having access to our Polls you can decide what we will do next!
Lodge Merchant - first 20
Limited (0 remaining)
About
This is the current Monthly Release.



Welcome to the legendary Dragon Trappers Lodge!
Hello friends and travelers, This is the Dragon Trappers Lodge, a place where trappers from around the world share their adventures and tales of tracking and fighting the fiercest creatures known, dragons! We are creating 3d printable miniatures for your favorite rpg/wargame/boardgame to print, paint, and play with right from your own home. Print as is, or scale up our miniatures for magnificent gargantuan figures! The possibilities are endless!
What is The Dragon Trappers Lodge?

The lodge is an exclusive club for the finest of trackers, hunters and warriors of all genders and races. The trappers of the lodge are the best in the world at what they do, true masters of the art of dragon trapping. Whether with sword and shield or staff and scroll trappers of the lodge use whatever means necessary to find and bring down their target. To many towns, cities, and villages they are seen as heroes. Their services put many an arrogant knight in shining armor to shame and their tales are legendary. Their services of course come at a price but trapping dragons isn't cheap! Often trappers will try to relocate or negotiate with some of the more intelligent greater dragons but sometimes there's only one option. New trappers are called greenies and you'll want to learn from some of the veterans if you want to stay alive. Being a dragon trapper is a dangerous job but hopefully you'll last long enough to tell your own tales. 

Early releases at amazing prices
Joining our Greenie Tier or higher you will receive the
Monthly Release:
a set of 3d printable figures that will cycle at the end of each month. The Monthly Release gets uploaded the first week of each month. Based on the current Goal level, the Monthly Release includes:
24 unique character miniatures
1 mounted version of the veteran trapper character.
1 version of the mount without a rider
1 version of the mount with no saddle or rider
1 gargantuan sized dragon miniature
1 huge sized creature miniature (non dragon)
A sculpted special Base for each Miniature
Modular weapons and spells for each character
5e stat blocks for use with that months dragon and monster
Coupon code for our my mini factory store
access to the Dragon Trappers Lodge discord server
ability to vote on upcoming loyalty models
The Monthly Release is uploaded at the beginning of the month (once Patreon processes payments). Once we enter the 1st of each month at midnight in pacific standard time (MST) the previous monthly set expires and every account payment is used to get the following monthly release.
The current welcome pack
Additionally all our models come with a presupposed option in order to make printing easier and faster. We also offer trouble shooting to make sure you can get the best prints possible with our models.
Buying past months models.
If you missed out on a set and still want to buy the models you can do so at our store on my mini factory 
here
. Patrons receive monthly coupons to buy models at a discounted price!
Check out our store!

Want to Sell our Prints?
The Stls we provide are only for personal use (read the rules at the bottom of the this page), if you want to sell our prints you can join our Merchant Tier.

We like to hear from out patrons! Your opinion can shape future releases!
We run Polls at the start of each Month. By participating you can help us decide what the next goal reward will be as well as the Elder Dragons released every 3 months! Let us know your thoughts and ideas using comments, we like to keep in touch with the trappers of the lodge.

IMPORTANT: Rules, Terms and Conditions
All files and links we share with our supporters are meant for you as Patrons and no one else. By downloading content made by us (Stl, shared links), you accept this Agreement and agree to be bound by its provisions. If you do not accept or agree with these terms, do not download the content we provide:
You may only use the content provided by us (Stl and their location Links) for personal use, and you are not allowed to distribute or sell them nor the prints.
You can cut/resize our files to fit better your printer but you can't share those files.
You can not edit our 3D Files (stl) or use portions of them to create new content to sell or distribute.
Our miniatures and any other kind of 3D file we release or portions of our files can't be used in any other project, Kickstarter, Patreon, or any other crowdfunding platform.
You can't make molds of our models, any kind of mass production is prohibited.
You may take photos, make live streams, and videos with our models as long as you state that the models are from the Dragon Trappers Lodge. In this case, promoting our Patreon page would be greatly appreciated and help to grow the lodge even more!
All copyrights belong to Monk Toe Games, NO rights are assigned or transferred to the end-user. Our designs are protected by intellectual property laws.
All the previous points apply for who belongs to the Merchant Tiers as well, with the exceptions that they have the ability to sell prints of our models (but not files!) as long as they remain in that Tier. Even here though the rule that you can't use our files and figures for kickstarter, patreon, any other crowdfunging project or make casts/molds, selling them in boardgame boxes still applies.
May your blade stay sharp and your flesh on your bones!

Meet our Veteran Trappers!

Steven Smith



Bones



Gianluca Foroni


Gavin


Cory Dolbashain


Motri


DwarfWorkshop
As the lodge grows we can add more models to each months release. When we reach 650 patrons we will add a set of 3 medium sized monsters to each months release. These will be different poses of the same monster that fit the theme for that month.
5 of 5
By becoming a patron, you'll instantly unlock access to 63 exclusive posts
By becoming a patron, you'll instantly unlock access to 63 exclusive posts
Recent posts by The Dragon Trappers Lodge
How it works
Get started in 2 minutes