Drawings by Wesley
is creating Origional Artwork
Select a membership level
Devoted Suporter
Thank you for supporting the flourishing of art! Your love is worth more than gold. Support at this tier helps to keep moral up and the lights on.
Virtual Studio Visits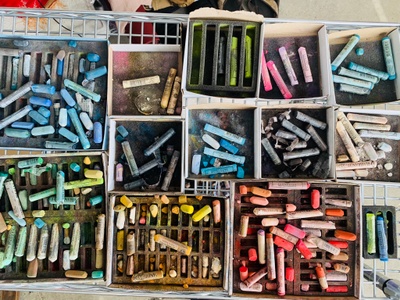 Access to patron only posts throughout the month of works in progress, sketches, videos and studio photos. 
Time lapse videos of works in progress. 
Sketch ~ Digital Delivery
You'll get an original drawing each month based on your prompt
At the Sketch Tier, the drawing will be in pencil, charcoal, pen, ink, or conté
Size range 3" x 5" up to 8" x 10"
Send me a photo, poem, idea, subject, word, story ~ I'll create a drawing just for you!
I'll choose the size and material for your drawing
Delivered once a month via email or download
Access to view a gallery of work created for fellow patrons.
Access to Virtual Studio Visit content
About
WESLEY DOUGLAS CABRAL – (A.K.A PORTRAIT OF THE ARTIST)

I believe we all share a similar longing -- to find ways to truly express ourselves, to claim our artistry, to get messy with paint and pastel and charcoal.
Drawing has always been central to how I express my creative voice. And it's a humbling experience. Every piece, every sketch, each commission wrestles with the unknown.Where do I begin? Once I've begun to put pencil to paper or crayon to canvas, how do I continue? Was that the right mark? Was it? When is the piece complete?
To draw a landscape, a face, any form, can transcend the image or object itself. While a photograph captures the moment, a drawing includes
a series of moments
in one frame -- the change in breath, the variance of light, the loss of time. A good drawing can sometimes feel more alive than the object itself. Because, in some ways, it is.
AN ORIGINAL PIECE OF ARTWORK: MADE JUST FOR YOU
Let me ask you this, have you ever had a professional artist create an original work just for you? It's an old world practice – the Artist was commissioned and an artwork was created
for
someone specific. I'd like to rekindle the tradition. When you subscribe on Patreon
, I'll create an original piece of artwork just for you
. But not just any piece of art. Each month you'll get to choose the subject, plant the seed, send me the inspiration. Translation? Sign up to be a Patreon and receive an original piece of artwork
inspired by you.
Yup, you heard that right.
Join my Patreon at one of the Sketch tiers and get an original work of art – every month!
Send me a photograph, a portrait, a poem, a song, a story, a voicemail, absolutely anything goes, and I'll create a drawing based on your prompt. When I'm done, its all yours to keep. Choose to have a digital copy or the original and
boom
, you are now a bonafide art collector.
Your support will make a tremendous shift in the kind of work I do as well as the time I allocate to work at my studio. You'll infuse my work with fresh inspiration and keep me sketching every day. 
Basically, becoming a Patreon subscriber means that you get two really good deals for the price of one.
Good deal #1: You get to say smart things like, "We're living in a technophile, elitist dystopia where human contact is now a luxury good. So in the meantime, I've supported the talents of one Wesley Cabral, an exceptional artist of our time. You must be familiar with him, yes?" All this said, while you nibble on a damn good Ritz cracker with cheese, guzzling red wine from a box.

Good deal #2: You get your very own original piece of artwork every month inspired by something in your very own life.

HOW IT WORKS
Pledge at the Sketch or Color Sketch tiers - choose if you would like a digital photo or mailed original copy of your drawing.
The drawings will be loose and fresh with a feeling of immediacy. I'll pull inspiration from your prompt. It's like getting to keep a page out of my sketchbook each and every month. Not sure what to send me? Here's a few ideas to get your ink brush wet:
A self portrait
A family photo
A song
Any landscape
An animal (maybe a pet)
Your latest Instagram post
A dream you had
Let your imagination run wild.
Once you've subscribed, I'll send instructions for easy ways you can share your inspiration with me. Check out my posts below for examples of the kinds of drawings I'll create for you.
You can also go to my website to see a full portfolio of my work ~
wesleycabral.com
Interested in commissioning a larger drawing? Send me a message and we'll talk.
Thank you for keeping art alive.
Long live the pencil,
Wesley
When I have 50 patrons I'll launch online drawing lessons and tutorials!

1 of 1
By becoming a patron, you'll instantly unlock access to 11 exclusive posts
By becoming a patron, you'll instantly unlock access to 11 exclusive posts
Recent posts by Drawings by Wesley