Dread Forge Miniatures
is creating video game art, miniatures, and tabletop games
Select a membership level
Gravelurker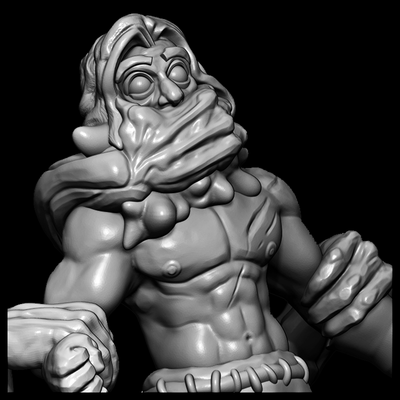 Thank you for your undying support!
This tier offers:
Join the Army of the Dead and talk with other lurkers! 
Gain the Forge Master's Starter Kit
Patron Exclusive Dungeon/Raid Boss Polls
Dread Forged (Berserker)
Limited (46 of 50 remaining)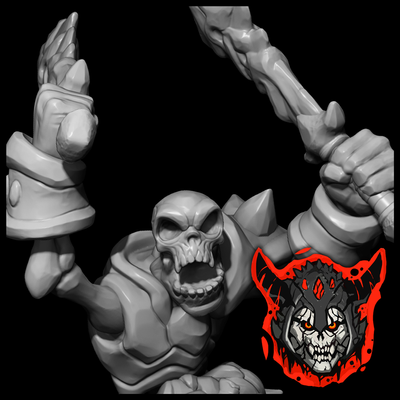 You have gone into a frenzy and easily tear through the enemy!
This tier has all of the perks of the previous tiers plus:
Limited Discounted Tier
Access to all monthly model releases. (Including Bosses)
Dread Forged
The Dread Smith has fitted you with the legendary weapons and armor!
This tier has all of the perks of the previous tiers plus:
Access to all monthly model releases. (Including Bosses)
About
(ALL MINIATURES) AVAILABLE TO CURRENT PATRONS
Free and Paid models available on the
Gumroad store
!
THE FORGE MASTERHail Adventurers!
My name is Nick Callow and I'm a freelance artist and game designer currently based in Chicago, and I run the forge here as the Digital Sculptor!
WHAT DO I HOPE TO ACHIEVE?
I am looking to provide fun miniatures for you to use in your tabletop games. I hope to use the funds gathered through Patreon to support my miniature endeavors and tabletop game development.
(Currently working on a tabletop game project slated for a future Kickstarter)



"WHAT LOOT WILL I GET IN MY QUEST TO SUPPORT YOU?"

It is fair to ask such a question... You instantly gain access to the
Forge Master's Starter Kit
which includes a number of miniatures and will be ever-growing.
Originally the forge started with (6) miniatures per month. However, I now produce miniatures based on the time that I have. (Currently working a full time day job and working to break into the Game Dev industry as a Character Artist)
Currently my goal is to produce (3) quality miniatures per month.
As support grows on Patreon I will be able to spend more time producing art. Therefore, I am pulling all my resources to jump back up to (4-6) per month if the support is there.
FUTURE QUESTS!

I love designing and making things fun for people. Therefore, I would like to structure this Patreon around an ever growing world with dungeons and raids. In joining the page you will be joining the army of the Dead and we will work together to unleash what lurks below the forge!
With
Patron Powered Stretch Goals
as more people come on board the world will open up and even more exciting miniatures will be released.
Bi-Monthly Dungeon Bosses - (50) Patrons
Bi-Monthly Raid Bosses - (300) Patrons

Bosses
will be delivered to Patrons on a
Bi-Monthly basis
. Meaning voting/concepts will take place one month and the following month the 3D miniature will be delivered during the month.

MONTHLY SUPPORT BREAK DOWN



GRAVELURKER


Gravelurker
or higher gives you
access to the Forge Master's Starter Kit
as well as an invitation to
participate in Patron exclusive Dungeon and Raid boss polls
.
DREAD FORGED (BERSERKER)


Exclusive Discounted Tier for early supporters.
This tier and above gives access to (All Miniatures) produced by D.F.M.
DREAD FORGED
This tier is the non-discounted version of the above and offers the same benifits.
PLAGUE BEARER - MERCHANT
This tier allows you to sell 3D prints of the sculpts from our Patreon or the Gumroad Store.
(Please refer to IMPORTANT note found further down!)
If at any time you wish to stop selling 3D prints of our models you can step down to our lower tiers or cancel your pledge.


FORGE MASTER'S STARTER KIT
- Slagbeard
(Dwarven blacksmith)
- Divinia
(Elven Rogue)
- Swamp Goblin
(Goblin Sorcerer)
- Hulking Horror
(Large Zombie)
- Forged Companion
(Cat)
- Skeletal Berserkers (Dual Wield, 2H Sword)Our starter pack will continue to grow!


IMPORTANT: Rules, Terms, and Conditions

All files and links we share with our Patrons are meant for your personal gaming use and not to share. By downloading content made by us (STL Files), you accept this agreement.


You may only use the STLs provided for personal use and are not allowed to distribute or sell the files or physical prints.

You can cut, resize, and remix the files but you can't share the remixes as original files.

You can't edit our 3D files or use portions of them to create new content.

The files released here can't be used in any other project, Kickstarter, Patreon, or any other crowdfunding platform.

No molds or casts of our products are allowed.

All copyrights belong to Nicholas Callow the sculptor and creator, no rights are assigned or transferred to the end-user. Our designs are protected by intellectual property laws.

Patrons of the Plague Bearer (Merchant) tier are allowed to sell 3D prints of our models, but may not sell the STL files or any remixes of them. Once you have stopped pledging at this tier you must cease all sales of our 3D prints.
FEEL FREE TO CONTACT ME!


[email protected]
Instagram
Twitch Channel
Facebook
Twitter
I would love to hear your opinions and start some conversations with you!
Twitch
is a very active platform for me and a great way to interact! I often stream the sculpting or painting process and would be more than happy to talk to other sculptors/artist whether you're experienced or looking to pursue a career. If art isn't your thing you can hop in and tell me about your games, yourself, your cat, or whatever you'd like!
Feel free to hop in my
Twitch Discord
to share your artwork or a bit of your daily life with us.
Thank you again for taking the time to read about D.F.M.! I truly hope to form a community and give people a space to break away from the real world and delve into fantasy. I value your time and opinions and hope you'll join me on this journey!
With thanks,
Nick Callow
"WAKE THE DEAD"
The ground rumbles and chains rattle as the dead rise from their graves and begin lurking towards the Dread Forge!

UNLOCKS - Dungeon Boss Models

(1) Bi-Monthly Dungeon Boss
1 of 4
By becoming a patron, you'll instantly unlock access to 26 exclusive posts
By becoming a patron, you'll instantly unlock access to 26 exclusive posts
Recent posts by Dread Forge Miniatures