Where Norse Mythology and Mists of Avalon meet, this is a historical illustrated fantasy novel set in the lowlands of Scotland and the Otherworld. It is a coming of age story and the untold love story of the Gods, Ullr (Wuldor) and Elen of the Ways.

The majority of the story is written in journal format from the perspective of our 17-year old heroine, Fawn, who discovers her life's story is mixed up in myth and magic. Later issues will be from the perspective of the Gods. 
WHO WILL ENJOY THIS BOOK?
If you are into Fiction, Fantasy Art, and Northern European Mythology, you will love "Dreams of Ýdalir" the Illustrated Novel.
Subscribe today to join us on this fantastical journey through the halls of Asgard and find out the secrets of the Otherworld!
THE STORY
The year is 1794, Fawn is a seventeen-year-old orphaned girl, living in the Scottish lowlands. She begins having strange dreams of a flame-haired woman named Elen who appears to be part human, part deer and of Wuldor, a mysterious dark-haired woodsman who gifts her with a magical deer mask that allows her to travel to other worlds. Through these encounters, Fawn believes she has the power she needs to finally find her own fey-touched mother who abandoned her at birth. As Fawn's relationship with these mythical beings deepens, she writes it all down in her journal. Through this coming of age tale, she is gifted with the divine stories of the gods and learns how her true origins are tied to her survival.
Dreams of Ydalir tells about a world that exists beneath the veil of our own familiar world, and one that you will love getting lost in. The story includes fundamental truths spoken by the gods themselves to help us understand our own place in the cosmos.
THE ILLUSTRATIONS
The book format includes Fawn's illustrated journal chronicling her journey from orphaned and alone to finding out her lineage extends far into the ancient past and is tied up in myth and magic. This illustrated story uses the rich imagery of fantasy artist Roberto Campus to capture the magic, passion, and love, in the story. All the main characters will have their portrait done as well, all of which will be available as art prints and desktop backgrounds at the time of release.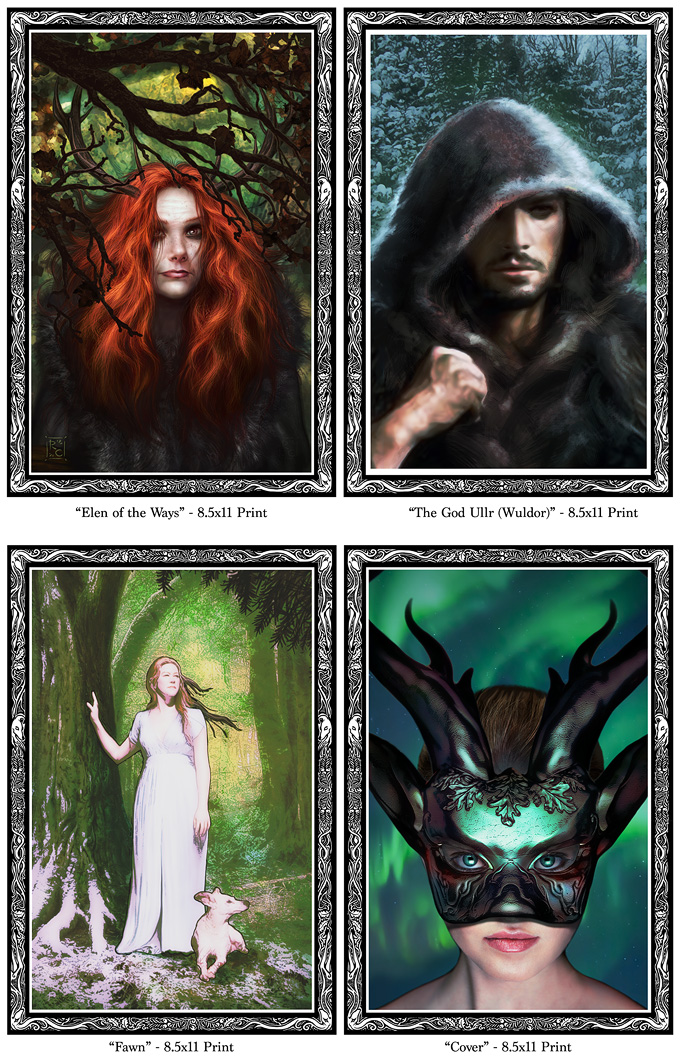 AM I SUBSCRIBING TO GET A BOOK??
Eventually. We are releasing the book in segments/issues monthly. When a new issue is released you will get a digital PDF of that part of the story. Like a magazine subscription, you are only charged monthly.
Each issue will contain at least 50 pages of the story and several illustrations
. Issues will be released on average every 4 weeks.
YOU GET ACCESS TO THE STORY AS IT UNFOLDS
When you subscribe, you will receive each issue as it is released, as well as access to our Patreon Only feed which will include a behind the scenes look at creating the book (which includes fun vlogs, blooper videos, and other vignettes, photo-shoot sneak peeks, works in progress, etc.).
Subscribe at $5/issue and receive:
Our Eternal Thanks <3
Each issue as it is released. (PDF, digital format)
Access to our Patreon-Only Feed (which includes fun vlogs, blooper videos and other vignettes, photo-shoot sneak peeks, works in progress, etc.)
ABOUT US
Ydalir Press was founded by Jenn and Roberto Campus - husband and wife, parents and artists, inspired by the Gods of Old, Mythology, and Fantasy. Since they met, they have been working together on projects they are passionate about. They dream about living a life off the grid and working by natural light and candlelight, surrounded by tapestries, like many of the great artists and writers throughout history.
Jenn Campus
A published author of two Amazon bestsellers, she has been writing stories for the past 20 years. Jenn knows that magic is inherently in the mundane and she is inspired by the days of yore. She loves reading books that pique her interest to go beyond the book and research the places and histories therein. She is especially passionate about the stories, cultures, and mythology of Northern Europe. She is a practicing polytheistic Pagan devoted to Wuldor/Ullr and Elen of the Ways. She is a self-proclaimed herb nerd and foodie and has been known to hug trees. Her warm and cozy writing style welcomes her readers to sit at her proverbial hearth to hear fantastical stories or learn practical skills for everyday life, allowing them to tap into the ways of their ancestors.
Roberto Campus
Born and raised in Italy, Roberto is a fantasy Artist and Illustrator with 20+ years experience. He has a passion for classical painting and sculpting techniques, which he uses to create his unique style of bold, primal and adventurous Fantasy inspired art. During his career he has created illustrations for many famous publishers like Marvel and DC Comics, the Game of Thrones and War of Warcraft TCGs as well as Dungeons and Dragons and Gurps, so he has an immense passion for Fantasy. He is an expert in Digital art, as well as traditional methods such as oils, pencil, inks, and pastels. He is passionate about attention to detail, loves studying the human body, nature, textures, and sculpting, all of which deeply impact his work. His inventive mind furthers his mission to add more traditional beauty to the chaos of the modern world.