Dungeons on a Dime
is creating Customisable Roleplaying Adventures
Select a membership level
Uncommon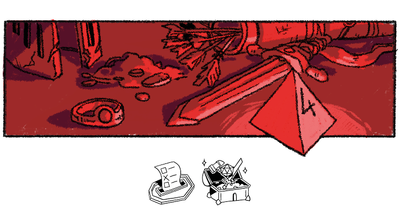 Gleaming with magic beneath the surface, Uncommon is perfect for any GM looking to add little spice to their game for the price of a bus ticket. You will have access to:
The Toolbox, a collection of different resources from every issue of Dungeon on a Dime. Every issue the toolbox gets bigger!
The ability to vote on the theme of the next issue!
Your name published in the upcoming issue as a thank you!
All files are digitally distributed, for you to print at home.
Rare
Enhanced with scinitlating runes, the Rare tier is perfect if you're new to running role playing games. In addition to benefits from previous tiers, you will receive:
All previous digital tier rewards (Uncommon)
Access to the most recent issue of Dungeons on a Dime
Access to the previous issue of Dungeons on a Dime
Each issue comes with bonus tips and tricks, maps, paper miniatures, hand outs and playtested material to supplement the adventure inside!
 All files are digital, for you to print at home. 
Very Rare
Untold power manifest in the Very Rare tier, recorded on special pages prepared with alchemical inks. You will receive:
All Previous Digital Tier Rewards  (Uncommon & Rare)
ONE RISO PRINTED issue with all of the extras sent straight to your doorstep.
You  can also list a public institution or library as your address, and  donate your physical copy while still enjoying the digital files in your  own home game!
Free delivery inside the UK. International patrons will need to add $4 for untracked delivery. 
About
I love this. I think in some ways, it is easier to just pile more and more complexity into an RPG product. I find it extremely refreshing to see stuff like this hitting the market: a solid story good for a session or two of play, heavy on the roleplaying, low on pretension and long on aesthetic and accessibility. More, please.
Stu Horvath / Unwinnable Magazine
Dungeons on a Dime
(DOAD) was founded in November of 2018 as an answer to many different needs in the tabletop roleplaying community. The magazine set out to:
Make Roleplaying More Accessible through easy to use resources, inclusively written characters and open ended stories.
Teach New Skills, such as how to run your first game, what content to prepare for a roleplaying game, and to highlight other learning moments.
Create Work For Entry Level Creatives by always paying for artwork, giving priority to emmerging illustrators and giving them the credit they deserve.
In the past, people were introduced to play roleplaying games through people they already know with experience. Today, many people come to the hobby with no experience and no one to show them the way, or are returning with little time to spare to pour over rulebooks in their free time.
Dungeons on a Dime
is here to spready the joy of roleplaying games, one adventure at a time. Written with a
system neutral
story but compatible with the free basic rules
5th Edition Dungeons and Dragons
, each issue can
support new and experience game masters
alike.
The physical editions of the magazine are made using Risograph, a super sustainable way of printing similar to screenprinting. We print with social enterprise Out of the Blueprint, using banana fibre screens, biodegradeable soya inks and recylced paperstock. Out of the Blueprint uses their profits to provide training and outreach to the local Scottish community of Leith, and subsidies for young creatives!

What's in the Toolbox?
Subscribe to the Patreon to get access to the Toolbox, a growing collection of supporting resources to power up your next game!
Mini Adventures and story supplements that didn't make it into the main issue.
New Class Archetypes, like the Circle of the Swarm, Way of the Red Sister and Solar Domain.
New Magic Items with related loot, plot hooks and backstory.
New Creatures with descriptions, encounter notes and tactics.
New Rules to inform your gaming, such as Swimming in Heavy Armour and the effects of Freezing Water.
New Ways To Immerse Your Players such as describing the sights, sounds and smells of their environment, and tips on how to prepare versatile resources on your own.
Behind The Scenes commentary and thoughts from the writers and illustrators.
And So Much More Bonus Content for 5th Edition Dungeons and Dragons – you'll always have new tricks to pull out of your game mastering toolbox.

What's in a Module?
Every issue of Dungeons on a Dime comes with everything you need to play in one handy pack.
Open-Ended Adventures that can be played as a stand-alone session or expanded with helpful prompts into a larger campaign.
Self Contained Stories that focus on roleplay, easily used with any system. You can start with any issue, whether it's your first game or your hundredth.
Detailed Characters with back stories to compliment your adventure. Meet them once and reuse them again and again.
Custom Paper Miniatures that are easy to assemble. Need a pack of wolves? Print as many as you need.
Combat Encounter Maps that feature the locations from the adventure! Using inch square grids, they are compatible with most miniatures, tokens and other play aids.
Rules Breakdowns. Introducing 5th Edition concepts in simple and approachable terms, with extra hints and tips to help newer GMs.
Brand New Resources For 5th Edition Dungeons and Dragons, including magic items, loot tables, monsters, immersive details, plot hooks and more!
Miss an Issue?
Don't sweat it. Digital issues are available from doad.co.uk, and limited stock of deluxe risoprinted editions are available from both the website and stores across Scotland and England.

Want to work for us?
DOAD is dedicated to giving entry level creatives the platform for their first paid published job, and the compassionate support they need to make their best work. We're currently looking for Illustrators; you don't need any previous experience, a degree or to have completed 50 unpaid work placements. Email in samples of your work at
[email protected]


Recent posts by Dungeons on a Dime
By becoming a patron, you'll instantly unlock access to 24 exclusive posts
By becoming a patron, you'll instantly unlock access to 24 exclusive posts