Dungeons & Possums
is creating old-school RPG bloggery
Select a membership level
Trash Creature
You're not trash, but clearly you like it, because you're here. Those brave weirdos who want to hang out in dank dungeons with possums and support my bizarre blog and assorted side projects are found here. You have my extreme gratitude.
Trash Boss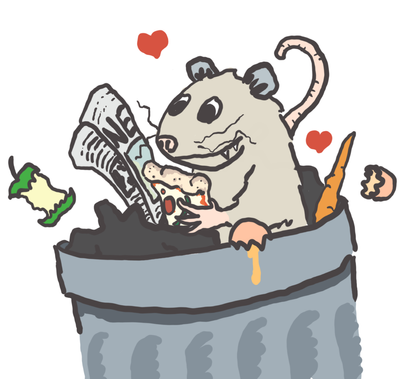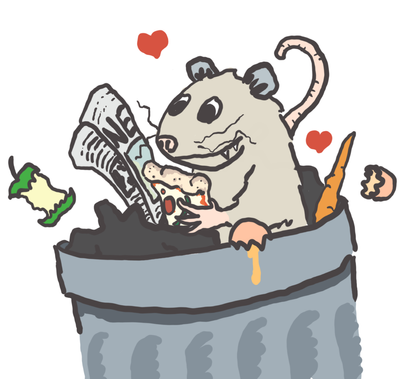 You may, in fact, be trash. There's no other explanation for why you chose this. This tier gets nothing but bragging rights; it enables you especially strange dumpster-diving marsupial blog supporters to declare yourselves Head Honcho of the Rubbish Bin. Thank you, my beloved Trash Bosses.
Trash Champion
You are trash. You were born in it, molded by it. Now you hiss and play dead with the best of 'em, and I am contractually obligated to screech at you when you hang upside-down by your prehensile tail. At some point, I may or may not figure out some kind of physical award gimmick for this tier, but I am still working on it and have no solid plans yet.
About Dungeons & Possums
Welcome, you daft and generous friend of the dungeon possums dwelling deep in the cavernous catacombs of the ancient necropolis complex beneath the goodly Fort Possum!

If you're here, you're either extremely lost and confused, or you're aware of my blog,
Dungeons & Possums
. I write (and sometimes
draw
scribble) about RPG stuff, mostly old-school and OSR D&D, but also really anything that catches my fancy and speaks to the part of my mind where imagination lives. I do reviews, interviews, vaguely shouty analyses of layout and design in RPG products, and occasionally I actually make something of my own to share with the world. I like to hope it's a good blog even if it mostly comes from a brain addled by Heavy Metal Magazine, an abundance of possum jpgs, horror movies from the '80s, and attention deficit disorder.
I am trying to shake impostor syndrome and just genuinely appreciate each and every person who thinks that the writings and doodles I put on my blog (for free) are worth supporting monetarily. It blows my mind that people would ever feel that way. I did not set out to go down this path, but from the bottom of my heart I appreciate the kindness of each of you who stops by and even considers it.
Any money I make here will, in essence, offset my own Patreon pledges. If, by some shocking turn, I earn more than that, the money will go towards more books to review, thereby supporting more independent creators in the RPG industry. I believe in supporting hard-working creators of all stripes in our hobby, from those who do it as a diversion to those who make a full career out of it. Also I will buy catfood for my preposterous idiot cat, Charlie, who used to be hairless, covered in scabs, and full of worms and bladder stones but now is a hairy and healthy boy who drools like a St. Bernard and eats special food from the vet.
Anyway. Welcome to the Possum Dungeon, and thank you for crawling down into the trash with us!
I picked this entirely at random but I suspect if we somehow reach this level, ever, I'll be able to afford to mess around and transplant my blog to a hosted WordPress instance to ensure that Google doesn't assassinate my dorky haunt without my permission.

1 of 1
By becoming a patron, you'll instantly unlock access to 1 exclusive post
By becoming a patron, you'll instantly unlock access to 1 exclusive post
Recent posts by Dungeons & Possums
How it works
Get started in 2 minutes