DutchBondFan
is creating James Bond content (Review & Ranking Videos)
Select a membership level
The DBF Community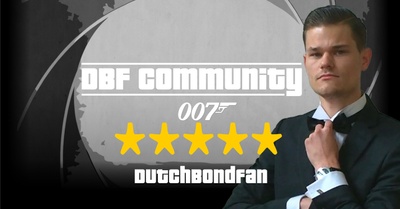 Rewards and benefits for joining:
• Early access to all videos uploaded to the channel 2 weeks before the regular viewers get to see the content!
 (With the possible exception of occasional Bond news discussion videos, which all viewers will get to see instantly) 
• A Personal thank you video message
 • My custom made Bond Blu Ray covers in your e-mail inbox as a sign-in bonus! 
  • Access to the exclusive DBF Community Discord server! 
  • Ability to send in video reviews to be featured in the weeky 'Bond film of the week' videos!  
• Access to my Patreon feed
 • You're now part of the elite group of fans of the channel!  
About
Good day fellow Bond fans!
If you found this patreon page it is very likely that you are aware of my YouTube channel "DutchBondFan - The Channel tailored for Bond fans!"
Bond represents the ultimate male fantasy to me, it's one of the few subjects I happen to be very knowledgable and passionate about! I'm striving to keep producing unique, entertaining and humorous Bond content for years to come!
This Patreon page is designed for the diehard fans of the channel who are willing to give back for all the work that goes into the creating of my videos. Due to YouTube's Content ID policy and copyright owners claiming my videos and 'stealing' all the revenue, (even though my reviews fall under the 'fair use' law...) this essentially comes very close to a non-profit operation for me on YouTube these days...
You can now join the DBF Community and get access to all my latest videos, 2 weeks before the regular viewers get to see it. You will also receive my custom made Blu Ray Covers, a personal thank you video and your name will be featured on the supporters wall of fame. In addition, you also get access to the exclusive DBF Community Discord server!! All support is appreciated immensely! Thanks a lot!
~  Jeroen (DutchBondFan) https://www.youtube.com/c/dutchbondfan

If I reach this goal, I will launch an ultimate Top 25 Bond films Ranking episode!
2 of 2
By becoming a patron, you'll instantly unlock access to 57 exclusive posts
By becoming a patron, you'll instantly unlock access to 57 exclusive posts
Recent posts by DutchBondFan