Kiki Thaerigen
is creating illustration art
Select a membership level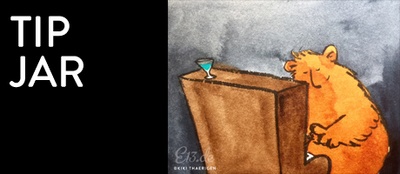 Tip Jar
Thank you!
$ 1 is a great way to support a month of illustration art and get you profound and heartfelt thanks from me and Bear.

You'll also get access to my Patreon activity stream, where I'll post my current sketches and new videos first as well as Patreon-only polls about new art and early information on new projects as they develop.
Once the first stretchgoal is reached, you will have access to the Q&A sessions, in which I'll answer all my patrons' questions.
Monthly Bear Wallpapers!
Many thanks!
$ 5 gets you 
Plus:
a brand new monthly Bear wallpaper for your PC/notebook, smartphone and tablet!
Once the second stretchgoal is reached, I'll draw a monthly Patreon-only watercolour sketch and scan it in high-resolution for you to download!
About Kiki Thaerigen
Who am I?
Hello, my name is Kiki Thaerigen and I am a professional illustrator and graphic designer. I also spent many years on a detour as a digital marketing strategist before finally returning full time to what do best and love the most in life: creating illustration art.
But this here is not about my commercial work. With your support, I can use Patreon to help me spend more time with my personal art, espcially art featuring Bear. My ultimate goal is to be able to support myself solely from this personal art that I so love to make. To achieve this I need the time and thus the funding to take this step.
Bear in his library

Who is Bear?
I've been best friends with
a fun-loving, dry Martinis drinking bear with an epic classical library and a giant appetite for fresh salmon and hot Bratwurst
my whole life. He goes by the name of Bear. Together, we are living in Hamburg, Germany.
I've been drawing Bear ever since our childhood days and I would love nothing more than to finally be able to write and draw him fulltime for a living. Which is where YOU come in!
With your support I can 
write, illustrate and publish stories about my life with Bear, in pencil/charcoal, watercolours or digitally. I love using different techniques!
have Bear write that fabulous cook book with his favourite recipes ("Fried potatoes à la Bear")
make Bear comics. Maybe his frenemy, the raccoon, will make an appearance from time to time.
publish all this and maybe even have it printed as a real book!
make process videos about how I draw and paint Bear
What is Patreon?
Patreon allows you to make a small monthly contribution to support my creative endeavors. You become a patron of the arts and get to see cool stuff, and I get to spend time working on creative projects dear to my heart. You'll be charged once at the beginning of each month. (Remember, you're under no obligation – you can always cancel or edit your pledge/reward tier at any time!)
What are Rewards?
They are gifts I give to my patrons! Blog posts about my thought and sketching process, detailed process work videos of my lastest artwork, progress shots of artwork that I don't usually share publicly. For higher tier rewards, you also get exclusive wallpapers for your personal use or discounts when you buy giclées or original artwork from my artstore! Rewards are listed on the right. If you're on your mobile, click "Become a Patron" at the top to see the reward options.
Why would you want to support me?
Well, maybe you already know and enjoy my work from
Instagram
,
YouTube
or
Twitter
and want to read that book about Bear and me that I have planned. Or you'd love to be among the first to get access to behind-the-scenes drawings, making-of-videos and blog posts. You might want to receive goodies, or participate in Q&A sessions or maybe even one-on-one tutorial sessions or enjoy Patreon discounts on commissions or fineart giclée prints from my
artstore
. For starters, I have two reward tiers to keep things nice and simple.
Why is this page in English? Will the content here be in English, too?
The content I publish here on Patreon will be in English, yes. I have had requests from a few international friends and I want to broaden my audience reach, so I've decided to give Patreon in English a try. Also, I think Bear has a universal appeal. I might add a translation though, if I have the time or get enough requests.
I have now set up an English version of my Bear subscription service a.k.a. "Bear Mail" at http://bearmail.me – have a look and treat yourself!
And …
Thank you for your support
, please spread the word on all your social networks and lots of love from me and Bear!
/Kiki
Once we hit this goal, I'll answer all my patrons' questions in a monthly Q&A session. If I don't have the time for a video, Bear and I might type up responses instead of doing a video, too. Whatever seems to work best that month.

1 of 4
Recent posts by Kiki Thaerigen
By becoming a patron, you'll instantly unlock access to 34 exclusive posts
By becoming a patron, you'll instantly unlock access to 34 exclusive posts