Steve O'Neil
is creating Earthshine Nature Programs
Select a membership level
Level 1
 THANK YOU - Your support is so much appreciated.
You will receive a big thank you shout out in all future videos on our YouTube channel and blog postings. 
Level 3
THANK YOU - Your support is so much appreciated.
You will receive a big thank you shout out in all future videos on our YouTube channel and blog postings. 
Level 5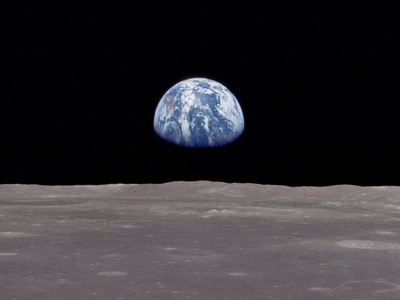 THANK YOU - Your support is so much appreciated.
 You will receive a big thank you shout out in all future videos on our YouTube channel and blog postings.  
About
Hello, my name is Steve O'Neil (aka: "Science Steve", "Nature Man" and "Nature Steve" to my students and campers) - I am the founder,  Executive Director, and chief naturalist of
Earthshine Nature Programs (ENP).   
Earthshine Nature Programs - This is what we do.
ENP is a very small donation funded, and volunteer operated 501c3 nonprofit, organization that passionately works to promote wildlife and nature awareness and conservation, and renewable energy and Electric Vehicle (EV) education and adoption locally and regionally with unique outreach programming and worldwide via the internet.  
My first goal with ENP is to work to inspire you, and everyone I meet - to better understand, respect, and care for all our shared wildlife, wild places, and our shared environment and the important roles they all play in a healthy earth and for healthy humans today and for future generations.  
My second goal with ENP is to work to educate you on better ways we can work individually and together to leave a smaller 
ecological footprint
and have a smaller, more thoughtful, science-supported impact on the precious earth and the wildlife, wild places, and ecosystems that mesh together to give us all with the grand gift of life.  There are many great ways to do this but I feel that one of the easiest ways we can have an impact is through the adoption of - small or large scale - energy efficiency,  renewable energy technologies, and electric transportation choices to power and to move our lives today, tomorrow and far into the future.
As director of ENP I work very hard to make inspiration grow and to sow the seeds of change for my students, campers, visitors, and for my patrons. 
I do this for my students and visitors through my unique mix of science-supported wildlife conservation classes and projects at the ENP/Trails Science and Nature Center Classroom.
I do it for my outreach programming participants through hands-on outreach programming at camps, schools, birthday parties, businesses, fairs, and special events in the Western NC, Upstate SC, Northeast Georgia, and East Tennessee areas.
I do it for my worldwide audience of Patrons via the internet through educational videos and stories posted to social media on the 
Earthshine Nature Programs YouTube Channel
and our two Wordpress Blog sites - the 
Earthshine Nature Blog
and the 
Blue Water Leaf 
electric vehicle/renewable energy blog.  (view some examples of my educational videos embedded below and follow the links to more content).  
In this age of a great and growing loss of wild things and wild places and a great loss of the  knowledge of the important and imperative connections between people and nature, we are seeing an increase in something 
Richard Louv
calls "
Nature Deficit Disorder
." So many people today suffer from NDD as well from a growing denial of and a troubling distrust of science and in how things work.  There is a growing and very serious and dangerous lack of critical thinking skills resulting in the blind acceptance of the anti-intellectual charlatans and snake-oil salesmen out only for personal gain at the expense of everything going forward...so for ENP, there is much work to be done.
We at ENP work very hard to be a voice for the voiceless wild creatures, the remaining wilderness and wild places of the world. 

We strive to be a source of science-supported facts and knowledge working to conquer the fears of the past by instilling a renewed scientific curiosity in the wonders of nature, wildlife, wild places and in the findings of science in everyone we meet. 

Hopefully, once we are armed with the facts and have conquered our ancient fears, we will then be able to all work together to make a difference in the world and build a better future for all people and for all creatures.   
Please read more about our programs and projects below and please consider supporting ENP with your patronage. 
Thank you! 
Steve O'Neil
Naturalist and Executive Director of Earthshine Nature Programs/Trails Science Program 
Steve with a Turtle Dog that specializes in locating wild turtles for conservation purposes.  Steve is holding a wildlife radio telemetry tracking device.      

Trails Partnership
In 2012 ENP partnered with Trails Carolina and Trails Momentum (formerly The Academy at Trails Carolina) to form the Trails Science Program.
At Trails Science our goal is to renew our students connections with a childhood curiosity in nature, science, and in how the world works, and to impart positive interests and constructive reasons to get excited and inspired again about science and the natural world we are all part of and all rely on for our very existence. 
Our unique, hands-on, environmental and applied science programs and projects have real purpose and real goals that serve to give our students the chance to step outside the box and take the steps to make lasting, positive change in their lives in order to create a "new normal" in themselves and in their relationships with friends, family members, and with nature and the world around them.
In class, our students learn, build, and are inspired by directly contributing to lasting wildlife, ecology, nature conservation, science and renewable energy projects that work to make their lives and their world, a better place.
The Science and Nature Center
Our science and nature center classroom is located on the beautiful, wooded campus of Trails Carolina and Trails Momentum adjacent to DuPont Forest in the ancient Blue Ridge Mountains of North Carolina, USA. 
In this rustic, remote, log cabin science lab/nature center we host a variety of tame animals that were former pets and/or rescues that we have adopted as education animals. Some of our animals are rehabilitated wild animals that cannot be released for a variety of reasons such as loss of habitat or physical challenges such as loss of limbs. Both Trails Carolina and Trails Momentum students work with naturalist "Science" Steve as they call him, to care for these animals during scheduled class times. This hands-on, one-on-one care of our animals leads to a deeper inquisitiveness which fosters a greater level of understanding and respect with many students often forming strong bonds with the animals - bonds that frequently lead to amazing changes and personal growth within the students themselves.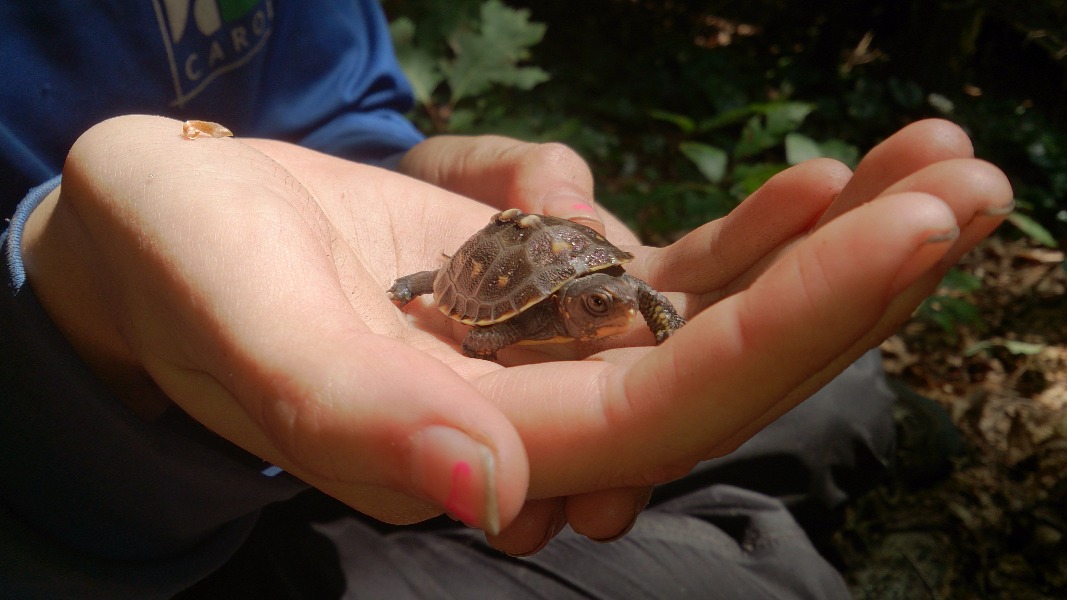 Many of our animal ambassadors are of the more misunderstood variety - snakes, lizards, Opossums, Hellbenders, turtles, tortoises, a Lungfish named Jacques Cousteau, arachnids, crocodilians, and chickens - many of these creatures are the ones people love to dislike - even if they do not know why they dislike them.  At ENP we work to help people connect with these unique species, gain some knowledge about them, understand them better, care for them, and more often than not we see past misunderstandings and fears being replaced with smiling faces and a genuine interest and growth that results in nothing but good and positive change in our students and program participants.    
Outreach Program Offerings
The Earthshine Nature Programs team of professional naturalists is mobile and will come to your school, camp, birthday party, business, organization or special event in the Western North Carolina/Upstate South Carolina/East Tennessee or Northeast Georgia communities. We will introduce you to some of our more misunderstood native wildlife species such as snakes, turtles, tortoises, lizards, and the amazing Opossum. You will learn all about them and the important roles they play in the balance of nature and their interconnectedness to each other and to each of us in the web of life on planet earth.
Through our unique hands-on wildlife programs, you will meet our education animals in a face to face way that you will never forget!
Wildlife outreach program choices include misunderstood wildlife, reptiles and amphibians, animal adaptations, wildlife conservation, connectedness and the web of life, or a combination of the above.
Online Outreach
Your generous support will allow us to create tons of new exciting educational content for our existing YouTube Channel including but not limited to: 
Our Existing Nature Video Series including
- 
Wild Adventures With Steve
-
- 
Rat Snake Tracks
-
- 
Timber Rattlesnake Tracks
-
- 
Turtle Tracks
-
- 
Trails Science
-
Our New Video Series 
Created with support from our Patrons

- 
Environmental Awareness
-
- 
Electric Vehicle Adventures
-  
- 
Seeking Solar
- 
*Your patronage will allow us to make all our outreach programs and videos the best that they can possibly be!  

Please note: quality video production is a slow process but we will turn out video products in a timely manner.  In between videos, we will be sure to keep our patrons updated on what we are currently working on and the exciting new content that is on the way :-)   

Wildlife Rescue and Rehabilitation
We specialize in the rescue and rehabilitation of reptiles and Opossums that have been injured due to encounters with humans and their machines, lost their homes due to habitat destruction, were former pets that need a home, and also those animals whose injuries do not allow them to be released back into the wild. 
We work with local veterinarians and wildlife rehabilitators to do all that is possible to heal these injured animals and get them back out into their native habitats as fast as possible.
Non-releasable animals may become animal ambassadors at our nature center and go on the road via our outreach programs working to educate people of all ages on the intrinsic value and beauty of all wildlife and nature.
*Your support will allow us to improve our wildlife rehabilitation facilities and thereby help us help more animals!
Take a look at this video of one of our most amazing wildlife rehabilitation success stories!   

Turtle Tracks and Snake Tracks
Since 2008 naturalist Steve, his students, and volunteers have conducted several unique reptile conservation, ecology, and environmental education research projects studying the natural movements and habitat use of the Eastern Box Turtle, Black Rat snake, and Timber Rattlesnake.
Since the summer of 2014, Steve and his students kept track of one large Black rat snake we have named "Apollo" in its native habitat near the ENP/Trails Science and nature center classroom.  They are also keeping track of the native reptile and amphibians on campus via a network of cover-boards and a student observation program.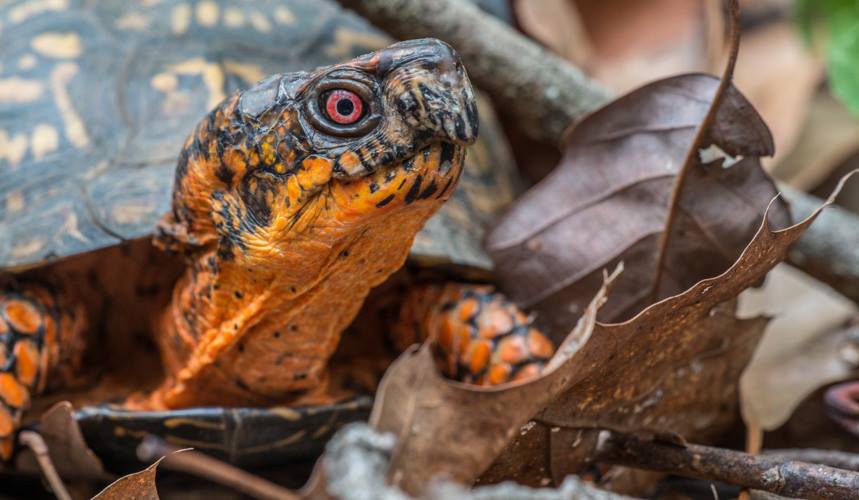 Check out this video from the summer of 2017 where some of Steve's students (from Alpha Group!) find an ancient Eastern box turtle - what a great learning experience!     
There is much more content where that came from on the ENP
YouTube channel!
Wildlife Science Programs!
In one of ENP's outreach program offerings naturalist Steve will come to you and present a detailed program on his over a decade of findings on the movements, habitat selection, and life history of these amazing yet very misunderstood creatures. In these college-level programs, Steve will bring living examples of the animals he has followed as well as examples of the equipment he uses to follow them in their natural habitats.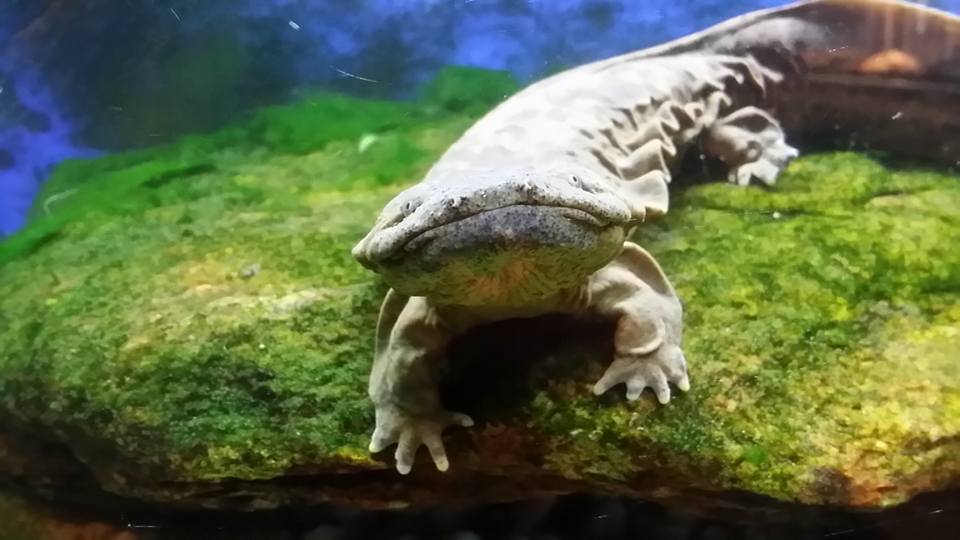 Reptile Field Conservation Classes
Steve has led field excursions into his wildlife conservation study area radio-tracking study sites for over a decade.  Now, Steve teaches students about his adventures following wild reptiles via his outreach classes, programs and videos.  Watch one of Steve's most recent Rat snake tracks video below.      
Bat Monitoring 

Earthshine Nature Programs has been volunteering with the NC Wildlife Resources Commission's NCBAMP Program since 2012. NCBAMP stands for NC Bat Acoustic Monitoring Program. In this unique program, volunteers attach a highly sensitive ultrasonic microphone to the top of their vehicle, connect it to a high-tech Anabat data collection device, then drive a preset route listening for and recording the vocalizations of flying and feeding bats! This detailed data allows bat biologists and conservationists to learn more about the local concentrations and numbers of bats and then develop ways to better conserve and protect the planet's only free-flying mammal from threats such as habitat destruction and the deadly White Nose Syndrome that has killed millions of bats nationwide. ENP uses our 100% electric Nissan Leaf, and ENP primary supporter Jim Hardy's Leaf, as our "Batmobiles." These silent, zero-emission Electric Vehicles (EV) are perfect for surveying night flying, almost silent, stealthy mammals.
Watch a video from my first NCBAMP route from waaaay back in 2011.  Note: At the time of the production of this video I had not yet acquired my new "Batmobile" EV and was using my previous vehicle - a clunky but fun old 1987 Suzuki Samurai - to run my bat survey route.  In a future video, I will show how I now use my all-electric, silent, and amazing Chevy Bolt EV as my new "Batmobile" to help the bats!  
  
*
Your patronage will assist us with the acquisition of the much-needed field equipment upgrades for our volunteer wildlife conservation programs and projects including our bat, and reptile monitoring projects and programs allowing us to collect even more meaningful data. A list of needed equipment provided upon request. 
The Nature of the Didgeridoo
This is a uunique music education and experiential education program all about the ancient Australian Aboriginal musical instrument known as the Didgeridoo.
The Didgeridoo has its roots deep in the nature of the Outback of Australia. The sound and story of the Didgeridoo is unique and unusually beautiful and a must for all music buffs and classes to experience.
Steve will bring his Didgeridoos to you and tell you a part factual and part mythical story about the creation of one of the world's oldest musical instruments while demonstrating how to play and then everyone will have the opportunity to construct their own bamboo didgeridoo to take home! 
*Your patronage will give us the opportunity to increase our stock of didgeridoo related supplies giving us the ability to provide a richer, more unique and impactful music program! 


Electric Vehicles and Renewable Energy
ENP's Executive Director Steve O'Neil is passionate about nature, wildlife conservation, the didgeridoo and Electric Vehicles (EV's) and renewable energy. He feels that by driving an EV a person will be helping to protect and conserve nature, wildlife, wild places and all of our futures by driving a vehicle that does not pollute as much as gasoline-powered vehicles--or at all when that EV it is charged by renewable energy sources such as rooftop solar, a local solar farm, a micro-hydroelectric station and more.      
Steve feels that fossil fuels are toxic, polluting & should be retired & that EVs & renewable energy technologies such as solar, wind, geothermal, tidal, wave or hydro are the future of automotive transportation & energy production for our country & for the planet.
In this unique program, Steve will drive a
fully electric vehicle (that's the ENP past outreach vehicle a 2012 Nissan Leaf above at a local solar EV charging station) to your location, go over its features, demonstrate its workings, take you for a test ride/drive (depending on the numbers in your group and your location) and answer all of your questions about this clean, green, smart, and surprisingly affordable technology that is here to stay. Steve will also so over the many available types of renewable energy systems currently available to the consumer and offer some working, hands-on examples to experience including solar large and small modules (panels), solar inverters and batteries, small-scale solar device chargers, etc.  Check out our most recent Renewable energy/EV video below.
Steve has driven tens of thousands of gas-free miles in the ENP outreach EV, and with this program, you can learn how, like Steve, you can "Kick Gas," and experience the freedom and joy of driving electric and maybe even go solar (or other renewable energy sources) to power your life on clean, renewable energy! 
Steve's ENP outreach Leaf EV is charged by a solar array mounted on the classroom where he teaches and therefore his car is free to drive and truly zero-emission.
*Your support will allow us to work toward the completion of Phase Two and later Phase Three of our solar array project.  This will allow us to add more solar generation and battery storage capacity to our classroom which will bring us closer to becoming a net-zero facility! A shortlist of the needed components to finish Phase Two and Phase Three are listed later on this page.  A fully detailed list will be provided upon request. 


---------------------------------------------------------------------------- 
Our Current Needs
- Our Biggest Outreach Programming, Wildlife Rescue, & Conservation Need - 

- A future company vehicle with hauling, pulling capabilities and all-wheel drive- 

The biggest need for the future of our outreach programming, wildlife rescue & conservation, and renewable energy/EV outreach programming is an all-electric outreach vehicle.

This unique outreach vehicle will allow us to expand our programming range from the current area limited only by the driving range of our current outreach vehicle - a 2019 Chevrolet Bolt EV with a real-world driving range of around 200+ miles.  The implementation of this van as our dedicated outreach vehicle will expand our daily range to over 300 miles from our base of operations.  With the expansion of the local fast-charging network, this range will soon be increased to well over 500 miles/day!    

This vehicle will also allow us to haul more supplies, materials etc as our current outreach vehicle is very limited in the area of cargo space.
 
Our dream vehicle is the 
Tesla Cybertruck
 all-electric vehicle.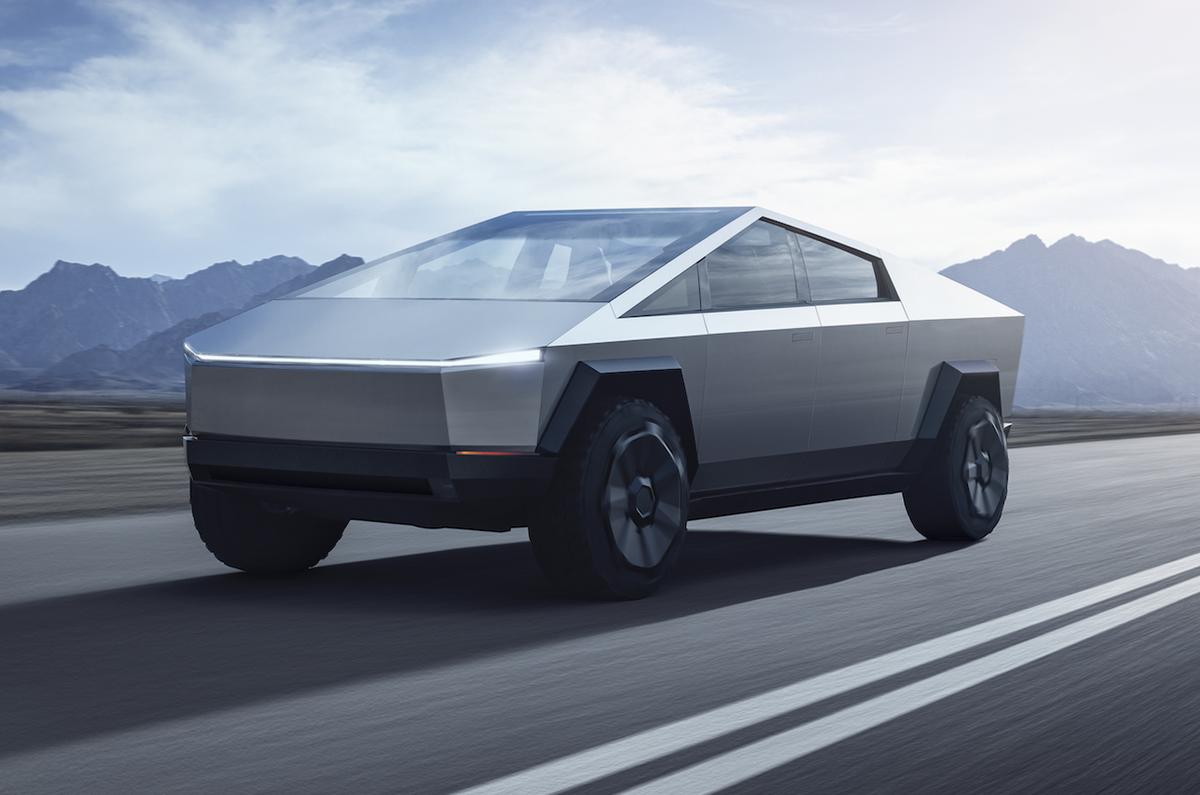 But why this particular electric vehicle?
Simply because it is a Tesla - the highest-rated vehicle on the road.  It is strong, safe, long driving range, has impressive hauling and pulling capabilities, and will get me to the office/classroom in even the most inclement weather.  It will not be available for several more years so it is something to look forward to.  

Why not something already available?
The ENP Chevy Bolt  EV has many more years of life in it and we plan to use it for at least 5 years then, when the time comes, switch to a Cybertruck dual-motor AWD. 

ENP chooses to drive electric vehicles for so many reasons but first and foremost it is because we are an environmental conservation and education organization and we believe that driving electric vehicles charged by the sun (via our classroom solar array) greatly reduces our impact on the very nature and wildlife that we love so much.

An EV as a company vehicle also makes a great education tool for our students teaching the "new normal" of clean transportation and renewable energy technologies to everyone we meet!

Driving EV also keeps our transportation costs at almost zero and those cost savings are then transferred to our customers and keeps the costs of our programming at very reasonable levels below the competition. 
As an example of how low our outreach vehicle operating costs are just take a look at our latest 
blog post
 on that subject. 

An EV outreach vehicle also makes a great statement that we practice what we preach to the best of our ability.

When we finally are able to make the our dream outreach vehicle a reality we will need to outfit our vehicle to include the following unique modifications.

1. Built-in custom storage and education animal/wildlife rescue housing and transport system.  This system will consist of several custom-built climate-controlled habitat "pods" installed on the inside walls of the vehicle similar to the photo below although our habitat pods will be more streamlined to allow for more storage/cargo space within the vehicle.



These pods will provide safe, secure, climate-controlled transport for education supplies/tools and our education animals when we take them on the road for our outreach programming. It will also provide safe transport space for the wild animals we rescue giving them a secure space during travel to and from the veterinarian and, when the time comes, back to their native habitats.
  
2. We present programming at several local and regional special events each year.  In the past we have relied upon a tent as our housing and pop up shade awnings as our traveling classroom.  With the Cybertruck we will be able to have all our needs met in one package similar to the image below.

 
This configuration will allow us to roll up into a school/camp/festival/business or other parking area/field etc. and quickly "set up shop" to make ready to jump right into our outreach programming without a lengthy set-up period. Being able to present our programs from the vehicle will also allow easy access as needed to the education animal habitat pods. This will serve to keep transport stress to a minimum for the animals.  Having our outreach programs based at the vehicle will also provide us with a great way to educate our outreach participants on all of our primary causes - wildlife and nature education and conservation, electric vehicles, and renewable energy! 

And with that - a great segue into the next vehicle modification.   

3. Vehicle rooftop mounted solar array.  There is talk of the Cybertruck having the option of a bed cover mounted solar array would be located on the roof of the outreach vehicle.  The array would serve to generate renewable electricity for the vehicle's main drive battery and in doing so add many miles of clean solar-generated driving range to the vehicle each day lowering our carbon footprint even more.  

The ENP outreach vehicle's rooftop mounted solar array would serve as not only a range-extender for our outreach van but above and beyond that it would be an amazing teaching tool offering a functioning model of  the technology, uses, and benefits of renewable energy sources to everyone we meet through our outreach programming around the region and via our classes at the ENP/Trails Science and Nature Center Classroom.

4. Mobile projection vehicle.  Our vehicle would also come equipped with an on-board data/video projection and audio system for showing wildlife, nature, environmental, and renewable energy-themed documentaries to groups at local classes, colleges, seminars, events and environmental fundraisers.  Our inspiration comes from the 
Tesla Model S mobile projection vehicle
*
 driven by 
Leilani Munter
 in the must-see award-winning documentary 
Racing Extinction
. 


*Our outreach van's mobile projection modifications and capabilities would be on a much smaller scale than the 
Racing Extinction Tesla
 pictured above - however, like the Tesla, our projection equipment and sound system would be self-contained and powered by the outreach vehicle's battery/rooftop mounted solar array.  And, like the RE Tesla - it would serve to raise awareness of some of the most important environmental issues of our time - wildlife awareness and conservation, anthropogenic climate change and species extinctions, renewable energy and electric vehicle options that we can all adopt to help us all be part of the solution.

Together we can change the world!   
   
With your patronage (or maybe even a direct tax-deductible vehicle gift donation) we can make our dream of this amazing electric outreach vehicle become a reality for ENP and for the thousands of children, students, adults, and wildlife rescues that we will impact with our outreach education and wildlife rescue services with the implementation of this EV outreach vehicle project. 
Please contact us if you are interested in supporting our outreach vehicle.
Email us at: [email protected] 



- Our Biggest Classroom Energy Need -
The primary components that will allow us to complete

Phase Three of our Classroom Solar Array Project.


Your support will allow us to add battery storage capacity and the associated control and monitoring components to our classroom solar project.  This will serve to bring our classroom and our nonprofit closer to becoming a net zero facility!

PHASE ONE and TWO of our classroom Solar Array is complete and online - see above photo! 
THANK YOU to everyone who worked together with us to make it a REALITY!  Watch the video of our solar array's 
construction
 and the 
day it went online
!


UPDATES!

Take a look at our
GoFundMe page
for a full timeline of our progress on our Classroom Solar Project!
PHASE THREE
Now that Phase Two is complete we will move forward with Phase Three.
Phase Three will provide our classroom with a battery storage bank - essentially a building-sized UPS (Uninterrupted Power Supply). This battery bank will be charged by our solar array during the day thereby storing energy to provide power to our classroom's education equipment, animal habitats, and life support systems during the night, over average periods of overcast/rainy weather, and during the frequent weather and grid-related power outages we experience in our rather remote location.  Over long periods of overcast weather the battery bank will rely on grid electricity to charge.  Essentially, the existing energy grid will become a backup battery charger to our solar power/battery bank system supplying our building's micro-grid with power only on the rare occasions when absolutely needed.

Components needed to go to Phase Three -
The final phase of our classroom solar energy project.
Phase Three is designed to plug-and-play with Phases One and Two.


 1. 
SMA Sunny Island Inverter 
(This link is only an example - please contact us for details)*
This control unit will allow our hybrid power system to communicate with the solar array, storage batteries and power grid allowing us to function as an off-grid solar power station most of the time but keep our grid connection for times of extended rainy low light weather.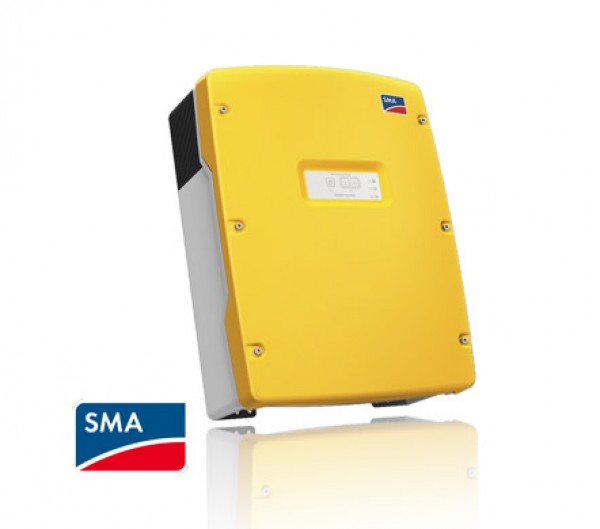 If you would like to donate funds to cover the cost of these components please do so via this campaign or through the PayPal link on our Donate Page.
2. 
Battery storage - size/source TBD (contact us for details)*
  Either - Trojan L16 AGM Batteries - or a Lithium-Ion battery pack similar to the 
Tesla Powerwall
 . (or comparable* as decided by Bob Harris of BBSI )
Use: Stores electricity for nighttime/cloudy day/power outage use (outages are frequent in our remote location).
Source: Bob Harris will arrange with a supplier to save on cost and shipping.
If you would like to support us with a donation of these batteries please contact us. If you would like to donate funds to cover the cost of these batteries please do so via this campaign or through the PayPal link on our Donate Page.
*We could also use other storage mediums including used EV batteries. If you are interested in assisting us with this most important part of our project please contact us.




Once phases One and Two solar arrays are online and operational (noted as PV generator in below diagram), Phase Three will then be integrated into the system as in the below diagram (only one Inverter and Sunny Island unit will be needed).


*The acquisition of these primary components will be directed and supervised by our primary solar electrician Bob Harris of 
Black Bear Solar Institute
. 

To make Phase 3 of this project a reality for our classroom, our students, and our education animals - we need your support in this final push to the end of this amazing project.

Supporter Spotlight: SPECIAL THANKS to Jamie, Patty, Rachel Bisker, and Ron Griffin (not pictured) for your wonderful support of our classroom solar project! You are all heroes! 



There are several ways you can support our Classroom Solar Energy Project (and any of our projects)

1. Monthly Patreon support or support us through our 
GoFundMe
 page.

2. Direct donation of components/funding via one of the links in the next section.

3. Sponsorship of a solar module (aka solar panel). 
 Solar Sponsorship Details: Another unique way you can support this project is with a solar module sponsorship.  

You may choose to sponsor (donate) one or more solar modules at the donation level of $500 each.*
*Your sponsorship covers the cost of the solar module, its support structure, and the electronic components needed to tie Phase 2 into the existing & operational classroom solar array.
After your donation is complete your name/company name (or the name of your choosing) will be permanently affixed to the frame of your sponsored solar module(s) and inscribed on a nearby commemorative plaque listing all classroom solar project supporters.
Sponsors will also receive a certificate of sponsorship, and a donation receipt. 


If you would like to support any of our projects via Patreon or with a direct donation please contact us either through Patreon 
or directly through email at
[email protected]


For most of our smaller one-time component/programming/classroom needs
please visit our
Amazon Wish List 


--------------------------------------------------
-Our Biggest Most Challenging Classroom Need-
A new building!
We would like to construct a 
monolithic dome
three times the size of our existing classroom at a size of 2500 sq ft. 
We have chosen monolithic dome construction for its ease of construction, strength, efficiency and unique beauty.
Our new classroom will feature three divisions - a large classroom/teaching area, an animal habitat area, a wildlife rehabilitation area/small sleeping area with a bathroom with a single stall shower and sink with grey-water collection, composting toilet, and small closet.  
This new classroom will stand adjacent to our current building and we will use our old classroom for much-needed storage.
We will also use our existing solar power system to power our new building.
If you are interested in supporting our new building please do contact us or support us with your patronage.
----------------------------------------------------------------------
Your Support
We welcome your continued assistance in keeping our unique programming alive. There are now so many ways you can choose to help us make all our unique projects a reality.

If you live nearby you may choose to donate time by volunteering at our Science and Nature Center – we always have loads of projects that need doing – working in the garden, cleaning habitats, small-scale construction projects, yard work etc…if you like to get your hands dirty then just contact us at (828) 606-8939 to set up a time to give us a hand around the classroom/farm.

Another way to support us is through the donation of much-needed supplies – our wish list can be found on Amazon by searching for the Earthshine Nature Programs Wish List or by following this tinyURL link: http://tinyurl.com/ycltn963 or if you prefer using the original Amazon link: https://www.amazon.com/gp/registry/wishlist/ref=cm_wl_search_1?ie=UTF8&cid=A3TBW3N49YMPW

Another great way to support us is through Amazon Smile. Simply visit:
smile.amazon.com
and sign up to support Earthshine Nature Programs. Then, every time you make a purchase on Amazon using your smile.amazon.com account, a portion of Amazon's profits will be donated to ENP at no cost to you! Yes, it really is that easy to support us!

If you would like to directly support our projects and programs you can choose several ways to do so. We have an ongoing GoFundMe campaign were you can donate to Phase Two and Phase Three of our solar project and more – visit it at:  www.gofundme.com/enpsolartrails

We also now have this new Patreon page were you can choose to support us with ongoing monthly donations of any size.

Lastly, you may also donate via the PayPal link on our website at  www.earthshinenature.com/donate or simply
mail us a donation
.
All donations are tax-deductible. Receipts available upon request. 
THANK YOU so much for your continued support. Without you, Earthshine Nature Programs and the Trails Science program would not function. Please consider making a tax-deductible donation to us now and in the future. Earthshine Nature Programs is a 501c3, donation funded, volunteer owned and operated, wildlife conservation, rehabilitation and science education charity. We have a partnership with Trails Carolina and Trails Momentum to provide science and nature education and inspiration to their populations of outstanding youth. 
-----------------------------------------------------------------------------------------------
Just who is Steve O'Neil?
Steve's Bio
Steve is from Hendersonville, North Carolina. He spent his early years chasing snakes, lizards, salamanders and more all over the mountains, valleys, swamps, and beaches of the southeastern USA. During his college years, Steve studied wildlife and fisheries management, recreation management, and zooarchaeology and when not in the lab, he could be found in the fields and forests leading others in pursuit of wild animals, wild places, and fun with a purpose.
Steve's passions are wildlife awareness and conservation, public nature education, renewable energy, electric vehicles, and photography.
In his early years, he was greatly inspired to follow his dream of working with wildlife, first by his parents Catherine and Clayton O'Neil, who gave him a love for wildlife, science, and nature. Later, Steve was influenced by Marlin Perkins and Jim of Wild Kingdom, Jacques-Yves Cousteau, Sir David Attenborough, Jane Goodall, Dian Fossey, Grizzly Adams, Marty Stouffer's Wild America, Harry Butler, Aldo Leopold, Joe Duckett, Charlie Green, Steve Irwin "The Crocodile Hunter," "Survivorman" Les Stroud, John Rucker, Captain Paul Watson of The Sea Shepherd Conservation Society, Andrea Marshall, Neil DeGrasse Tyson, Leilani Munter, Bob Harris, Carol Ruckdeschel and Elon Musk.
Steve has worked in several interesting seasonal naturalist, educator, and ranger positions at many well known private, State and National parks, private inns, camps, schools and farms, some of which include: Earthshine Discovery Center, The Great Smoky Mountains National Park, Hammocks Beach State Park, Chimney Rock State Park, Falling Creek Camp for Boys, Camp Illahee, Flat Rock Nature Center, and The Inn on Little Saint Simons Island. His job titles have included seasonal park ranger, backcountry trail ranger, interpretive naturalist, camp counselor, nuisance black bear, wild boar, and rattlesnake trapper (no snakes or bears were ever harmed) and aircraft mechanics assistant. Steve now works as naturalist at Trails Carolina/Trails Momentum near DuPont Forest, NC.
Steve has conducted thousands of educational nature and wildlife presentations to countless numbers of children and adults over the last 25 years. He has led student and camper groups and expeditions in forests, rivers, lakes, mountains, caves, swamps and dunes in search of all things and all places wild and wonderful.
Wildlife Rescue & Rehabilitation:
Steve is a volunteer wildlife rehabilitator specializing in reptiles and Opossums and he frequently gets his Trails students directly involved with caring for injured and displaced wildlife which are often released back into their native habitats after recovery.
Volunteer Work:
Steve also puts in hundreds of hours each year keeping track of several Eastern box turtles, Timber rattlesnakes, and Rat snakes via radio tags in the forests at Trails Carolina and formerly at the Earthshine Discovery Center.
After work and on weekends Steve also puts in many volunteer hours with the North Carolina Wildlife Resources Commission's Wildlife Diversity program monitoring reptiles, amphibians and bats.
Non Profit:
In 2010 Steve formed Earthshine Nature Programs, a very small, grass-roots, 501c3 nonprofit, donation funded and volunteer operated organization that works to promote wildlife conservation and renewable energy and Electric Vehicle (EV's) education through unique citizen science-based wildlife conservation projects and hands-on outreach programming at camps, schools, birthday parties and special events in the WNC area. Steve's primary goals with his wildlife outreach programming are to inspire people to better understand, respect, and care for all of our native wildlife and wild places and the roles they play in a healthy earth and healthy humans.
Electric Vehicles and Renewable Energy:
Steve has been daily driving a 2012 Nissan Leaf all-electric car since mid-2013. He believes that EV's (especially when charged and powered by renewable energy sources) are the future of automotive transportation because they are economical, more environmentally friendly, easier to maintain, fun to drive, energy secure, and simply better in every way than their fossil fuel burning counterparts. Through ENP, Steve offers an outreach education program that focuses on owning and driving EV's for anyone in the western North Carolina and upstate South Carolina areas. In 2013 Steve co-founded WNC's first electric vehicle car club—the Blue Ridge EV Club—as the go-to place for EV owners and prospectors to use as a resource for everything EV. Steve has been an avid supporter of renewable energy – especially solar – since first learning about it in the 6th grade. Over the years Steve has used and demonstrated to his students small-scale solar to power devices systems to power a small RV but recently he and his students finished construction of a large-scale solar power station to power his science classroom and nonprofit office. Steve practices what he preaches to the best of his ability in the hopes that in leading by example he will empower and inspire everyday people to create good and positive change their lives and in doing so –
change the world.
Music:
Steve also plays the Australian didgeridoo and offers concerts and didgeridoo crafting workshops for all ages.
Social Media:
Steve is active in online social media and believes it to be a great educational resource when managed correctly. Steve edits the Earthshine Nature Blog and the
Bluewater Lea
f EV blog on Wordpress, hosts the Earthshine Nature Programs
Youtube.com site
where he posts nature documentary videos of his wildlife conservation work and maintains an Earthshine Nature Programs page on Facebook.
Visit Earthshine Nature Programs online at
www.earthshinenature.com
Blogs:
www.earthshinenature.wordpress.com
www.bluewaterleaf.wordpress.com
Youtube:
www.youtube.com/user/snakesteve68
www.youtube.com/user/blueridgeevclub

Facebook: Earthshine Nature Programs and The Blue Ridge EV Club
THANK YOU for your generous consideration and support of ENP's projects and programs and our Trails students through your patronage.
Note: Earthshine Nature Programs is a 501c3 not for profit organization and a separate entity from Earthshine Discovery Center and Trails Carolina and Trails Momentum. Our staff is 100% volunteer so 100% of all donations are used to cover the operating and materials costs of our in-house and outreach education programming, wildlife science and conservation projects and programs, animal care, and wildlife rehabilitation work.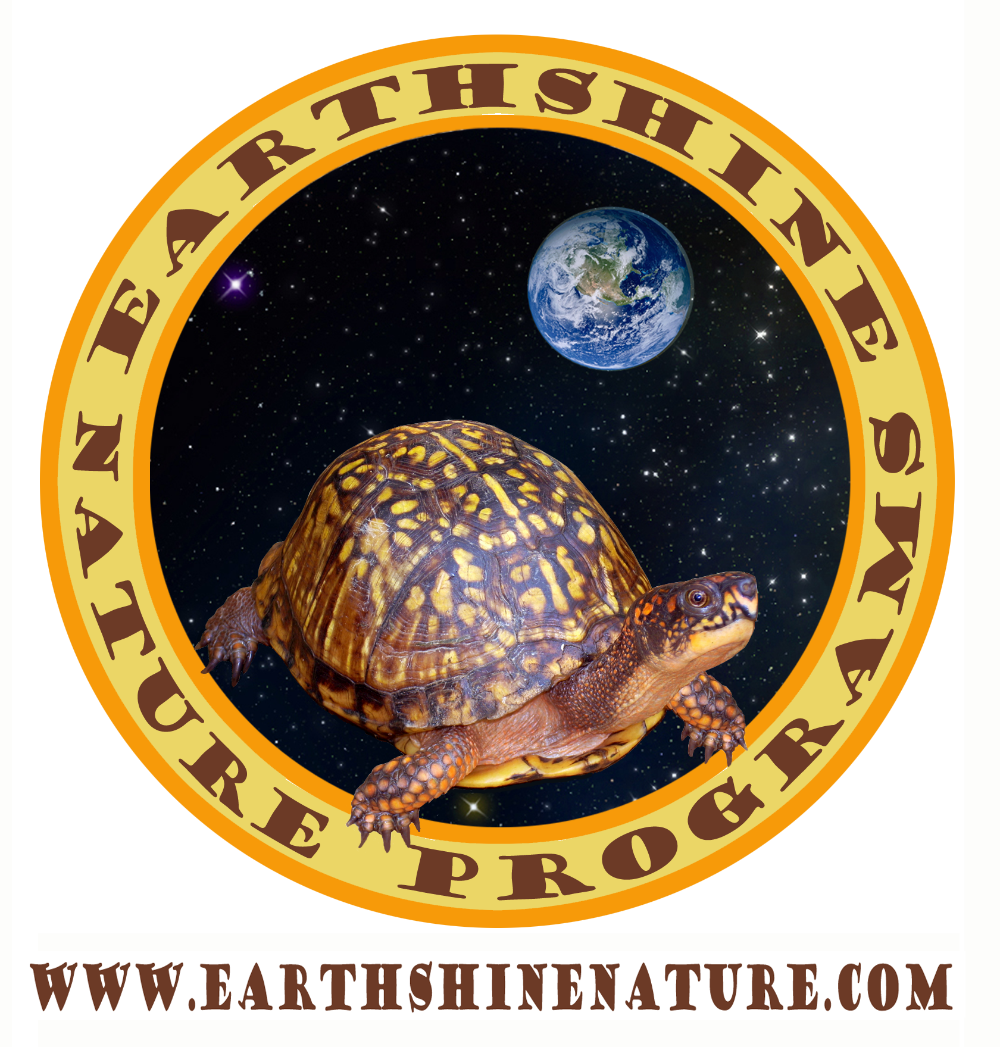 More videos/content coming soon!  
When I reach the $100 per month earnings level I will produce a special Thank You video shout out to all of the pioneering Patrons who have chosen to support our students. education animals, and unique nature and science education programs and I will mention all my Patrons by name at the end of the video!!  


1 of 1
Recent posts by Steve O'Neil