Earth Smoke Bone Song
is creating Sacred Obects and Storytelling
Select a membership level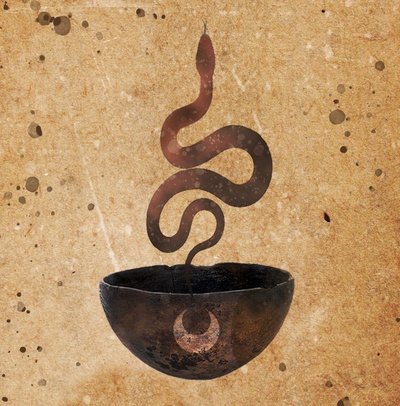 Serpent Smoke
Come, sit with me in the circle around the sacred fire and you will be close enough to catch the scent of the serpent smoke rising.
You will recieve...
- My deepest gratitude.
- Access to my patreon only feed which will include posts at least once a month and at times more often. Posts may include...
- Insights into my process - thought processses, experiments, ruminations on ideas included in pieces i create. 
- Methods i use with precious metal clay, time lapse videos of me scultping totems and design processes with beads and other materials.
- Videos of sacred sites and other specal places i visit.
- Insights into what Bone Song is working on.
- And sometimes videos of chants and poems i have written.
Hekates Helper
Move in a little closer, help me stir the cauldron and add some of your own inspiration in to the mix.
You will recieve...
- My deepest gratitude.
- A one off  thank you gift of one of my home blessing spell bottles.
- Access to my patreon only feed including Hekates Helper only posts, which will include...
Explorations of sacred objects in my studio, my thoughts on them and how i use them.
Sharings of myths, tales and poems that go into my process.
Tutorials on how i work with PMC.
And you will be invited to take part in polls to help me decide what design to make next, and offer ideas for designs.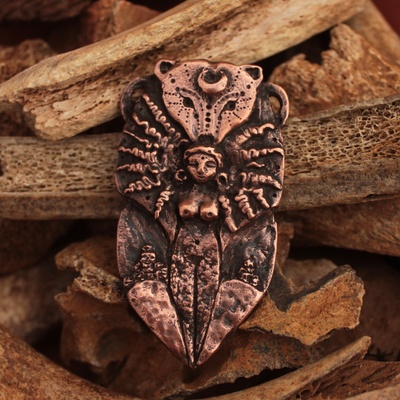 Blessed of Bear
The bear spirit, totem animal of the temple studio, has put her arms around you and blesses you with a hug.
You will recieve...
- My deepest gratitude.
- Access to my patreon only feed and to the private Facebook group.
- Entry into a draw each month to win one of the limited edition pieces created from a different mould design each moon. (not what is pictured, this is a bear totem which are individually hand sculpted, the mould designs will be much simpler) 
About Earth Smoke Bone Song
Dear potential patrons thank you so much for visiting here and looking at my page.
For those of you who don't already know who i am, my name is Jade Moon and I am the woman who weaves the workings of Earth Smoke and Bone Song. I have been an artist since i can remember - tinkering with bits of broken jewellery and making up stories. It gives me great joy and a deep sense of rightness to do what i do and i am eternally grateful to all those who have supported me in my work so far.
Becoming one of my patreons will mean that you will have access to the inner workings of what goes into creating both Earth Smoke pieces and Bone Song performances. Depending on the tier you choose you will have special access to videos about my process in both creating pieces, works in progress, design drawings, and the techniques i use with Precious Metal Clay. Videos of sacred sites and special places that i visit to make my Spirits of Place totems and gain access to the spirits that power my work. You will gain insights into my thought processes and info about where special treasures that come to me are from. You may be able to input ideas that can come to life in the temple studio, help me choose which of my designs i will make next, have a monthly discount in my shop, or recieve special gifts. You will also have access to early sneak peeks of what Bone Song are working on, behind the scenes videos and insights into our thought processes.
What you will be doing for me and my art is giving me more financial security, meaning that ideas that, at the moment, i do not get a chance to get to can come to life. You will also be giving me the chance to have a deeper more interactive connection with you, which i really look forward to. And giving me the financial freedom to invest in building my skill base and purchasing equipment that will enhance my creations. I thank you for even considering it enough to read this far!
Each collection of creations is released at Full Moon into my shop and all Patreon Rewards will be created at the same time.
USEFUL INFO:
You can edit or cancel your pledge at any time!
When you become my patron you will be charged your pledge immediately and then all following charges will take place on the 1st of each month - more info here.
If you live within the European Union: VAT will automatically be added to your pledge - more info here.
All currencies and countries are accepted. Patreon is a US based site but will convert the dollars to your currency.
Pledging will grant instant access to the complete archive (depending on the tier you choose) of previous posts.
There is a Patreon app, if you want to be notified on your phone when someone you follow or pledge to makes a post.
If you would like to learn more about how i work and what i create please read on...
Earth Smoke
My aim in this work is to make truly special things that people will treasure and hand from one person to another as opposed to a piece of throw-away fad jewellery or other object. I recieve many commissions to make pieces to act as markers for rites of passage or threshold passing. I aim to create pieces that will both guide a person to and or remind them of whatever they feel is needed to keep them on their path. Alot of love, focus and intention goes into each piece as well as attention, in listening to the customer, the materials and my own intuition.
 I have a studio in my home which i think of as a cauldron. This special place has in it an altar laid out with sacred objects and headed by a goddess i made myself from local clay. The shelves and surfaces are crammed with jars of bones, bowls of treasures, trays of beads and other interesting and inspiring things.
Many things are added to this cauldron and whenever i enter my studio, light candles, drum, sing, dance and create i am stirring that cauldron. The elements added to this cauldron are both peoples ideas, my own inspiration and musings in or from books i have read ( i love to read about mythology, fairytale and psychology as well as a little fiction thrown in for good measure). Also added are the materials, most of which are second hand pieces broken down, bones and other interesting treasures. I work only with natural materials, like bone, stone, horn, wood, metal and occasionally glass. I very very rarely use glue as i prefer to use older methods of securing things like bees wax, or what my son calls 'cave man' glue - a mixture of charcoal, bees wax and pine resin. I work mostly with natural hand-spun threads like linen, nettle and hemp. My intention is to create without, either the process or the finished product, being a burden on the earth - which is why i choose the materials i do and use mostly second hand elements. I'm a human magpie - loving the treasure hunt and I enjoy knowing that each thing that comes to me already has it's own story it would like to share and perhaps transmute in my hands.
There is a often a deep thread of poetic and philosphical meaning woven into the pieces. If you'd like to know more about what that means please visit my facebook page and read some of the things i write about the pieces on my feed.
https://www.facebook.com/bone.song.1
Another material that i work with is Precious Metal Clay - a truly alchemical substance that starts it's life as clay, is hand sculpted or textured with moulds, and then becomes pure metal when fired. With this material i make one of a kind totem jewellery, and what i call Spirits of Place totems.
All the totem jewellery is hand sculpted and one of a kind. Spirits of Place pieces are made from textures taken by reusable mould from sacred sites and other special places.
To see some of my pieces and learn more about how i create please visit my website...
earthsmokebonesong.co.uk
Bone Song
 For many years before my son was born i performed poetry and then began organising fund raising gigs for Oxfam, calling in aid from the many poets and musicians i had met whilst on the circuit. These gigs were in a cabaret format and the styles and moods varied greatly, i did this for  a few years until i began to long to create an evening that pulled the audience in to an ambience that was sustained throughout the evening. This was the birth of Bone Song - the stories act as the framework and poems and songs are woven into it.
I developed a fascination with fairytales after reading Clarissa Pinkola-Estes's best selling book Women Who Run with the Wolves. The depth to which story touched me then became inescapable, it literally changed my life and helped me understand myself and the world around me better than i ever could have with out the wisdom contained within them. I felt i had a duty to share this in the most engaging and moving way that i could. I called upon my fellow creators and asked them to respond in their own forms to my own telling of the first story i wanted to work with - The Story of Skeleton Woman. Those that responded created poems and songs of such depth and beauty that each time i heard them they brought tears to my eyes. I wove all the pieces together then to create a show which was a great success, each show was a sell out, but perhaps more importantly than that, it moved and enriched the hearts and minds of those who saw it.
So far Bone Song has aired two shows - The Story of Skeleton Woman and La Loba - Enchanting the Wild, but there is a third show waiting to be birthed. This is a retelling of Red Riding Hood. Imagine this tale with Red as a girl initiated into a circle of Red Women, a girl wiser, wise enough to know how to deal with a wolf. Imagine this wolf, not as the predator he has been painted as by Perrault and Grimms, but as a soul as lost as any can become in our modern world. What would the ending to a story such as this be like? Well...i'll keep that a secret for now.
This retelling was inspired by research into the history of this tale. Discovering how it has transformed over eras, bringing a differing message each time, and observing that one thing about it has remained constant - it has always been a story about the blossoming sexuality of a young woman. It seems poigniant to revisit this tale in our times, and reimagine it.
Your patreonage will free up more time for me to work on developing a performance of this re-written tale that will be both a story telling and a ritual in itself that reimagines our relationship to sexuality. I would also like to develop workshops around it so that it can be shared in Red Tent groups ( i have close ties with my local red tent, which is an actual physical Red Tent!) and with young girls, and older women who might need it, in other settings as an initiation tale.
I will be beaming with joy and make a special thank you video to you all for believing in my creations enough to invest every moon.

1 of 3
Recent posts by Earth Smoke Bone Song