Easy German
is creating videos and a podcast for learning German
Select a membership level
Learner Membership
Interactive exercises for all Sunday episodes 
Transcripts of all EG videos (starting from EG 91)
Vocab lists for all EG videos (starting from EG 211)
Member's only forum: ask questions and discuss with fellow German learners
___
Monthly costs: $4 - $5. Please select "Support every creation." when signing up.  
Podcast Membership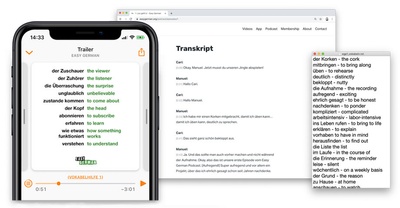 Vocabulary Helper: see important words and translations right on your phone while you listen to the podcast
Interactive transcripts and vocabulary lists for every podcast episode
Bonus content (whenever we edit out parts from the public podcast for length, without transcript or vocabulary helper)
Early access (when our production schedule allows)
+ all perks of the $1 tier
___
Monthly costs: $8 - $10. Please select "Support every creation." when signing up.  
Video Membership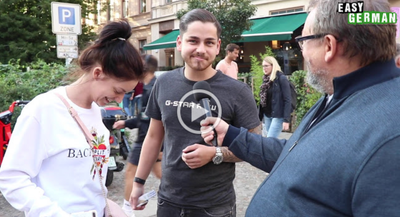 Download all episodes with and without subtitles! (starting from EG 119 and from SEG 46)
+ all perks of the lower tiers
___
Monthly costs: $12 - $15. Please select "Support every creation." when signing up.  
About
Hallo liebe Zuschauer! 😃
Thanks so much for making your way to our Patreon page. Today we want to invite you to become a member of Easy German.  
LEARN MORE AS A MEMBER

As a member of Easy German you receive additional resources to learn German with our videos and our podcast. Every week we create vocabulary lists, transcripts and interactive exercises for all of you who'd like to dive deeper. You can also access additional video downloads or become part of our daily Whatsapp chat groups. Check the different membership levels on the right side to find the right one for you.
HELP EASY GERMAN TO GROW

As this Patreon campaign is our main source of income you also help Easy German to continue its production and become more professional. It is only due to our members that we were able to make this project our full time job and grow our team. We have tons of ideas for the future and can't wait to realize them together with you! 😃
HOW MUCH DO I PAY? 

With your pledge you are supporting us on a weekly basis. That means we will charge you for however many Tuesdays there are in a calendar month (usually 4 but sometimes 5). The pledges from one whole month are always transferred at the beginning of the following month. Please select "support every creation" when signing up to our campaign.
WHEN AND HOW DO I RECEIVE MY PERKS? 

At the beginning of each week (usually on Tuesday) you will receive an email with updates from our team and the links to our latest perks. 
The content of these emails is also permanently found on our 
Patreon page under "posts"
. People who subscribed to higher tiers than the 1$ level will get an additional email per week in order to receive their specific perks. 
CAN I STOP WITH PATREON ANY TIME? 
Yes, if you no longer have the money or desire to support Easy German, you can cancel your subscription on Patreon at any time.
LOS GEHT'S 😃
If you are passionate about Easy German and feel that we can actively contribute to you learning German, please become a member. By becoming a member you will support us in producing more German learning material for you, and in turn you will deepen your own learning experience with Easy German. Los geht's! 😃
This is the long term goal we strive for. With that kind support we could run Easy German with a 4 person full time team, fund occasional travels to introduce other parts of Germany, Austria and Switzerland and further improve the production quality of our content by having more time to research, shoot and edit individual videos. 
6 of 6
Become a patron to
Unlock 882 exclusive posts
Connect via private message
Recent posts by Easy German