Joshua Lowe
is creating EduBlocks, the drag and drop coding tool for Python.
Select a membership level
$1 or more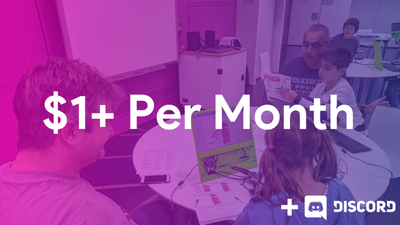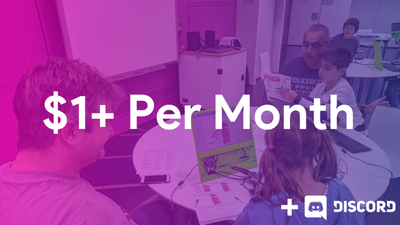 Thank You! Your donation makes a huge difference to the development of EduBlocks.
With your donation, you will gain access to Patron Only posts and have your name mentioned on the credits section of the EduBlocks website as long as you keep on donating.
As a little gift, you gain access to special roles and channels over on the EduBlocks Discord server where you can ask me tech related questions.
Includes Discord benefits
$10 or more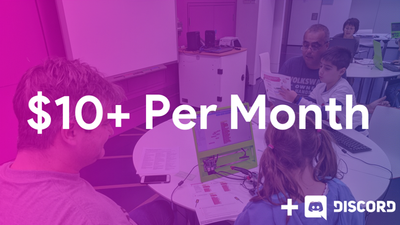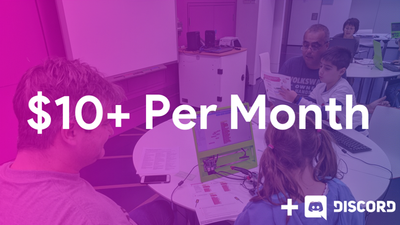 Thank You! Your donation makes a huge difference to the development of EduBlocks.
With your donation, you will get all of the above rewards in the  $1 or more tier as well as the following:
Got an issue to raise or have a feature request? Your GitHub issues will take priority over anyone elses meaning that your feature will get added in quicker than the rest. This is because your donation is allowing me to spend more time developing EduBlocks to make it a better program for everyone! 
Includes Discord benefits
About Joshua Lowe
EduBlocks is a drag and drop version of Python 3 which allows students to learn the Python syntax with minimal errors and enables younger children to access Python. This is a huge problem around the world and especially in the UK, as the new computing curriculum means that students find it difficult due to a number of reasons.
The aim of EduBlocks is to make the transition from block based programs like Scratch to Python easier for students and teachers, as presently there is no drop-in solution that bridges this gap. It exists because some children might not have the typing skills to learn python – a programming language, which even most software developers find tricky. Teachers also might not have the required training to teach Python, as they have often been left to teach programming with little training or previous knowledge.
Why is EduBlocks important?
The majority of young children use a program called Scratch as their entry to the world of coding. Suddenly, at Year 6 level, children are expected to learn python which is a text based programming language that relies on good spelling and requires you to make sure everything is correct or else it will throw unfriendly errors. EduBlocks minimises these errors and allows more freedom whilst learning Python – making the learning process a much more friendly one.
EduBlocks is currently the only offering that solves all these problems, whilst keeping it completely free to use. EduBlocks is different in the way it has the python text on the blocks and how it integrates with Python 3, Raspberry Pi, micro:bit and CircuitPython. Not only is it tailored to schools, but it's heavily used within the making and coding communities where people will build projects like robots and hack LEDs and other components.
How long has the project been running and where is it heading for in the future?
Josh started the project in late 2016 when he found the need for a simpler way to learn Python, after hearing the comment from fellow students and teachers. These past few years, it's gone from a basic program for the raspberry pi a fully developed platform for creating and experimenting with python on your PC, Mac, iOS and Android devices. It has also recently added support for micro:bit & CircuitPython which are both physical computing tools used around the world in schools and by hobbyists. EduBlocks is an open source and ever growing project with new resources and features being added most weeks (when Josh isn't doing school work) with the ongoing aim to get it into as many schools as possible in the future. Another future goal is to add support for more python based platforms so that people can create even more cool projects.
What do people say about EduBlocks?
These are quotes from real teachers and industry professionals.
"This 15 year old kid is a GENIUS!!! He has invented @edu_blocks! A free, cross-platform transitional software between programming blocks and python! Defo going to explore this for Year 6! Amazing software and great presentation!" - @EatSleepICTRpt
"Without doubt, it's one of the best resources available to teach #TeachComputing, it runs on many platforms and is completely free to all users. Incredible work Josh!" - @TeknoTeacher
"@edu_blocks hits the nail on the head about transition from scratch to python." - @ajacksonict
" We had our @GetPiTop set up & ran @edu_blocks & #minecraft. Ben said "that was the best session ever!" " - @digitalmakerCIC
"Absolutely fantastic resource from @edu_blocks Great for bridging understanding between block coding and syntax! Created by an amazingly gifted 14year old! - @osistechtips
"The 14 year old creator of @edu_blocks demos the platform at #createedu #teachmeet #bett2019! In over 500 schools. Totally amazing. Oh, and he built it two years ago...when he was 12." - @NicholasNovak
Become a patron to
Unlock 11 exclusive posts
Connect via private message
Recent posts by Joshua Lowe
How it works
Get started in 2 minutes