HI, here is Elisa RG (REG) :D 
I'm an italian comic artist who loves manga & anime (especially boy's love/yaoi) and games. I like

sexiness, erotism and funny!

 
Mainly, I draw

homoerotic comics

(malexmale). In a word my art is exsplicit!
I collaborate with italian webzine "Lemonxxxzine" (for adult only)

I like drawing

sexy fanart

and

doujinshi

(parody) R18, mostly! 
My favourite subjects are from: 


and



but I like other series as well! ;)

Doujinshi subjects are mostly Virus&Trip (Dramatical Murder)
and various pairing of Resident Evil (ChrisxPiers WeskerxChris, JakexPiers etc)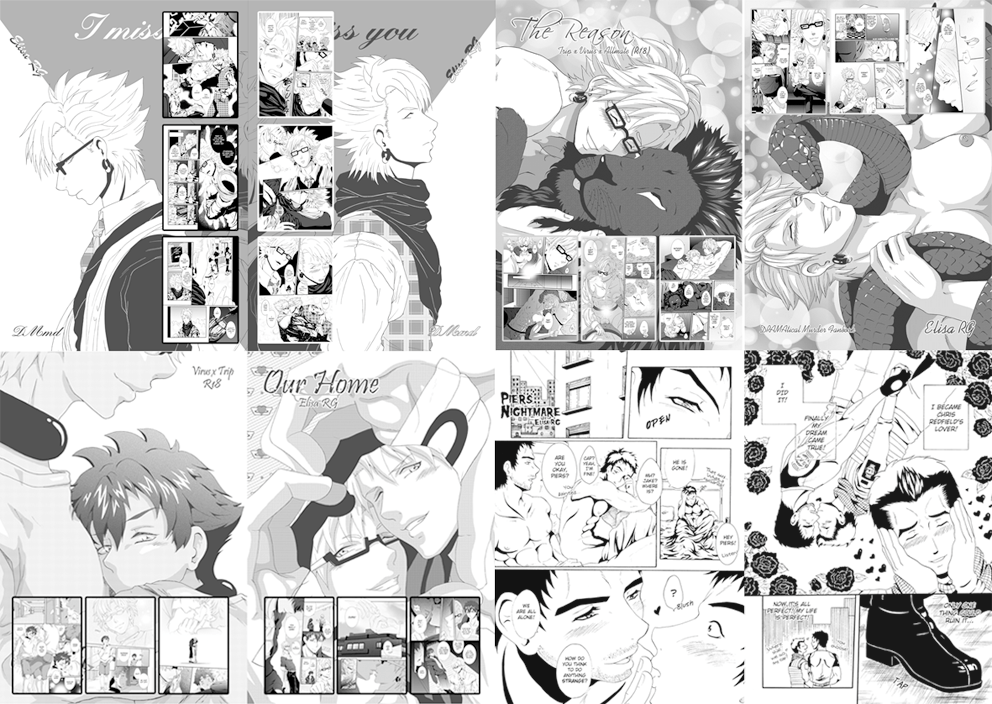 I did doujinshi of other series like Harry Potter and

Saiyuki Reload
I'm working on my own webcomic (comedy, yaoi) as well. It's still a slow project, but that's ok since I wanna create a good work! 

I'm the artist of "Wild Isolation" (a 

BL game / visual novel R18

). It's an honour for me being chosen like artist for a BL game, the project is still on going, I'll do my best for it!



Why use Patreon?
I'd like create more and more free doujinshi and fanarts. I'd like drawing more than one webcomic so I need to speed up working projects. I'd like print some works and buy new tools both for traditional and digital use.  I need funds for all this. Plus, if you support me that means you really want more of my art, and this makes me really, really happy ^^!

I charge 3-4 times at month (one every week about). Paid post at the end of the month.


Thanks for support me! I'll do always my best! :)