The Elite Theatre Company
is creating art and magic!
Select a membership level
The Peanut Gallery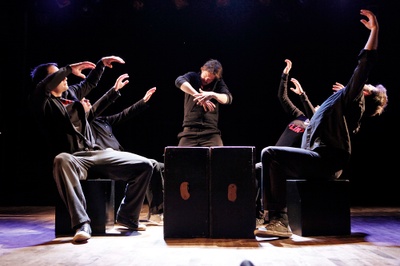 Our beloved Peanut Gallery, oh how we appreciate your support! We're so excited to have you join us! Peanut Gallery supporters will receive Patreon Exclusive Updates and behind the scenes posts keeping you in the know! 
We're talking photos and videos! Early announcements for upcoming auditions! Show announcements! Season announcements! Well, I for one am excited. 
The Understudies
Our lovely Understudies! We could not do what we do without your love and support!
At this level our supporters receive exclusive behind the scenes updates from the team here at The Elite AND a complimentary beverage and snack when you attend any mainstage show!
Please be sure to notify us twenty four hours in advance to ensure our box office has a little something special ready for you when you arrive at the theatre. Limited to one show per month per subscriber. 
About
The Elite Theatre Company (ETC) has been entertaining, educating and enriching its audience since 1994. After 19 seasons at the Petit Playhouse in Oxnard's Historic Heritage Square, ETC moved to present, larger venue at Channel Islands Harbor Fisherman's Wharf at the site of the old Maritime Museum, a facility that will elevate ETC's ability to produce the highest quality theater in Ventura County on its Main and South stages.
ETC brings together the local talents of amateurs and professionals who share a passion for theater and who generously volunteer their time on the stage and behind the scenes. This collaboration creates a variety of quality live theatrical productions showcased in our unique setting.
We begin our year in January with our One-Act Festival, a showcase of the winning plays selected from submissions to our Annual One-Act Play Competition. ETC is proud to give playwrights this unique opportunity to have their unpublished plays produced on our stage. ETC also hosts free staged readings (Sundays @ 7), where playwrights preview their works for audiences who provide invaluable feedback. Our complete season (The Elite Series) includes 5 or more main stage productions. Our annual Youth Production, classes, workshops and special one-night-only events fill the year with exciting education and entertainment. On our South Stage, we premiere new works by North American playwrights and plays that work best in a more intimate space. The Elite Theatre Company is a non-profit 501(c)(3) organization as well as a proud member of the Four Star Theater Awards Committee and the alliance of
Ventura County Theaters
.
At $600 we will upgrade some of our lighting equipment. We've received a wish list from our talented lighting designer, at this level we will be able to cover the requested upgrades and then move on to further upgrade other systems in use here at the theatre.
1 of 3
Recent posts by The Elite Theatre Company