Eloquent Gushing
is a media network from Mandi Kaye Ottaway and Matthew Vose. Dedicated to bringing insightful content about TV shows, movies, video games, design, salt shakers, hardware, giant pits, and anything we think is worthwhile discussing.
We love to look at popular culture with an in depth mindset, thinking about how it was made, why it was made that way, and where it is effective. On our podcast 
Pop Culturally Deprived
, we've covered classic films like 
The Godfather
, 
Schindler's List
, 
The Dark Knight
, and 
The Rocky Horror Picture Show
.
Mandi Kaye is from North Carolina, USA, and is very opinionated about everything. When she's not podcasting, or preparing for a podcast episode, she's probably listening to a podcast. Or re-watching Buffy. Again. She can be found on Twitter (
@mandikaye
) and Instagram (
/themandikaye
).
Matthew is from Surrey, England, and away from podcasting he likes baking cakes, woodworking, watching Star Trek, playing video games, and eating cakes. He can be found on Twitter (
@matthewvose
) and Instagram (
/matthewvvose
).
Our aim is to talk positively about things we enjoy, applying our experience and critical thinking to really understand it. Even if we think it's wonderful, we can still appreciate and discuss the flaws. We want to make all our content accessible to both people familiar with the subject for years and coming to it anew.
There are other shows we want to produce, and that is why we want your help to make them a reality. Through Patreon you are able to pledge a set amount per month to give to our network. This money will allow us to cover our existing costs for the shows, as well as funding the development and creation of new content, and upgrading our equipment or subscriptions to improve the quality.
Funding coming directly from people like you who enjoy our work helps make it the best it can be. We can avoid adding adverts or sponsorship to our shows, and make sure we aim for the highest quality and engagement for our listeners.
We hope you enjoy the content we already create, and would like to pledge to help support us and have more quality work available. There are several pledge levels so if you're able to give just a dollar a month you'll be getting a reward. If you can donate more we want to show you how much we appreciate your generosity, so you'll get access to even more exclusive content and rewards.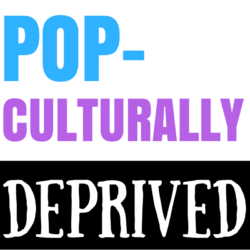 Pop Culturally Deprived is our podcast dedicated to experiencing cult hits and classics for the very first time. 
A weekly discussion covering the latest episodes of Arrow, The Flash, Supergirl, and DC's Legends of Tomorrow.
We explore southern culture through the lens of stories that are southern-flavored in some way. #SFPop
Each week Matthew gives brief thoughts and a recommendation from the movies he's watched.
We showcase the short works of unpublished or self-published authors. A new submission will be selected and narrated on each podcast episode. #SpokenStoryPod
Matthew Views
is Matthew's blog discussing in depth elements of the movies we watch, as well as reviewing movies, plays, and other media.