Geopolitics & Empire
is creating a Podcast
Select a membership level
About
The Geopolitics & Empire
Podcast
conducts interviews with high-profile guests on geopolitics and international affairs seeking to gain insight from experts on both the left and right as to the true nature of current events.

The Geopolitics & Empire Newsletter
The Geopolitics & Empire Newsletter
collects key headlines with a focus on the New Cold War, China's Belt & Road, Latin America, Middle East, Africa, EU, NATO, global economy, energy, environment, deep politics, media, and the surveillance state.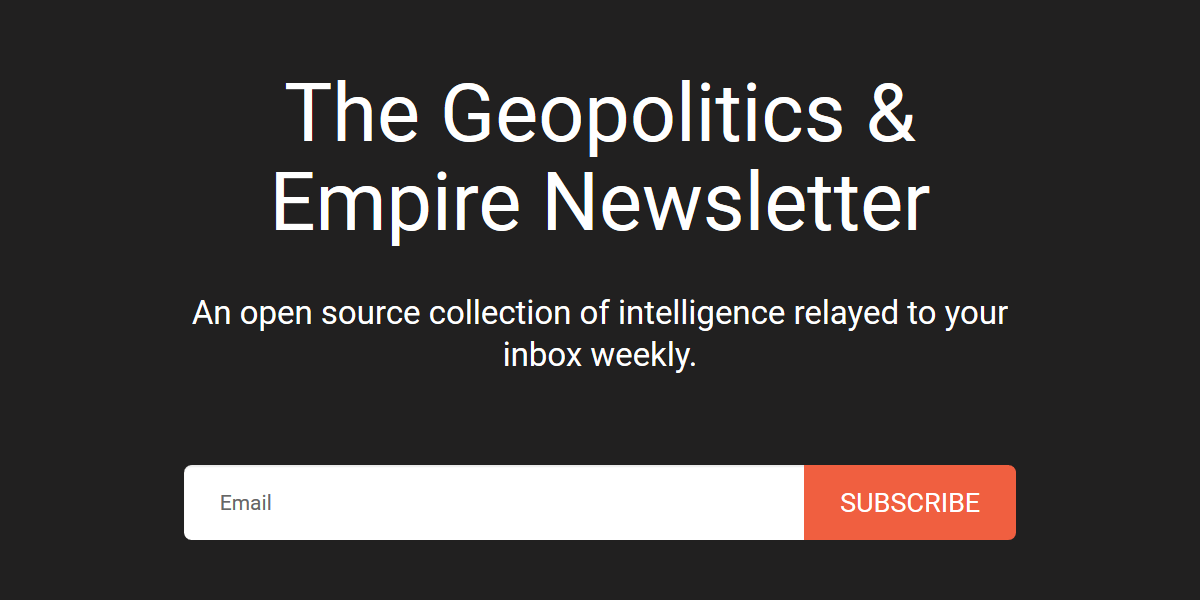 What Makes Geopolitics & Empire Different?
We seek to interview not only big names, but overlooked professionals in the fields of academia, activism, business, finance, government, intelligence, media, military, and technology.
What Listeners Are Saying:
Love This Podcast:
"Almost always presents ideas and people that I am not familiar with. Makes me think. It seems like much of what I read and listen to is recycled... not here. Like the interview style, definitely recommend! Been listening for quite a long while, have learned a lot and been challenged in my thinking."
Apple Podcasts from USA on June 6, 2020


More Accurate Than Any Western Corporate Shill:
"People claiming this podcast is "Russian propaganda" are clearly true believers in the post-2016 Russophobic hysteria that the corporate media and national parties have used to distract the masses from their own perfidy and corruption. This podcast has its limits but it's at least free of the jingoistic ignorance that is the hallmark of most such podcasts available on apples platform."
Apple Podcasts from USA on January 4, 2020


Great Podcast:
"Great Guests with good topics. The host is also great. I like this podcast and can never wait for the next episode. Please continue with your great work. -Greetings from Germany."
Apple Podcasts from Germany on July 9, 2019


Fresh Perspectives, Much Needed
: "Yes there's a wide range of people being interviewed but at least it's not stuck in some liberal financed back echo chamber. Keep up the good work, people will make their decisions and opinions but at least they'll be better informed."
Apple Podcasts from USA on June 2, 2019
Geopolitics & Empire is Underrated
: "I love the diversity of guests on the show, in my opinion Geopolitics and Empire is underrated."
CastBox on May 22, 2019


Best Podcast of its Kind:
"Often goes beyond the Overton window of mainstream media/podcasts. It's rare to find honest inquiry without the typical propaganda, though each guest must be evaluated individually to discern truth from psyop."
Apple Podcasts from USA on March 19, 2019
Top Notch Show:
"As a Geography and Public Policy college student, this podcast has served as an excellent resource for analysis of the most important geopolitical topics in the world today. I especially enjoy the caliber of guests which are featured."
Apple Podcasts from USA on February 16, 2019
Excellent Insight Into Current Affairs:
"I have listened to this show for the past year or so, always brings diverse and expert insight applying the lessons of history and its geopolitical fault lines to the most important matters in our world today."
Apple Podcasts from UK on January 27, 2019
Master Analysis:
"An indispensable resource to some of the foremost geopolitical thinkers and analysis of the decline of the United States of America and its global Empire."
Apple Podcasts from Canada on September 25, 2018
Informational Triumph:
"I discovered Geopolitics and Empire this year (2018) and have nothing but praise for the quality of the presentations and for the deep understanding this series provides about global affairs and the role of the United States in the world. Reasoned, wide-ranging and highly informative. At least five stars."
Apple Podcasts from USA on April 12, 2018
Who Am I?
I've worked as a Social Sciences teacher and as an adjunct professor of International Relations. I have a B.A. in History from Northeastern Illinois and a Master in International Relations from the Geneva School of Diplomacy. I speak numerous languages and have lived in Croatia, Kazakhstan, México, Mongolia, Switzerland, and the United States. My life experience gives me a nuanced take on world affairs. I have my own worldview just like anybody else, but I don't let that get in the way when interviewing guests on the podcast. Geopolitics & Empire began as an experiment in the classroom which turned into a weekly podcast passionately produced in my spare time.
A monthly donation of $1, $2, $3, or more would greatly help us expand!
Hundreds of thousands of people have enjoyed the interviews we have produced. Funding would increase the quality and quantity of episodes resulting in a higher caliber of analysts providing valuable insights. The podcast receives $0 in funding yet must pay the following annual production costs:
hosting: website hosting, podcast audio file hosting, video file hosting
software: interview recording software, video and sound editing, image design
hardware: microphones, video cameras, webcams, mixer, laptop, cables
transcription: the current cost is $1 per minute

books: I normally purchase the Amazon Kindle version of the guest's book

travel expenses for in-person interviews: on occasion I visit guest's if they are nearby
Become a patron to
Connect via private message
Recent posts by Geopolitics & Empire