THE RAGE PROJECTRage, Bane of Demons
is a Graphic Novel written by
Eric Peyron
and painted by
Thony Silas
. So far, it has been on sale as an independent App on the
iTunes Store
, and in the libraries of many digital publishers like
Comixology
,
Kindle
,
Google Play, Comicsfix 
and
Apple iBooks
. Thanks to all these publishers, the first story of Rage is now available on nearly all digital devices, and thanks to
Amazon's CreateSpace
, it is also available in print at
Amazon
!
Since then,
Thony Silas
 has been working for
Marvel
and
DC
.
Amazing Spider-Man: Ends of The Earth
was his first work for
Marvel
. Thony has been for a time one of the pencilers of 
Venom
and
Daredevil: Dark Nights
, then the regular penciler of
Batman Beyond
,
 Justice League: Gods & Monsters
, and many other
DC
and
Marvel
series!
As for Rage, this is only the beginning. New pencilers 
Alan Quah, Stéphane Degardin
 &
Alex Nascimento 
have decided to join the fun, and we are in the process of creating a whole
Rage Series
!
Alan Quah
has been able to beautifully build on what Thony did, and came up with something completely original! Since working on these first few pages, Alan has been working for 
Legendary Comics
on the
Godzilla
2014
adaptation, for
DC
on
Vampire Diaries
, and
Titan
on
Dark Souls
.
 Stéphane Degardin
has finished the first issue, and
Alex Nascimento,
who designed its cover, is Issue 2's new penciller! It has taken us a few years, but Issue 1 is now on sale, and Issue 2 is has been sent to nearly all its digital publishers, which means it will be on sale by the end of December. And it also means you'll now be pledging for
Issue 3!
THE STORY
Fun and action ! No other words could better define the
Rage
Series
. If you have already read the first graphic novel, you know what to expect. If not, it's available
here
in various digital formats, and in the Creations Section of this project for eligible Patrons. 
So what happens in
Issue #2
? You already met
Rage
and the demons plaguing the
Arthkan
Kingdom
in the very first
Rage Graphic Novel
(which would be
Issue #0
)! In
Issue #1
, you met the integrists of the Rage Universe, fighting for their right to make human sacrifices in the
Arthkan Kingdom
. In
Issue 2,
Rage, Nicodemus, Ariane & Tuk were right on a collision course with…
Werewolves!
Guess what's going to happen in
Issue 3?
Right!
All-out action! 
Join your favorite
Negative Role Models
in a new multipart adventure even more twisted than the previous one, as Rage, Nicodemus, Ariane & Tuk are fighting for their lives against
Magically-Enhanced Werewolves
(M.E.W.?!)
,
in this third issue of the 
Rage Series,
 still written by
Eric Peyron
, and still drawn by
Alex Nascimento!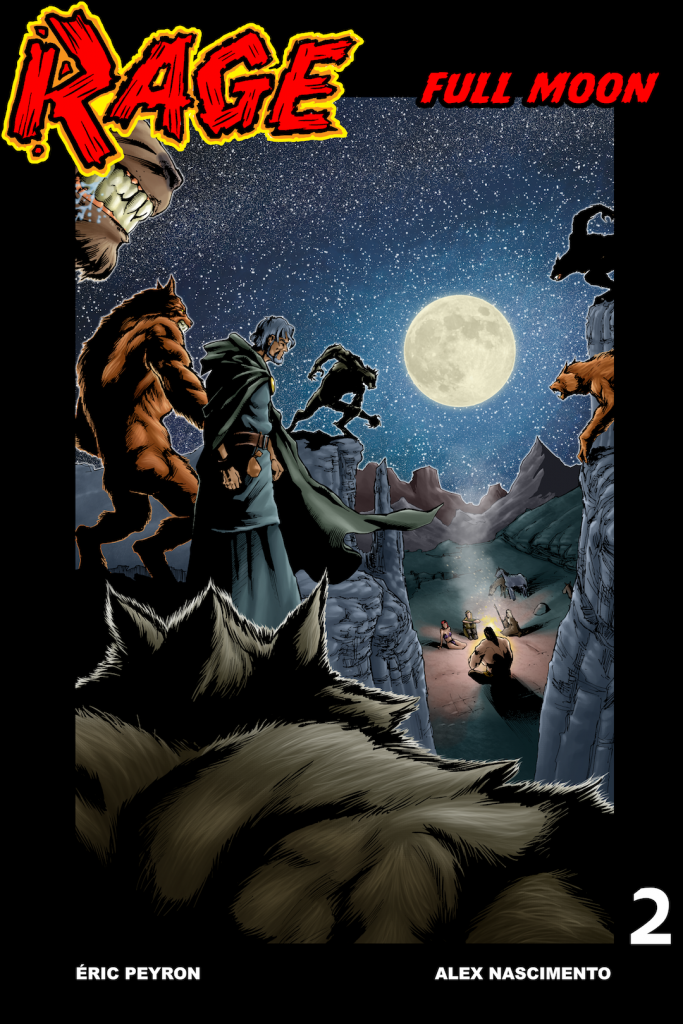 THE PATREON PROJECT
This Patreon Project will help me finance the
Rage Series
, and many other Rage-related projects. At this time, you can either pledge $1 a month or $5 a month to help the Series come to life, but you won't do it for nothing! I have begun production of the first
Rage Artbook
, which will contain
Rage Sketches
 drawn by various pencilers around the world, and for at least $1 a month, you will have one or several digital sketches a month, drawn by established pencilers like
Alex Nascimento
, 
Alan Quah
,
Thony Silas
, and more! And if you pledge $5 a month, you'll also have access to every digital Rage issue to date (which includes at this time the
Rage Bane of Demons Graphic Novel,
The
Rage Series
and the
Worlds of Rage Series
) and to
Limited Edition gifts
as we reach Milestones! As time goes by, there will be more milestones to reach and more gifts for all Patrons! Stay tuned!
And that's not all! I have begun a few years ago a new
Rage Strips Series
with 
Stéphane Degardin
, (who participated in the first issue of the
Rage Series
) and I have included it to this project as an added bonus! The first story of the Rage Strips Series, 
Curse of the Panthermen
is set in another part of the
Rage Universe
, that will have repercussions on the other Rage Series. A new chapter of the
Rage Strips Series
will be available each month in the
Creations Section
for all Patrons, and the latest issue is available right now for everyone! We are experimenting new storytelling techniques for these strips, trying to stay close to the old sunday strips, with modern media in mind. The story begins slowly, but give it a chance! You won't believe what I have in store for the characters! The strips will be monthly at first, but if there are enough Patrons, I will be able to make it weekly! 
And that's all for the gifts (until I think of something else, that is)! Remember that most importantly, your participation will help us bring the
Rage Series
to life! So don't hesitate to participate in this project, there's a whole lot of Rage stories to tell!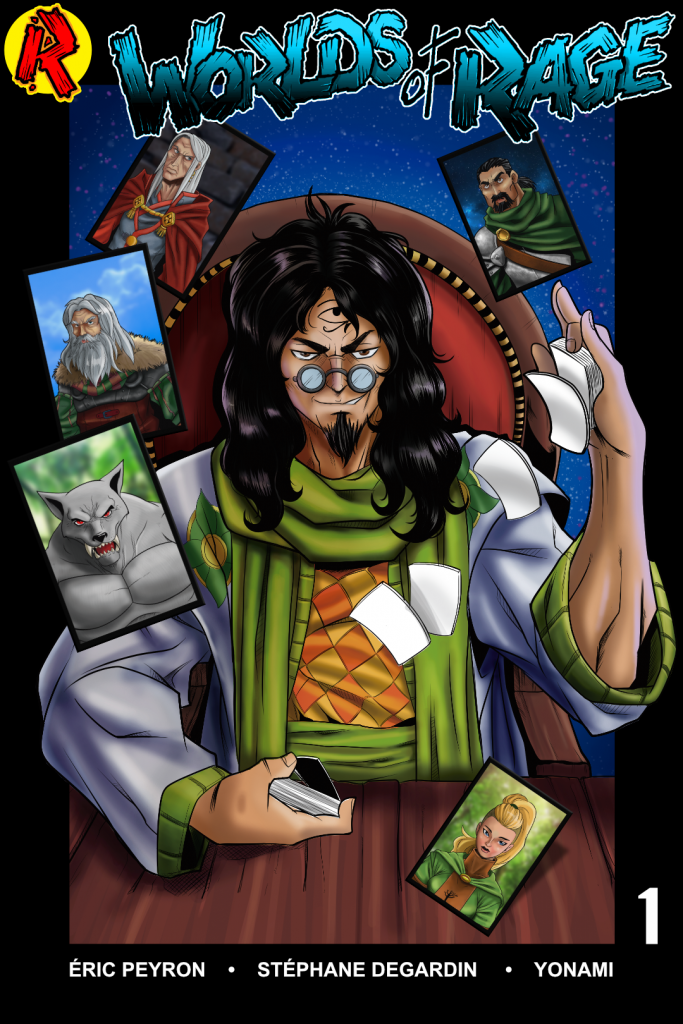 THE RAGE WEBSITE
The
Rage Website
is the official website of the
Rage Series
and all other Rage-related projects. This is the place to go for any Rage-related news. For now, version 3.0  of the Rage Website is still in beta (I'm rebuilding the site from scratch in WordPress), but its final version will contain galleries of illustrations by
Alex Nascimento
, 
Stéphane Degardin, Alan Quah
,
Thony Silas
,
Yonami
, and many others, and maybe even a surprise or two! The site is
here
, and it's beginning to look good! Go have a look, you won't regret it!