Erika Moen
is creating Comics
Select a membership level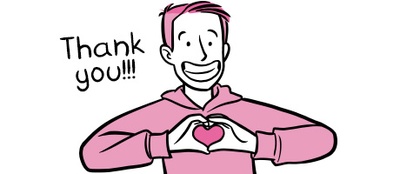 Support Erika and see her private posts!
This private space allows Erika the freedom to talk about things that she shies away from on her social media accounts. At this basic dollar level you can see behind the scenes thoughts, the comic making process, and slices of day to day life. 
Includes:
Patreon-only posts
Erika's personal posts and thoughts
Get to see the comic making process
Behind the scenes posts and pictures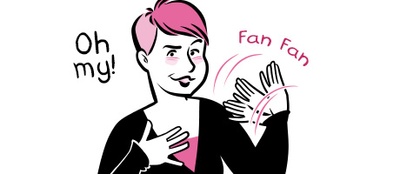 Patreon only content & get the DAR eBook
 Feeling nostalgic or just want to just support me with a bit of extra cash? By chipping in $5 you get access to all the Patreon content, private blog posts, behind the scenes stuff AND get both PDFs of Erika's previous autobio comic series,
DAR!
You also get a our humble thanks - you're amazing. Originally published as books in 2009 and 2010, these PDFs include comics and bonus content that was never released online. Download links to
Volume 1
and
Volume 2
. 

Includes:
Patreon-only posts
Erika's personal posts and thoughts
Get to see the comic making process
Behind the scenes posts and pictures
Download PDFs of DAR Volumes 1 & 2
About Erika Moen
Hello, welcome to my Patreon!
Here you can help support me in making comics. With just a tiny dollar donation for every comic I make, you can get access to my private patreon space, and feel good in supporting a comic artist's work.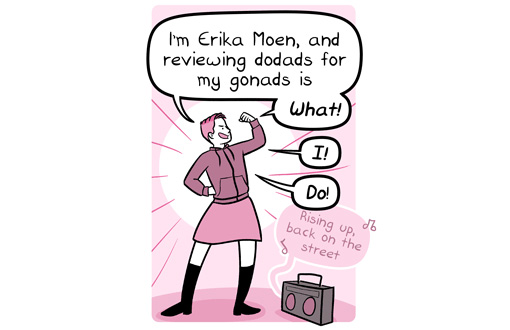 Who is Erika and what is Oh Joy Sex Toy?
I am an 18 year comics veteran living in Portland, OR. My ongoing webcomic right now (and for the past several years) is
Oh Joy Sex Toy
, a light-hearted, funny, sex positive educational webcomic.
It updates weekly and covers a wide spectrum of the world of sex; from sex toy reviews to sex education to interviews with sex industry professionals and more.
Here is a collection of my favorite strips
.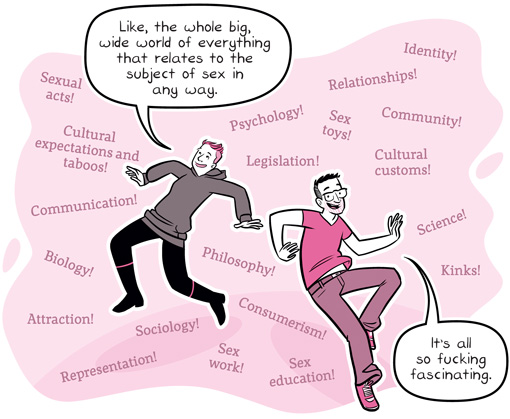 I don't just make Oh Joy Sex Toy myself. With the aid of Patreon backers, my husband Matt and I hire guest artists to write and draw comics for the site, to get us as many diverse perspectives as possible. We aim to be as relevant as possible to people of all genders, body types, and sexualities.
By helping me here, even at just a $1 level, you help me make and bring more sex positive comics into the world.
We couldn't do this work without your support.

What are people saying?
"A great and hilarious resource - some of the best sex ed out there!" -
Dan Savage


"Our parents had The Joy of Sex, we have the next generation of totally balls-out (and vulva-out!) candidness in Oh Joy Sex Toy!! Oh Joy Sex Toy is sui generis… there may not be a book in print simultaneously this honest, this educational, and THIS HILARIOUS" -
Amanda Palmer


"Best thing since the Hitachi Magic Wand!" -
Searah, Early to Bed


"Erika Moen is fucking amazing and Oh Joy Sex Toy will change your life for the better." -
PhD Emily Nagoski 


"It is written and drawn with such gosh-darn sweet enthusiasm by Erika Moen (with the occasional guest-shot from husband Matthew, who provides a dude's perspective) that even if your tastes are tamer than Moen's, I think you'll find it a perfectly wonderful read." -
Cory Doctorow
Check out our
Press page
for MORE quotes, accolades, awards and reviews!
What do I get?
Pledging is
per-comic
and allows you access to all sorts of great behind-the-scenes and Patreon-exclusive posts!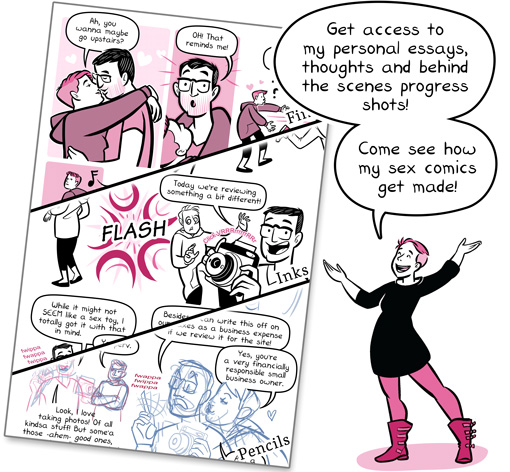 For just
$1 pledged per comic
, you get
exclusive artwork-in-progress shots and personal essays.
I've found that having this private space here gives me freedom to talk about stuff like my creative process, the unique challenges that come with this job and behind-the-curtain life stuff.
At the
$5 pledged per comic
tier, you also get access to
both PDFs
of my previous comic series, 
DAR!
Originally published as books in 2009 and 2010, both of these PDFs include comics and bonus content that was never released online.
Pledging per comic, how does that work?
You will be charged at the end of the month, when Patreon tallies up how many updates I posted during that time. OJST typically updates four times a month (Except for months with five weeks), so if you pledged
$2 per update
, then at the end of the month you will be charged
$8 total
. You can totally set a cap on how much you're willing to be charged each month, so even if I update a million times you won't be charged beyond your maximum amount. You can edit or cancel your pledge any time before you're charged.
Learn more at Patreon's FAQ
.
What happens with pledges when you run a guest comic?
Backers' pledges will be applied when I run guest comics. I commission my guest cartoonists to create these comics to not only add more perspectives to Oh Joy Sex Toy but to fill in when I am sick or injured or otherwise unable to complete a comic on my own.
The artists are compensated and while they retain full ownership of their strip and are free to use it to generate additional income from what I've paid them, they also grant me a non-exclusive license to profit from it through my comic's avenues.
Check out the gorgeous guest comics we've commissioned!
I just want to make a one time donation
No problem-o! You can
donate to me here
and thank you so much for your support! :D
I want to be a creator on Patreon too
Cool! You can 
sign up using my affiliate code
and then we
both'll
get rewarded from our website overlords!
We couldn't do it without folks like you!
We run solely on the financial support generated through company affiliations, advertising, merchandise, and the individual support of readers. If you would like to support our sex educating work so we can continue to keep creating these comics full-time, please consider 
becoming our patron on Patreon.
My ginormous, beautiful, angel cat Flapjack doesn't actually help with anything but he's really pretty.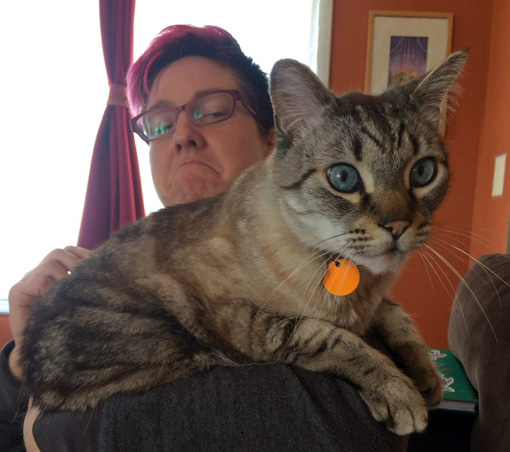 That's a good cat
... that's a lie, he's kind of the worst but I love him.
Recent posts by Erika Moen