Hippie Samurai
is creating art!
Select a membership level
Behind The Scenes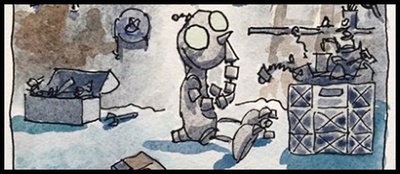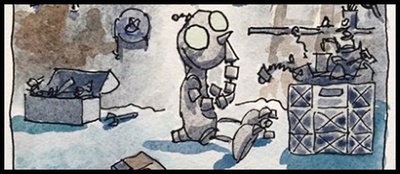 Get a patron-only look inside the making of ESCAPIST COMIX:
- Exclusive content
- First looks
- Live streams
- Selfies
+ recognized as a patron in a printed issue for making ESCAPIST COMIX possible!
Digital Comics Subscription
Get complete access to the ESCAPIST digital library of back issues and highest-quality versions of every new issue!
+ ALL PREVIOUS REWARDS!
Printed Comics Subscription
Get exclusive signed saddle-stitched copies of every issue (and surprise swag!) delivered straight to your door with ESCAPIST's distinct wax seal!
+ ALL PREVIOUS REWARDS!
About Hippie Samurai
HS


Comfort art for all people, just like Grammy used to make it?
I am Jarrett Rutland--aka Hippie Samurai. Here you will find my art I do for clients and for myself. You'll also see books I've written. I write both children's picture books and all age comics (geared toward Middle Grade). My comic label is called Escapist. This is the main hub where I will release my comics but as mentioned I plan on posting whatever I am working on at the time. Please message me about any of my work or how to make the page better, what you'd like to see more/less of. Things like that. Enjoy!
ROBOT SAMURAI PENGUINS
When robot penguin Waddul is activated, he finds himself lost at sea, knowing nothing about anything or anyone. Eventually he lands at Iceburgh, a glacier continent and home to other robot penguins Frosteemoto, Sloshiburo, Tundrahiro, and the intimidatingly fierce I.C. Moto. These rough-and-tumble penguins practice the ways of the samurai by participating in awesome snowball fights as training to combat Huru, the legendary sea dragon. Waddul is given an ultimatum by I.C. Moto: one night to prepare for a snow battle or face banishment from the realm. Desperate for a home and unclear whether these penguins are friend or foe, Waddul must prove his worth and find a path to heroism along the way.
LITTLE PREACHER
Ages 9 & up -- weighty, contemplative, spiritual
Nine year old John is a preacher's kid in rural Alabama in the 1920s. Harsh fire and brimstone doctrine echo from his daddy's church walls, but their relationship outside the church is full of fishing, hiking, and peaceful connection. When life alters this bond, John struggles to differentiate his daddy's rigid thoughts and his loving character. Can John navigate his beliefs through tumultuous change?
DARK PLOTTER
Ages 6 & up -- whimsical, fun, light-hearted, humor


Isaac wants the gooey delicious cookies his mom just made. But it's time for bed? Seriously? But that's okay, because when night beckons, Isaac transforms into Dark Plotter, a creative amalgamation of all the geeky books and stories that fill his brain. Plotter has no bed time. Plotter has no rules, and he attains what he wants against tyrannical rulers. No enemy is too furry, no foe too crafty... for this super hero.


STEAMPUNK EDDIE
Ages 8 & up -- action, adventure, time travel
Eddie would much rather investigate mysterious crashes with his dog Oscar than study for a boring quiz. He gets his chance to think outside the box when an encounter with a snarky time-traveling robot propels him to places he's halfway heard about in school. The robot's task is to return items stolen throughout history. If only there was a time pirate who's out for revenge on the robot for messing up his plans… oh wait, there is! Eddie's horizons are about to expand past the county limits.
MORE COMING SOON!
Follow HIPPIE SAMURAI on Facebook: @daddyshogun and
Instagram
!
When we reach $100 per month, all patrons will receive a personalized postcard with a unique drawing from J. Rutland.
1 of 1
By becoming a patron, you'll instantly unlock access to 122 exclusive posts
By becoming a patron, you'll instantly unlock access to 122 exclusive posts
Recent posts by Hippie Samurai
How it works
Get started in 2 minutes