EWF Global
is creating Humanitarian & Educational Programme
Select a membership level
#Just1Cup
#Just1Cup supports an entire Children's Home with food & water for a whole MONTH!
Calculations show that by giving up just one of your cups of coffee, once a month, collectively ensures children from the many Children's Homes in Thailand and Bali can Feed themselves for a whole month. Yes, as little as a cafe bought coffee. We are not talking a #Starbucks coffee, just a regular $1 cup of regular filter coffee.
No child should ever go hungry!
Big Beautiful Heart Award
EWF Children's Homes 'Fresh Fruit & Veg Appeal'

A Big Beautiful Heart Award goes to people who pledge &10 or more towards the Children's Home 'Fresh Fruit & Veg Appeal'.
The average weekly cost of fresh produce comes to ฿4,000 (Thai Baht - about $120) per week
If you think you or an organisation you are linked with can help, please contact us direct via [email protected]
Thank you for your help!
Educational Hardware & Resources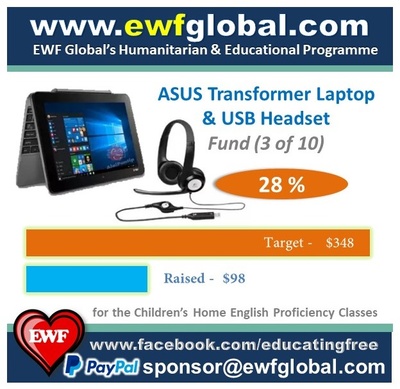 EWFs main focus is on providing free education and support to underprivileged & impoverished children (or students of all ages). We do not discriminate between age, race, religion, gender or colour. They just have to want to help themselves and have a desire to learn. Learning means they can one day escape the cycle of poverty by improving themselves and securing well paid work in the future. Educational hardware & resources are vital in facilitating effective and dynamic classes. 
We use these donations to buy computers and headsets for the online English Proficiency programme classes.
About
EWF Global

Welcome to our non-profit organisation
(Humanitarian & Educational Programme)

EWF Global was the original idea of a teacher from the UK, who was working in Bangkok, Thailand, as an English teacher. He wanted to help children and students, who couldn't afford special programme classes or extra curriculum courses, to receive the tuition they needed to break the cycle of poverty.

This inspired concept turned into Educating the World for Free, and the 'Global' being that location should never be an issue - hence EWF Global.

Approximately 100 teachers across Thailand came together as a combined effort to start the EWF Global initiative. They raised funds to buy and install resources capable of providing English proficiency classes, both directly in the classroom and online.
EWF Global now reaches across the globe and teaching volunteers come from all walks of life - online, high schools, primary schools, infant schools, colleges, faculties of education and University professors. There are also approximately 700 people following their various social media sites.
Their goals include - to provide students and schools in need with technology, facilities, resources, teachers, and internet connections - allowing them to learn English, Science, and Maths, totally FREE!
If you speak to any organisation that helps the needy, you will hear the same thing -
"There is a vast amount of evidence supporting the fact that English proficiency skills vastly enrich and improve the quality of family lives in developing countries".
"It is not just the money that matters, it is about making a difference."
If you too would like to make a difference, you can use a number of options.
Volunteer as an Online English language proficiency teacher. Contact them via email at
[email protected]
PayPal direct donation using email:
[email protected]
or using the 'Donate' button paying with your debit/credit card.
Patreon Crowdfunding Campaign -
www.patreon.com/ewfglobal

Our website -
www.ewfglobal.com/donate

100% of money donated to the various educational focused appeals goes towards their intended appeal. EWF is a strictly a non-profit (not-for-profit) organisation, created by teachers and for students in need. They do not deduct any fees or admin costs, whatsoever!
You can like, follow, subscribe and share our Posts and Social Media sites.
Thank you!
Achieving each part of our goals are thanks to you for your help.
$13.71 of $2,000
per month
EWF Global provides Humanitarian & Educational programmes to underprivileged and impoverish children in dire need of support. Our on-site volunteers and Online English language proficiency teachers provide much need extra curriculum classes enabling the children to one day react their true potential and break free from the cycle of poverty.

Our Humanitarian side provides much needed Fresh Fruit & Vegetables to undernourished children's homes in South East Asia  (i.e. Thailand, Bali, etc.).

Your money greatly assists our efforts to ensure these children's educational and health & welfare issues are catered for.

We cannot stress enough that ever little bit will contribute to the success of this humanitarian project. Just $1 / £1 / €1 helps. 

Thank you in advance for your valued assistance.


1 of 1
Recent posts by EWF Global