Exmoor4all
is creating high quality online content
Select a membership level
You are an Exmoor Patron!
Welcome on board! You are now officially an Exmoor Patron and a rather awesome human being. 
Apart from our eternal gratitude you will also receive Patrons-only updates. We will celebrate your first anniversary with a paper certificate in the post.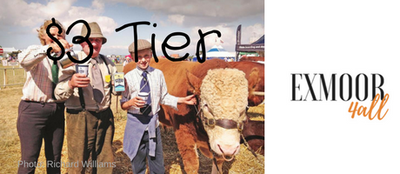 Coffee anyone?
As a thank you for your commitment, you will receive a 227g bag of ground Miles Coffee (roasted in Porlock, Exmoor) from us on your first anniversary of becoming an Exmoor Patron.
You will also become a member in our Patrons-only FB group with exclusive Live Broadcasts.
Tea for Five
We really, really appreciate what you do, and that's why we will add a box of 40 Miles Tea bags into your anniversary parcel, hoping that you will think of Exmoor when you sit down with a cuppa.
(Plus all the previous rewards)
About Exmoor4all
Exmoor4all
started in 2012 on 
Facebook
and 
Twitter
as a community platform for locals and visitors and everyone else in between and beyond who love Exmoor, the small National Park straddling Somerset and Devon in England's South West. 
Over the past five years, Exmoor4all has grown to a website, an 
online shop
, community events and, of course, other social media platforms.  It is taking a lot of time and love and dedication, and this is why we're on Patreon:
The Situation:
My name is Elke Winzer.  I am a single mum with two staaaaarving teenage boys and four dogs. I moved to Exmoor from Germany over 15 years ago, but fell in love with the area a very long time before then. 
My background is in Public and Cultural Relations.  I published three books in my previous life in Germany (under my author name Elke Koessling), and have worked as a promoter for musicals, organised concerts, and explored the world as a travel journalist amongst many more things.  
I started Exmoor4all in 2012 as an online community which connects people from all over the world in their love for beautiful Exmoor. We help local businesses promote their products, publish information about events, and, increasingly so, provide a calming refuge from a scary world out there.
Five years down the track we know that people love what we do.  Constant engagement, production of outstanding posts and products, and the provision of assistance (when dogs get lost or owners of cows have to be found) take a lot of time.  It is easily a full-time job which so far has been subsidised by taking on "normal" jobs.
The Plan:1. We want Exmoor4all to go on for a long time.
I love what I do, and our audience seems to love it, too.
2. Exmoor4all needs to be self-sustaining.
Working in other jobs while building up Exmoor4all doesn't work.  It leaves me tired and grumpy (just ask the boys...), and I just don't have the time to provide the service level to the community I am expecting of myself.
As I don't like ads on websites, I have decided not to go down that route.  Local businesses are welcome to promote what they have to offer (they get their own page in return for a rather small sum), but Exmoor4all is not really a directory, and I am not a sales person. But, of course, every little helps!
I have set up a small online shop (Exmoor Store) which sells products by local artists and photographers.  It has proven popular, however, I need more time to build up the store and promote it more. It will take a heck of a lot of time and effort until the store can finance Exmoor4all.
Once a year I produce a calendar which helps to cover some of our costs, and there are some other publication in the timeline. I can assure you though - this is not a get-rich-quick project!
And this is why I have decided to turn to Patreon. You can support Exmoor4all for as little as $1.00 a month, and you would make a huge difference.
What your money would be used for
The initial goal is $5,000 per month.  This seems like an astronomical figure at the moment, but hopefully it is not completely pie in the sky!
$5,000 plus the other income revenues (online shop and events) will help us to continue and develop our "community service".
We need money for:
Equipment
We need a new computer (please!) and could do with a decent camera. There are ongoing costs such as fast broadband, mobile phone charges for live broadcasts, and software applications which help us run Exmoor4all.
Ongoing web development
There is only so much cheesecake and virtual hugs we can offer in return for favours.... Sometimes only money gets us what we want and need!
Content development
Exploring Exmoor costs time and money. As we are not really into cycling (have you seen those hills?) we do rely on our car to get about, and this means petrol. Sometimes we also meet up with people for a chat, which inevitably means at least a coffee or two. And sometimes even cake. The length we go to for an interesting story!
Help!
I really could do with someone who looks after the online shop (you wouldn't believe how long it takes to upload new products...) and fun jobs like creating and maintaining data bases.  It would free me up to create articles for the website and work on Exmoor4all publications.
Last but not least: 1 adult, two staaaaarving teenagers and four dogs....
We are quite low maintenance, but we need food (teenagers cause empty-fridge-syndrom), and there is rent to pay. School uniforms and school shoes cost a fortune (£40 for a blazer? REALLY???), and our dogs tend to eat their toys rather than play with them (don't worry - they do get proper food). Any support towards our upkeep would be most appreciated.
With these points covered, we can relax and concentrate on providing high-quality content and publications.
This would allow us to give up on working for others and concentrate on growing Exmoor4all, to the benefit of the whole community.
1 of 5
Recent posts by Exmoor4all