Christina Crook
is creating the JOMO™ podcast + membership.
Select a membership level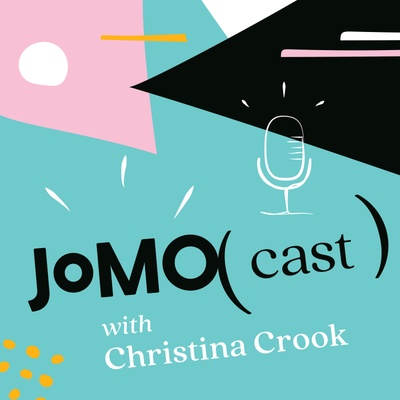 Podcast Patron
Small amount, huge gesture. 
Not many people take action to show their support of the things they love. This pledge is financially small, but the gesture is huge. 

What you get:  
Mini podcast episodes with Christina Crook + digital sociologist Dr. Jess Perriam 
Handwritten card in the mail
Digital Member
JOMO Monthly member calls.* Introducing a new digital well-being practice each month, from an industry expert, and discussion.
Digital Detox. I'll guide us as a community each month in cleaning out devices and platforms so the only things in our digital path are intentional and joyful.
A real welcome package in the mail, from me, including the JOMO Manifesto letter print - suitable for standing at your desk, or anywhere else you want to show off your allegiance to the joyful life.
Immediate members-only access to JOMOcast bonus material, including all the interviews, resources and behind-the-scenes convos.

*All calls are recorded
Analog Member
All digital membership benefits, plus...
Welcome package, including:

a signed copy of The Joy of Missing Out: Finding Balance in a Wired World. Already own a copy? I'll sign it to whoever you like- pass it on! 
a JOMO Values Deck in a carry pouch with a PDF user's guide 
the JOMO Manifesto letter print, suitable for framing 
An embossed JOMO woodblock stand for your monthly mantra card 
An $80 value!
A monthly envelope from me with this month's JOMO mantra card (one side with a quote to set your focus, one side for intention-setting) and a small monthly surprise - it's fun to get real mail! 🎉
About Christina Crook
Experience Joy. Experience JOMO. 
Welcome, Joy Seeker.
I'm Christina Crook, author of "The Joy Of Missing Out: Finding Balance in a Wired World." I'd like to invite you to join me and the JOMO community to leave toxic hustle, comparison, and digital drain behind.
JOMO membership provides you with the inspiration, accountability, and practical tools to support your digital well-being.
Whether you join at the Digital or Analog level, you'll receive a fresh delivery of joy every month- actionable information, community, surprises, inspiration, and my personal support in your JOMO journey!
It's an ongoing detox for your digital life.
You deserve a joy that is uniquely, profoundly, and humanly your own. Let's #experiencejomo together. 🎉
- Christina Crook
Author, Founder + Chief Joy Officer
https://www.experiencejomo.com



Analog Member starter kit
Recent posts by Christina Crook