Molly Harrison
is creating coloring pages, coloring books and art
Select a membership level
Flower Fairies Level
For only $1.50 per month, you will receive: 
1 digital coloring page per month
coupon codes for my website and/or Etsy shop
Celestial Fairies Level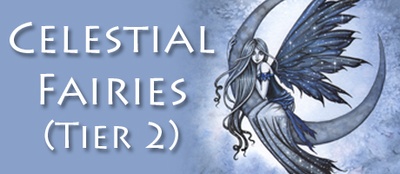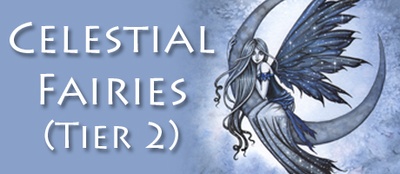 For $5.00 per month, you will receive:
all rewards of lower level tiers
Another TWO coloring pages per month (minimum!)
A Patreon EXCLUSIVE coloring page that will not appear anywhere else!
Calendar page and Gratitude Journal Page every month
***I reserve the right to add MORE rewards in any given month for this patron level as some months will be more prolific for me than others.  This means you will receive all mentioned above at a minimum but I might add more coloring pages for you to download, or other goodies.       
Fantasy Realm Tier
Limited (181 of 200 remaining)
***US Patrons Only*** Due to increasing international shipping costs, this tier is available to US residents only***  
Members of this tier will receive per month:
All lower level rewards that are in the Flower Fairies tier and Celestial Fairies tier (minimum of three coloring pages PLUS Patreon EXCLUSIVE coloring page, and coupons for my website or Etsy)
Calendar page and gratitude journal page. 
one  5 x 7 inch fine art print in the mail. 
My prints are lightfast and waterproof and will last from one generation to the next!  I will try to reflect seasonal themes...for instance, if it is October, a Halloween themed print will be sent out, if Christmas, a winter or Christmas themed print will be sent, if spring, a flower fairy or mermaid print.  ***I reserve the right to add more goodies randomly too in you packages such as bookmarks, greeting cards, etc.  :)  I have decided to ship these toward the end of the month so that newcomers who join late in the month will also get the monthly print.  
About Molly Harrison
Hi everyone!  I am now creating EXCLUSIVE coloring pages just for Patreon subscribers!  These illustrations will not appear anywhere else!  They will go up near the beginning of each month and stay up for that month only.

***This is a "Charge Up Front Account".  Here is some information about how it works. https://support.patreon.com/hc/en-us/articles/210291283-What-is-charge-up-front-
Basically, you are charged the day you sign up and then on the first of every month afterwards. This way allows you to get immediate access to the rewards for the month you sign up - even if it is late in the month.  
***Please note:  For now, the coloring page rewards will be the JPG files located at the bottom of the blog posts in orange text.  You just click on them and save to your computer. 
Monthly coloring pages/digital rewards will be put up the first part of the month and taken down at the end of the month so be sure to grab them before they are gone.  

***All physical rewards (prints, paintings, etc.) will be mailed during the first week of the month following the month you pledged.  For example if you pledge in May, your prints will be mailed out the first week of June.  (Some months might be a bit earlier or a bit later depending on my work load).
********************************************************************************************************

Below is the EXCLUSIVE Patreon Only coloring page for April 2019!  


Hi dear patrons!  I want to thank you for stopping by and supporting my work!  My name is Molly Harrison and I am an artist working out of my home studio in northern California.  Art has been a part of my world my entire life and I have been a working artist since 2003, painting fairies, fantasy art, wildlife art, and doodles.  In 2015 I decided to start creating coloring books and coloring pages of my paintings which has been a joy!  Thanks to my wonderful customers, I have been able to continue on my journey of creating ART for a living!  I have decided to set up this Patreon page because I thought it would be FUN and also I want to be able to offer you FIRST ACCESS to downloadable coloring pages prior to them being published in my books! I am also now doing EXCLUSIVE coloring pages for my Patrons only!  These will not be in any books or for sale anywhere else.  I have committed to a minimum of one exclusive page per month for Celestial Fairies and higher tiers  (plus the regular rewards).  
Over the years I have had so much fun creating my artworks.  It is incredibly rewarding to hear from my friends and fans how my art brings joy or peace or helps them in some way.  I decided to expand into offering coloring books and pages in 2015 so that others can get the same joy I do in adding their own colorful elements to the artwork.  Drawing and inking are also rewarding (and the most difficult for me!), but when it's time to add color, that's when the fun begins.  It is known that coloring offers benefits physically and mentally for those struggling health-wise.  It promotes a feeling of calm and can take us away from our worries or pain even if only for a while.  Some studies have shown it to be almost as restorative and healing as meditation (something that can be intimidating for some).  I can definitely attest to this.  Throughout my entire life, creating art (and crafts too) has been something I rely on for pleasure.  It can take you away from the day to day rituals of mundane life (which we all must endure!) and provide an avenue to express our individuality and emotions and to RELAX! The feeling of accomplishment that comes with the completion of a new piece is very rewarding also.  

I am now creating EXCLUSIVE coloring pages just for my patrons!  These illustrations will not appear anywhere else.

I will TRY to be as timely as possible but given that life gets in the way sometimes I will commit to AT LEAST one new post per month.  I might add more than one post per month for various tiers (YAY!).  I will announce them on my Facebook page also so be sure to like my page there as well!  Also depending on the subscription tier, you will receive special coupon codes to my website store as well as my Etsy shop. I will also add some posts with tips on coloring - painting - mediums I use, etc.  I hope to add some videos too eventually.    
I will also send out "surprises" to patrons every month.  These surprises could be something like a PDF coloring book, a greeting card, a new coloring page, a print, or even a small painting.
*********
TERMS of USE for DIGITAL COLORING PAGES and COLORING BOOKS
***All coloring pages posted exclusively on Patreon and created by Molly Harrison are copyright protected and must not be shared in any way unless otherwise specifically allowed by the artist.  Your colored versions are ALLOWED to be shared on your social media pages as long as there is credit provided to Molly Harrison and a mention of my Patroen page or my website
www.mollyharrisonart.com.
For information about me and my work, please visit The Fairy and Fantasy Art of Molly Harrison
www.mollyharrisonart.com.
$408.87 of $1,000
per month
I have started offering EXCLUSIVE coloring pages now that I have enough patrons supporting me!  But if I can reach this goal, it would be a game changer and I would be able to offer a lot more rewards...more exclusive coloring pages, monthly surprises and more!

1 of 1
By becoming a patron, you'll instantly unlock access to 194 exclusive posts
By becoming a patron, you'll instantly unlock access to 194 exclusive posts
Recent posts by Molly Harrison
How it works
Get started in 2 minutes