Favela Brass
is creating music education opportunities for children in Rio de Janeiro
Select a membership level
Uniforms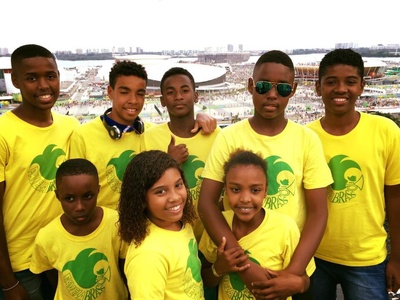 A donation of £4 per month allows to provide a high-quality Favela Brass T-shirt for a new student every month.

A very important part of our our program is the sense of pride and belonging that it brings to our students and their families. As our ranks swell with more and more talented new youngsters we need to make that sure that all of our students have their own beautiful Favela Brass t-shirt to feel like a valued part of the collective on concert day.

Receive Exclusive Communications for Patreon Members
Percussion Workshops
For every three people that donate £10, we can provide an extra monthly percussion workshop for up to 40 students.

Percussion is at the heart of Brazilian music and the grass-roots of our program are large-scale workshops with master percussionist Carlos "Mangueirinha" São Vicente, head of percussion at the Vila Isabel Samba School, at our partner state schools.

Covid Update: Mangueirinha is currently teaching percussion via video call and instructional videos and coordinating our volunteer percussion-teaching staff as they provide lessons for more than 50 percussion students online.
Receive Exclusive Communications for Patreon Members
Melodicas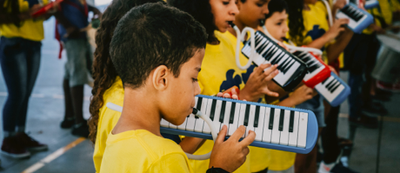 For every patron on this tier, we can give the gift of music to an extra melodica student every month.

The melodica is an ideal starter wind instrument for our students. Not only can they get a great sound straight away and quickly learn new songs that they can play in our band, but playing a keyboard instrument is absolutely vital to help them understand harmony later on. Our students continue to use their melodicas as they progress on to studying improvisation and music theory.

Receive Exclusive Communications for Patreon Members
About
If you would prefer to make a one-off donation, you can do so via Paypal

Favela Brass offers at-risk children in Rio de Janeiro, Brazil, the chance to transform their lives by learning a brass instrument and playing in a band. We provide:
Free tuition for 100 students between the ages of 5 and 15 in the Pereira da Silva favela in Santa Teresa and in local public schools
Instruments for our children to practice on at home
Opportunities for the children play in public and participate in musical exchanges with other children in Rio de Janeiro and beyond.
Public online instruction via our Youtube Channel
Our team consists of a mixture of administrative and teaching staff, professionals and volunteers. With your help we can create a stable stream of funding that will allow us to provide high quality music education long-term for our young students in Rio, and for our a global audience via instructional videos on our Youtube channel.
Please sign up today to help us achieve our vision of a Rio de Janeiro where all children have the chance to learn an instrument and play in a band, and a world where anyone with a cellphone and a musical instrument has access to the all instruction they need to achieve excellence in music.