Select a membership level
Watch the sky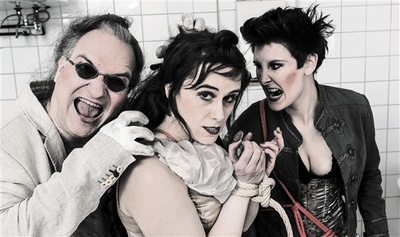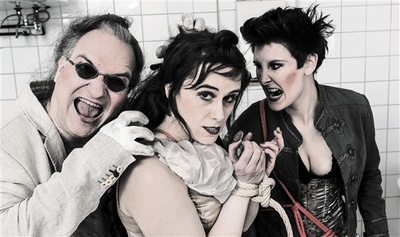 Instant access to the patron-only Blog with embarrassing backstage pics, rehearsal room goofing, all songs for streaming, and lots of love.
Zugang zum exklusiven Blog mit allen Songs zum Streamen, Probenraumalberheiten, und massenweise Liebe. 
Catch a Star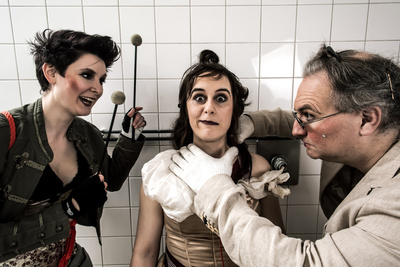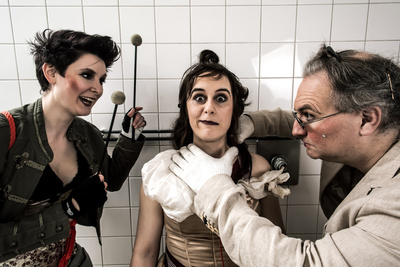 You get everything I publish as a download. A record flatrate! 
Ab diesem Level bekommst Du alle unsere Werke als Download! Eine Platten-Flatrate!
Ticket Flatrate
Limited (42 of 50 remaining)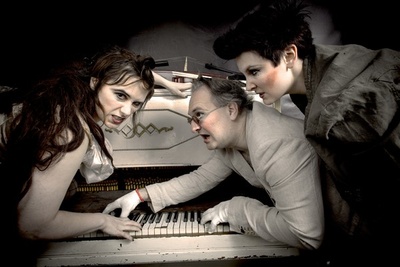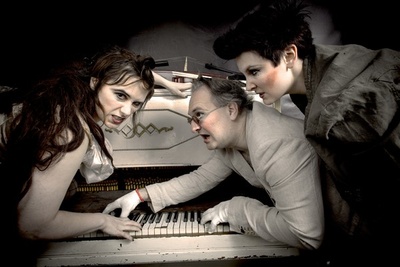 A free ticket to all our shows! Eine Freikarte für jede unserer Shows!
AND the first version of all songs. Improvised or shitty or entirely different.

Includes downloads of all digital works
About Feline
+++ Patreon Things so far: https://www.felineandstrange.com/all-the-patreon-posts +++ Detailed Manual / Ausführliche Anleitung +++ What we are talking about here: Life & Death - Making art (Music, theatre, comics, videos, writing...) - Performing - Singing technique - Travel and touring - Other artists & friends - YOUR art - Science Fiction - Politics - Mental illness - Body positivity +++ NEW: SELFISH SELFCARE. Daily video: a song, a talk, a poem... in the exclusive facebook group SUPER PATREONS! +++
I am a musician, and a storyteller, an Opera singer, a piano player, and an electronics producer, making songs and stories out of things nobody else notices. (Or ignores.) I somehow draw people around me who are fascinated by the extreme, the exceptional, the truly emotional, the nerdy, and sarcastic.
(I love you, too.)

Ich bin Musikerin, und Geschichtenerzählerin. Opernsängerin, Klavierspielerin, Sounddesignerin. Ich mache Songs und Geschichten aus Themen und Dingen, die manch anderer übersieht. (Oder ignoriert.) Irgendwie ziehe ich Leute an, die vom Extremen fasziniert sind, vom Aussergewöhnlichen, ehrlich Emotionalen, Nerdigen und Sarkastischen.
(Ich liebe Euch auch.)
Feline&Strange is the crew
of a spaceship stranded in Berlin. "The Chief" Christoph Klemke, the madman with the punked fold-up cello, and punk drummess Rah Fookinhell fly with me. Our shows got too theatrical, and my messages too political, for a label. I am told I am too much for many. For you too??
I am collaborating a lot with other people, mostly with my beautiful and wonderful friend Mishkin Fitzgerald from birdeatsbaby, with Brian Viglione from The Dresden Dolls who played the drums on three of our records before Rah was there, and many more.
None of this would exist without Patreon.
Feline&Strange sind die Crew eines auf der Erde, in Berlin, gestrandeten Raumschiffs. "Der Chief" Christoph Klemke (der Irre mit dem punkigen Falt-Cello) und Punk-Drummess Rah Fookinhell fliegen mit. Wir sind zu theatralisch, zu politisch, zu merkwürdig für ein Plattenlabel. Man sagt mir, ich sei zu viel für manche. Auch für Dich??
Ich arbeite eine Menge mit anderen zusammen, etwa mit meiner wundervollen Freundin Mishkin Fitzgerald von birdeatsbaby, und Brian Viglione von den Dresden Dolls, mit dem wir drei Platten gemacht haben. Nichts davon würde ohne Patreon existieren.

THERE WOULD BE 2 F&S RECORDS, NOT 6, WITHOUT PATREON, AND ONLY 4 VIDEOS INSTEAD OF 27.

OHNE PATREON GÄBE ES NICHT 6 PLATTEN VON F&S, SONDERN 2, UND NUR 4 VIDEOS STATT 27.
PATREON
offers a unique possibility to support a performing artist. Like a painter, I can create a work and sell it to you to support my next one. This kind of market is not available for musicians and writers anymore, whose works don't exist as an "original", and is usually easy to get for free - and that is frustrating, humiliating, and numbing. Patreon is the exact opposite.
Since I am on patreon, I wrote, and recorded, and performed, 37 new songs (so far), which I´d never written without the motivation through patreon. Some of them are ONLY available here! And 23 videos, a movie script, two art books, and more.
And I learned about the art of my fans.

PATREON bietet eine einzigartige Möglichkeit, darstellende Künstler zu unterstützen und zu motivieren. Wie eine Malerin kann ich ein Werk schaffen und es direkt verkaufen, um vom Erlös das Nächste schaffen zu können. Dieser Markt bleibt Musikern üblicherweise verschlossen, da unsere Werke im digitalen Zeitalter nicht mehr als Originale existieren und leicht kostenlos zu beschaffen sind - und das frustriert, und lähmt.
Seit ich auf patreon bin, habe ich 37 neue Songs geschrieben, arrangiert und aufgenommen, die ich ohne die monatliche Deadline hier nie geschrieben hätte. Einige davon gibt es NUR hier! Und 23 Videos, ein Filmskript, zwei Artbooks, und noch mehr.
Und ich habe die Kunst meiner Fans kennengelernt.

So I beg you, I implore you:

GO KICK MY BUTT. Pledge now, and make me see that my work is appreciated, and that I am expected to MAKE MORE.
You will get the stuff you love. And I will get the motivation to create it.
Daher bitte ich Dich, ich flehe Dich an:
TRITT MIR IN DEN HINTERN. Abonnier mich jetzt, laß mich sehen, daß Dir mein Werk wichtig ist, und daß Du von mir erwartest, MEHR DAVON ZU MACHEN.
Du bekommst dafür das, was Du liebst. Und Ich die Motivation, es zu erschaffen.
Thank you!
DANKE!

P. S. Setting up your own patreon page? Please use my affiliate link and we BOTH earn double in you first month!
https://patreon.com/invite/xykyd



Show more
GERMAN! DEUTSCH! I have a few translations of some of my best songs in the drawer. Would you like how they sound in my native tongue? Here goes.
Ich habe ein paar Übersetzungen meiner besten Songs in der Schublade. Wollt Ihr wissen, wie ich in meiner Muttersprache klinge? Bittesehr.

4 of 9
Become a patron to
Unlock 272 exclusive posts
Connect via private message
How it works
Get started in 2 minutes