Feralculture
is creating wilder human community
Select a membership level
Vote of Support. A single dollar might not sound like much, and you might be thinking it's too insignificant to even bother with this level. But seriously, supporting us for $1 is a huge morale boost. Every month you'll feel warm and fuzzy because you you're helping our experiment continue. And all that warm and fuzzy in your chest over the course of a year will lift our spirits when we're on a downswing in the manic-depressive "can we pull this off!?" cycle that always comes with projects like this.
Seeder.
Seeder. For $3, we can buy more seeds (metaphorical or literal). Sometimes we do things Sepp Holzer style and just throw them at fertile looking spots that don't have plants growing from them, and we can't imagine having too many seeds.

Mycelium.
Everybody's doing it. Some marketing gurus would probably say we should quantify this in terms of "for the cost of just one latte every 11.7 days..." or some less abstract and more quantifiable unit of measure. But here's a secret: we had a private monthly donation option through our website for some time, and this remains the most popular support level.

About
Gratitude.
We are humbly and keenly aware that we couldn't have created and built and experimented without the help of our patrons. So we'd first like to express deep appreciation and thanks for all of you.
About.
The feralculture
land
and
community
project works toward experiencing and expressing the richness of our lives as human animals. We're inspired by the wild, permaculture, hunter-gatherer and horticulture traditions, earth-based skills, land-based lives, and those working to regenerate damaged habitat and build real-world communities.
Vision.
To reconnect the ideas of land conservation and human habitat while liberating land and life from the far-reaching implications of the culture of the monoculture.
Permaculture guru Geoff Lawton connects the #feralculture dots.
Patreon. What the..? Why the..?
Patreon is a service to connect creators with patrons and enable ongoing projects. Unlike other crowdfunding thingies, it's arranged to facilitate long-term support rather than one-off projects. Since the vision of our project has no foreseeable completion date, it fits our goals better than the others. Your pledge of support gives us a monthly infusion of funds that we can plan for and allocate thoughtfully and purposefully.
What We Create.
We chose the term
feralculture
for the endeavor to create a wilder human culture
directly connected to wild spaces
.
Wildcrafted, Handcrafted, and DIY'ed mixed media. 
Patreon requires selecting a primary category, but we create a variety of media. Our mediums include words, wood, film, soil and others, and are expressed in the digital world and at our community nodes. The project stream here will primarily consist of reports of life in the wild and photography, and some audio and video when we can upgrade our off-grid power capabilities (see our Goals).
Wild Foods.
Our goal is to completely escape the industrial food system. We're not completely there yet, but we're getting close.

Log f'ng cabins.
We built a log cabin for almost exactly our monthly Patreon income at the time, $125. Most of the materials were harvested
hyper-locally
, some salvaged, and a little bit purchased. As a long-time patron commented, "Talk about bang for the buck."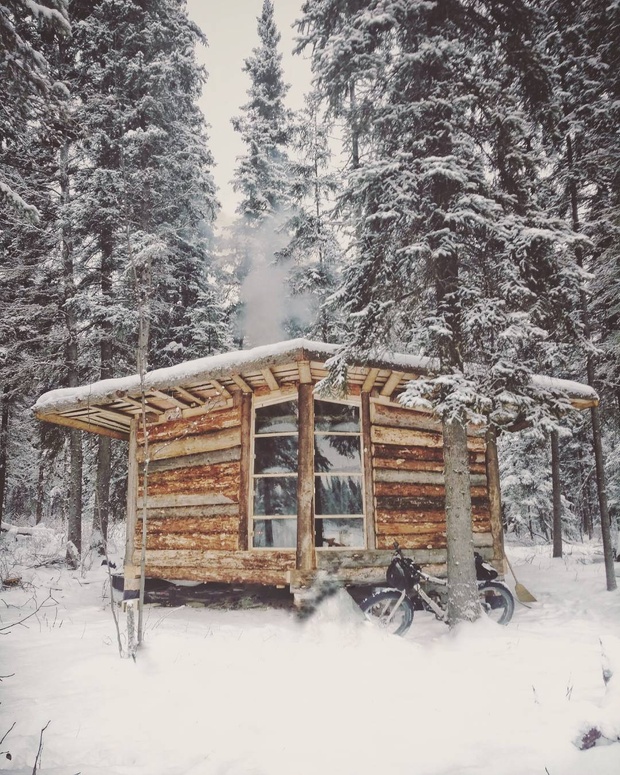 Land liberation
. We're sympathetic to the critique of the idea that humans should hoard and control land, and are very aware that 100% of the land on this planet claimed by individuals was wrested from indigenous people and the rest of the life that once dwelled freely—in human and non-human
habitat
, and not encumbered by monocultural tendencies.
Treehouses.
We built an elevated canvas wall tent which glows from the outside in summer and from the inside in winter. You know, to keep visitors out of the reach of the bears whose neighborhood we share.
Real world community
. Our land liberation efforts are intended to open space for the building (or rebuilding) of subsistence lifeways, particularly those of nomadic or semi-nomadic peoples. Interested people are invited to look into our project further and see if joining us on the landscape is something that makes your heart beat more rapidly.
What We've Done So Far.
Online
The seed of this project was planted in August of 2012 with the creation of a Facebook Group. That groups sprouted a website, online community, additional Facebook Groups, and a Facebook page with engagements in the tens of thousands.
Real-World
While we value the connections started online, we feel that those connections should be converted to face-to-face interactions with human and non-human life, as well as hands in the sweat and the blood and the mud. We purchased our first piece of land (or, node) in July 2014, and it was paid off in August 2015. As of summer 2016, we have our first
hugelkultur
(wood-core raised garden bed) in place, and are actively building shelters for guests. A small piece of riverfront refuge with access to huge tracts of publicly accessible hunting, fishing, and foraging grounds is now available for prospective community members and visitors.
Who We Are.
Andrew Badenoch
is the instigator of the feralculture experiment, and often serves as chief firewood engineer and water hauler in camp. With ill-advised art school training in media design and passion for neologisms, he knows just enough to make things and not quite enough to know when to stop.
Jennifer Andrews
is the unsung hero who gets blamed for the gardening activity but would rather be hunting. She's also the creative eye behind much of the photography seen on our various pages.
A Bit About Money.
Following an impulse shared with many hunter-gatherer bands, artists, musicians, animists, and anyone whose work is sacred to them, we operate as much as possible in gift economy -- particularly among friends and allies.  We don't want to withhold our creations in search of a payment, and we don't want money to limit who receives them. Therefore,
the proper price is zero
. As well, we hold those gifts as valuable and precious, and prefer not to reduce them to an abstract price. Therefore,
the proper price is infinity
.
It seems the world of the living creates a paradox for math: any amount we charge is both too much and too little. What to do in a mathified economy?
The solution of destroyed wild human cultures was to offer creations as gifts, letting the receiver decide what, if anything, the return gift might be. People can let their gratitude, goodwill, and desire to support our work guide them. That is a very different relationship from "I have to pay $X to receive Y."
Gift is especially appropriate for me since I don't see the work I do as "my" work at all. The things I write and speak about come to me as gifts, whether in the mundane sense of drawing on a cultural and intellectual context, books and conversations, or more mysteriously as sudden, unbidden insights and intuitive downloads. Sometimes these take my breath away and leave me on my knees in gratitude, gratitude for this gift that has come from beyond my self.
We cannot in all honesty sell creations as if they were ours. The voluntary financial support of our project is what enables us to liberate land, to connect with inspired people online, to convert those connections into real-world social relationships, transport friends and family to our remote locations, and ultimately to free our choices from financial pressure. It enables us to fully devote our gifts toward their true purpose, and to lose ourselves in the pursuit of wilder human cultures.
How We've Invested So Far.
Land. Most of the support we've received has gone directly into the land liberation component of our project, and purchasing property for our land trust.
Solar panels. It's powering this computer and internet now! After smoke from forest fires in Summer 2015 blocked out most of the power we could create from one panel, we invested in a second solar panel to boost power collection.
Laptop. We replaced our 2005 era power-sucking laptop with a more powerful and more efficient pre-owned machine purchased on Ebay. That's what this was written on!
Boat and motor. Our headquarters is more than 20 miles from the nearest road, but is situated on a river. Transporting visitors used to require a 7+ day canoe trip. We hope to cut that to a few hours after the purchase of a gently used gas-sipping motor and canoe with 1,000 pound capacity.
Android phone. We don't have phone access here, but can get some signal with a 2+ mile hike to higher ground. Of the 7 devices we had to test, only 1 worked. Alas, that 1 phone was apparently lost while dragging our satellite system overland by sled. We replaced that phone with a used android phone purchased on Ebay.
Battery Bank. During winter, most of our solar power collection goes bye bye. We purchased a small battery bank to help smooth out the power shortages and keep our communications powered.
Seeds. In Spring 2016 we built our first hugelkultur garden bed with a core of windfall cottonwood, alder, willow, and birch in an area of beetle-killed spruce and following the contour of the riverbank. The seeds for this project were 100% made possibly by our supporters.
When you give to us through Patreon, you are signaling support and making a leap of faith. You don't get an immediate, tangible product. You are saying, "
I want to see this experiment happen
, and I trust you will invest efficiently toward building communities." Maybe it is because you have seen the land we've liberated or the communities we've opened already and want to see us continue. Maybe it is because you are inspired by our vision of the future. Or maybe it is... something you feel.
FAQ
Q: Can I make a one-time contribution?
A: Not through Patreon, but we happily accept support via
PayPal
.
Public Interface. In a perfect world, we'd hang out in the forest with a face-to-face community and live directly. In the disconnected world we actually inhabit, we find that rebuilding community is important, and that an online presence is necessary. With this level of support our basic interface with the broader conversation is taken care of.


Satellite internet. $59
Web Hosting (Website & Forums). $40
1 of 2
By becoming a patron, you'll instantly unlock access to 1 exclusive post
By becoming a patron, you'll instantly unlock access to 1 exclusive post
Recent posts by Feralculture
How it works
Get started in 2 minutes