Kalamona Studios
is creating Feudums
Select a membership level
Edler
Unlocks the following:
Your name will be added to the in-game credits!
You will be automatically invited to our Community Discord.
Includes Discord benefits
Advisor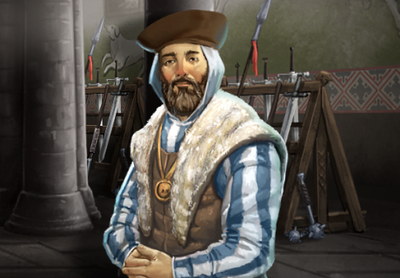 Unlocks the following:

a limited Coat-of-Arms Charge unique to this pledge level
Access to exclusive posts on Patreon
Voting privileges for community decisions – help decide the direction of the game!
Access to our exclusive Discord channel – talk to the core team
You gain access to the Vanguard Meeting area at Feudums.com where you can join in the private discussion about closed game testing and receive regular early development updates.
added to the in-game credits under Advisor level
Includes Discord benefits
Knight / Dame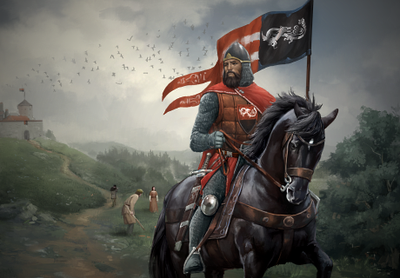 Unlocks all the following:

All rewards from previous tier
Your Knight-level pledge noted in credits
Access to Vanguard Charges and customization package
Vanguard in-game nickname (unlocks after pledging for 3 months)
Set of HD and 4K "Feudums"-inspired Wallpapers created by the game's lead artist and released continuously during the Early Access period.
Digital Music Soundtrack of "Feudums" upon game release
Includes Discord benefits
About
Thank you

for considering to support us!
Kalamona Studios is a small indie group developing Feudums, a free-to-win cross-genre strategy game designed to run on both PCs & tablets. Feudums is a Steam Greenlit game concept and we're determined to deliver our project, but we will need your assistance to get across the finish line.


Feudums is an epic 4X strategy MMO which draws inspiration from classic C64/Amiga games of the 90's like Defender of the Crown, Genesia and Lords of the Realm, the story-driven-sandbox style of the New Age's Mount & Blade, the grand strategy mixture of Crusader Kings and the diplomatic and intrigue aspects of fan-favorite novels Game of Thrones (A Song of Fire and Ice).


Feudums is all about the vibe and feel of epic medieval strategy game campaigns, with writing, game design, visuals and music all serving a single purpose: to present a unique and unforgettable tale shared between players every time they dive together into a game world.
It's built on a detailed and realistic vassalage system. Unlike most other strategy games set in the Middle Ages, vassalage is a core concept of Feudums affecting both diplomacy and player interactions. Lands can be offered in return for someone's loyalty, and vassals are obliged to support your military campaigns
Warfare is not about building the bigger army. War is expensive, brutal, and may have long-standing effects on your realm. Seasonal military campaigns and levy troops called lances - who you'll solely miss during harvest if they die in war - are cornerstones of the system.
Seasons are a major factor in all aspects of life - from food production to warfare.
Diplomacy and intrigue are just as much of a battlefield as the map's landscape.
RPG-like elements for customizing and creating both the lore of your Noble House and its representative individuals through in-game achievements, unlockable traits and drawbacks.
Battles aren't calculated in an instant. This allows both sides, their allies or vassals to rush for help and turn the tide of the battle
Players can share their War Plans directly on the game map, setting rally points, marching routes or marking targets – making cooperation easier between allies.

We still have plenty of things to implement, and we want - and need - your help. We plan to use your pledges to keep the game project moving forward by covering our basic game expenses like cloud and server costs. In addition, we must pay our core team and for commissioned works - the projects' ambitions and complexity requires many of us to fully dedicate our work hours to it if we are to deliver the quality of work the project and its community deserve. We all have pesky expenses like rent and food and our families are telling us its time to get off their couches! We're not making it up as we go along.
During the past few years, we have fought the good fight by taking the majority of risk to get to this point in our development from our own sources. The game structure that runs in the background is complete. The MMO ecosystem, the cross-platform communications, our game client are working. The time has come to fill in our content. We have many items completed, but we still have got a lot left to do - and that is why we need your support. Our plans call for the following roadmap:
DONE - Coat of Arms Creator allows players to create their House Standard and to derive personal Coat of Arms for their noblemen with unprecedented details.
DONE - Unified Player Platform allows players to use the same account across the game's different domains, like the website and the client, with a unified communication, authentication and authorization system.
DONE - Game Catalog provides the persistent, cloud-based game servers and their supervisor logic that can run multiple game instances, all using their own rulebooks and settings in parallel, as well as establishes the fundamental core of rich modding and our game world generation system.
DONE - Online Client further enriches and ties all the parts of the client and server ecosystems, brings seasonal progress to the games and adds the ability to show the game map and to process the tick updates from the game server.
WE ARE HERE - Feudum Sims Light adds the ability for the players to start playing on MMO game worlds, try the basics of the game's economy system under different rulebook settings, as well as our new labourer system and the tasks of feudum management. Also meet the World Market where prices are driven by the players' actual demands.
Petty Kingdoms allows players to assume control over multiple feudums, extend their rule and bid for uncontested regions, as well to use the world chat where the ladies and lords can meet.
Diplomacy includes major elements such as Player to Player trading, diplomatic treaties and vassalage. Once finished, this build allow players to interact with other players, sign various diplomatic treaties, begin trading and issue invitations to others to join the game.
Warfare allows players to resolve their disputes by other means; to gather armies - lances or mercenaries -, expand their territory with cold iron, attack other players, lay siege on fortifications or just sack and pillage for glory and.
Backgrounds brings the RPG Elements, Achievements, Starting and Unlockable Traits and Drawbacks for both the Noble Houses and the noblemen.
Workshop presents integrated support (like tools, tutorials and additional resources) for modders and modding.
Lore adds Global and Local Events as well as a tutorials.

In addition, if we gather enough pledges, we could hire additional programmers to help us get to the finish line quicker. We know what we need to do but need your help to get it done.

Once pledged, you will be a part of the team. We love to hear from our fans along with your suggestions. We've always believed that Feudums is your game as much as ours.
Please find more about the game
on our website
.
If you have any questions or want to talk about our project, you can reach us on
Twitter
,
Facebook
,
Youtube
,
IndieDB
or
Gamejolt
, via email, or on our
Discord community server
. We are happy to answer any questions you might have.
If you would rather just quietly look under the hood, please check out the website and browse some of our feature articles.You will see that we have got some great ideas and with your help and suggestions, we will deliver on our promise to create a new and unique take on an established genre game.
Why Patreon?

Patreon offers us the ability to gain financial support from individuals looking for game design from developers who walk the walk. We think we have an awesome idea and we have gone as far as we can with the resources we had. Now, it is time to see if we have the support of the gaming community at large. Our promise to you is transparency in our activities as well as our commitment to create the best medieval grand strategy game ever!
Still not convinced?

It's free to win, there will always be opponents, allies and potential vassals
You'll be able to invite your friends straight out of your contact list if you wish to build up your vassals, and they can join at any time thanks to the vassalage – integrated invite system.

It's extensively moddable which means the game will continue to grow and thrive
It has a lot of unique concepts that a AAA company won't use because these concepts prioritize gaming experience above profit
This project is long past the "dream-stage"
Become a patron to
Connect via private message
Recent posts by Kalamona Studios