fireundubh
is creating Mods and Modding Tools
Select a membership level
Squire
REWARDS
• Credit for your patronage
• Personal thank you message
• Access to patron-only feed
• Screenshots and videos of upcoming releases
GOAL-BASED REWARDS
Community II
• Priority technical support
• Steam friend invitation
• Exclusive forum badge 
Knight
REWARDS
• Credit for your patronage
• Personal thank you message
• Priority technical support
• Steam friend invitation
• Access to patron-only feed
• Screenshots and videos of upcoming releases  
GOAL-BASED REWARDS
Community II
• Exclusive forum badge
• Access to in-depth guides, tutorials, and postmortems
Champion
REWARDS
• Credit for your patronage
• Personal thank you message
• Priority technical support
• Steam friend invitation
• Access to patron-only feed
• Screenshots and videos of upcoming releases
• Early access to tools in development
GOAL-BASED REWARDS
Community II
• Exclusive forum badge
• Access to in-depth guides, tutorials, and postmortems
Content II
• Early access to mod development courses
About fireundubh
I'm
fireundubh
, but people just call me
fire
.
I've been a modder since 1995 when
Warcraft II
was released. My mods are consistently top ranked, and my work has been featured on
GameSpot
,
Kotaku
, and various YouTube channels where videos of my mods have received 1.54 million views.
The goal is to reach a point where I can develop mods full-time. All contributions will go to paying bills, buying games, and hopefully paying off my student loan debt one day. If you've enjoyed my mods or you use my modding tools, I'd appreciate your support!
What mods have you created?
Over the years, I've created hundreds of mods for many games, such as 
Dragon Age: Origins
,
The Witcher 3
,
Pillars of Eternity
,
Tyranny
, and
Stellaris
. But I'm best known for the few below:
For 
Skyrim
,
Master of Disguise
, a disguise-and-discovery mechanic, was the titular mod in
GameSpot
's 
Season 4 Episode 2 of Top 5 Skyrim Mods of the Week
. The mod was featured by
MxR Mods
in 
this review
and
Brodual
in the spotlight video below.
Prior to moving ~60 mods to GitHub, Master of Disguise for classic Skyrim was #1 in Stealth on the Nexus and #1 in Stealth in the G.E.M.S. Hall of Fame.
For 
Fallout 4
, there's 
Auto Loot
, an extremely configurable area loot mechanic. Developed before the Creation Kit was released, Auto Loot was the first mod of its kind for
Fallout 4.
 The all-in-one mod features auto loot, auto harvest, and auto steal/lockpick systems.
Auto Loot was also featured by 
Twinfinite
and various YouTubers.
For 
Divinity: Original Sin 2
, there's
Let There Be Tooltips!
, which adds tooltips to more than 500 interactive objects. Hailed as 
one of the best mods
by Kotaku, the mod has more than 150K subscribers on the Steam Workshop, accounting for 54% of my total subs.
The mod debuted at #3 in Most Subscribed and remains in the Top 10 with a 99% Positive rating. Let There Be Tooltips! was also featured by 
GameStar
, 
Game Watcher
, and 
multiplayer.it
.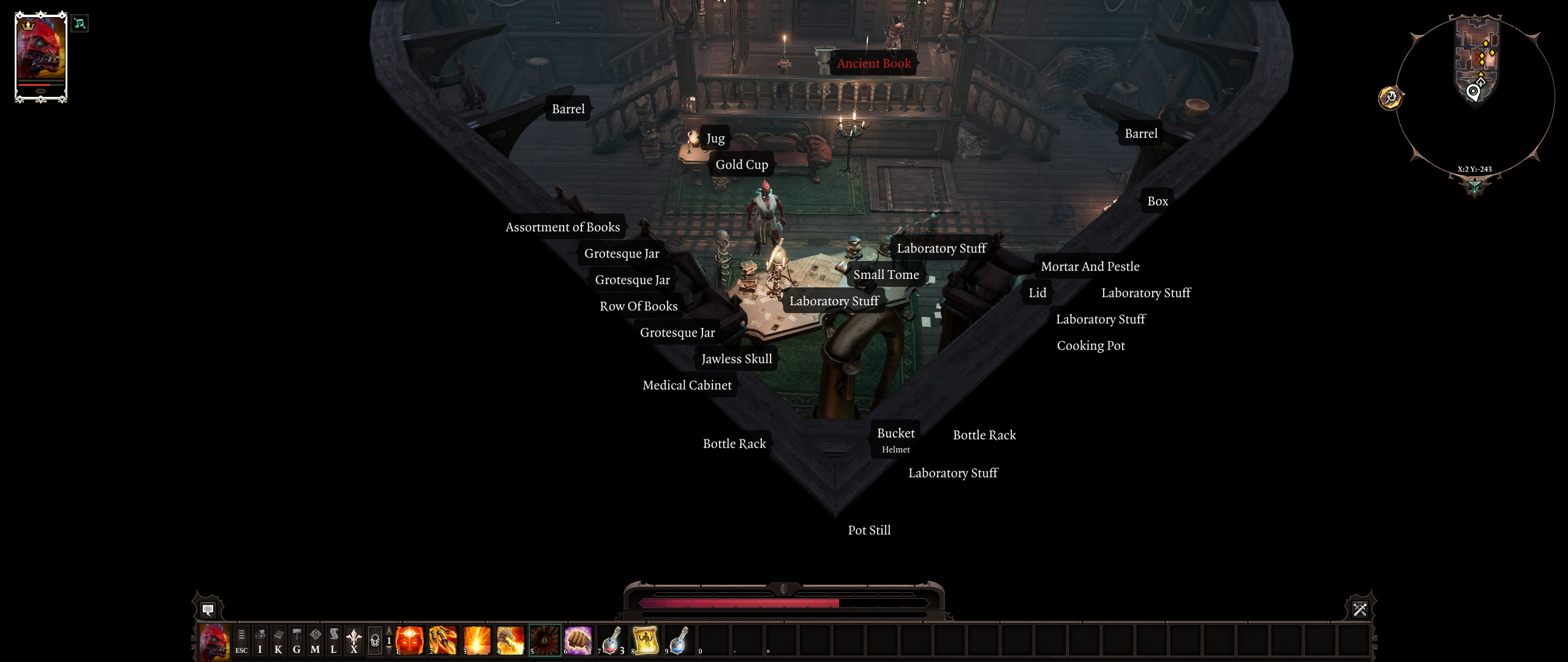 In total, 275K+ players sub to my
Divinity: Original Sin 2
mods.
For 
Kingdom Come: Deliverance
,
Lockpicking Overhaul
enables players to fairly avoid the minigame. The mod has been #1 in Gameplay on the Nexus since its debut. It was featured by 
Kotaku
, 
Game Revolution
, 
US Gamer
, 
SegmentNext
, 
Game Watcher
, 
Twinfinite
, 
Eurogamer
, and more!
What else have you done?
I don't just create mods; I create modding tools, too. Here's a few:
What will I get out of my patronage?
Each tier offers two kinds of rewards.
Core rewards
will be granted as soon as possible.
Goal-based rewards
require more work and time to prepare, so they will be granted when their respective goals are reached. More goal-based rewards may be added later.
Terms of Patronage
By becoming a patron, you agree, understand, or acknowledge that:
You are not purchasing mods and I am not selling mods.
I cannot grant mod or feature requests in exchange for your patronage.
I can accept requests for original software tools written in C#, Python, or Delphi.
All mods I create will be available online for free. Source code for tools will be available with or without an open source license on a case-by-case basis. 
Can I just donate once?
You can! You can 
send a PayPal Donation
through the Nexus. Unfortunately, I cannot offer Patreon benefits to PayPal donors, but you'll have my sincerest thanks regardless.
Leaderboard
A big, heartfelt thank you to everyone who has ever downloaded and endorsed my mods. Your support means the world to me!
Patreon (Lifetime)
PayPal ($5+)
$250.00 - Anonymous
$50.00 - Anonymous
$74.00 - Nexus Mods
$40.00 - Anonymous
$40.00 - Anonymous
$30.00 - Anonymous
$25.00 - Scrivener07
$20.00 - Anonymous
$20.00 - Anonymous
$10.00 - MJ Greene
$10.00 - Anonymous
$10.00 - Anonymous
$10.00 - Anonymous
$10.00 - Anonymous
$10.00 - Anonymous
$6.00 - Anonymous (via Ko-fi)
$5.00 - JebusGobson
$5.00 - Millia33
$5.00 - Tyler L.
$5.00 - Anonymous
$5.00 - Anonymous
$5.00 - Anonymous
$5.00 - Anonymous
$5.00 - Anonymous
$5.00 - Anonymous
$5.00 - Anonymous
$5.00 - Anonymous
$5.00 - Anonymous
$5.00 - Anonymous
COMMUNITY I
I'll create a community website for all patrons where you'll find all my mods, tools, and scripts, in addition to an issue tracker.
1 of 6
Recent posts by fireundubh