FishFlavored
is creating Thicc Waifus and Fat Fish Girls
Select a membership level
Candy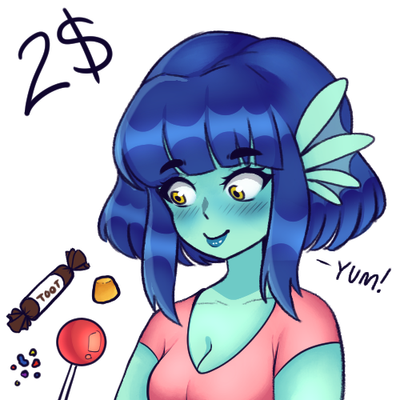 Give Fish some candy! So sweet!


+You get to see all works before I post to Twitter or DeviantArt (spoilers, you get spoilers)

+You get access to basic Patreon restricted content
(suggestive themes, and nude art involving nipples but not lower regions)

+And you get to vote on polls of what I'll draw exclusively for Patreon monthly (once 50 patrons goal is reached)

Happy Meal
Buy Fish a delicious meal! Very satisfying!


 You get to see all works before I post to Twitter or Deviantart (spoilers, you get spoilers) 
 
+You get access to extreme Patreon restricted content (Nsfw regarding sexual activities and genitals) if/when I make it.

+You get to add your own ideas on polls for what I should draw next, so the regular ol' fish can vote for your idea! (When Patreon exclusive drawings come)

+You get access to all my secret, shameful, or unfinished drawings/doodles that I would otherwise NEVER post.

+You get any tutorials, speedpaints or gifs/animations/jiggles I make

Thank you!!! Feel free to join my discord!!
Dinner Feast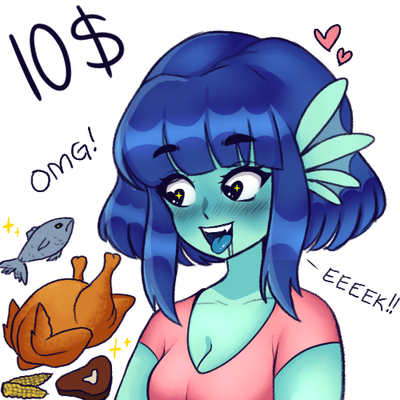 Make Fish a GIANT home-cooked meal! She's gonna be so stuffed!


+ You get EVERYTHING the lower tiers get, of course

+You get 10% off a commission by Fish

+You get a personalized thank you Message every month from me <3

This is basically a mid-tier tip jar for anyone who wants to support me just a little bit more, I really really appreciate it.

Thank you!!! And feel free to join my discord!!
About
Hello! My name is Fish and I draw chubbies. I absolutely love making pictures that I know my fans enjoy, because then it brings me joy too! But it's 2020 and Minimum wage jobs aren't reliable income for rent, food, and other necessities (Not to mention all this Covid-19 havoc). All the money I make from Patreon helps keep me afloat so that I don't have to overwork myself, thus giving me extra time to draw, which is, of course, my passion.
On top of helping me to have more time to create for you, there are also some Patreon perks! All tiers get to see regular art as soon as it's finished, as well as any NSFW parts that I censor for DeviantArt. Higher tiers also get doodles that I wouldn't normally share, any gifs, videos or animations, and any extreme NSFW drawings, should I make them.
Once I hit 50 patrons I will start monthly Patreon exclusive drawings that will rely on the polls I make here on Patreon, where the higher tiers can add ideas and the lowest tier can vote!
Commission me at
[email protected]
or Note me on DeviantArt
I start posting weekly Patreon exclusive drawings as well as public drawings (two a week!)
2 of 2
By becoming a patron, you'll instantly unlock access to 258 exclusive posts
By becoming a patron, you'll instantly unlock access to 258 exclusive posts
Recent posts by FishFlavored