Declan Murphy
is creating Flight Club
Select a membership level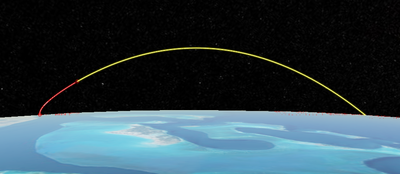 Suborbital Patron
Pledge $1 and gain access to my patron-only feed and exclusive Discord chat! You will receive access to any posts I share with your pledge tier. 

Low Earth Orbit (LEO) Patron
In the case of SpaceX missions, you will also have access to view the webcast data alongside a simulation result to be able to compare your work with how the mission went in real life!

LEO Patrons also get access to all lower tier rewards.
Medium Earth Orbit (MEO) Patron
Pledge $5 and get elevated privileges on Flight Club! You can create more complex missions by running simulations over up to 16 orbits instead of just 1. You can also customise simpler mission details such as name, date and time (day time launches are prettier!). Finally, you can save your progress on multiple simulations concurrently to revisit whenever you want

MEO Patrons also get access to all lower tier rewards.
About Declan Murphy
Dia dhaoibh, a chairde!
My name is Declan, and I am the creator of
Flight Club
! If you've made it this far, then you've probably already used the app. So thank you and I hope you like it :)
I've been building Flight Club since 2014 in my own spare time. Initially, it served the purpose of helping me to gain proficiency in various technologies, programming languages, frameworks and to familiarise myself with orbital dynamics, while simultaneously helping online communities visualise different launch and landing trajectories.
Since then, Flight Club has grown into a sophisticated web application being used by thousands of people around the world for visualisations, simulations & mission planning, launch vehicle design, trajectory predictions of upcoming missions, and is even appearing in the mainstream media through outlets such as
The Economist
,
The Washington Post
, and
USA Today
.
In early 2019, I quit my day job and I moved to a location with a significantly lower cost of living so that I could work full time on Flight Club and live entirely off of what I earn on Patreon. Now that I have more time to dedicate to this project, expect to see:
Automated Design of Flight Profiles
Continued Improvements to the Photographer's Toolkit
Earth-Moon and Earth-Mars systems
Cross-platform Mobile Apps
Augmented Reality for Viewing Trajectories
Additionally some tiers will unlock features for you in the app itself, such as the ability to save missions you're working on, access to the Photographer's Toolkit, or more compute power to run simulations longer than just 1 orbit.
I really need your help to continue to make this happen. I am pouring my soul into this project and my soul and I will be eternally grateful if you are to support me and support Flight Club on this journey of development.
Thank you, and happy simulating :)
I can work on Flight Club full time in a lower income part of the world! I have moved to Mexico for the time being so that I can do exactly this :)

4 of 4
Recent posts by Declan Murphy