"Symbols belong to everyone."
Thank you
for joining us at
Fortune's Wheelhouse
,
a free podcast about esoterics and the tarot
!  You can find our show on 
iTunes
, 
Google Play
, 
Stitcher
, 
Podbean
, or wherever you download podcasts.  Episodes are released on Wednesdays here on Patreon for our subscribers, and on Thursdays to the general public. At our 
RedBubble store
, you can find Fortune's Wheelhouse T-shirts, tote bags, mugs, stickers, and lots more - perfect gifts for yourself or your favorite esoteric tarot nerd.
We are taking a journey through the mysteries of the tarot, its symbolism and lore, starting with the imagery of the 22 major arcana.  Whether you've been reading tarot for decades or you just picked up your first Rider-Waite-Smith deck last week, we hope you'll join us.  Why does the Empress wear a crown of 12 stars?  Why is the Thoth deck's Hierophant sitting on a giant bull? Symbols belong to everybody, but they don't explain themselves!  We'll do our best to unpack and decode what you see on the card, so you can deepen your own interpretations and develop your fluency as a reader.
If you are new to tarot or esoterics, you'll hear a lot of terms that may sound unfamiliar - "Tree of Life,"  "sephiroth,"  "color scales", "Orphic egg", "Kether".  You can find explanatory posts, definitions, and glossaries here, much of it free and all of it available to subscribers.  It's one-stop shopping for your tarot education!
Patreon is a way for you to have a DIY subscription to your favorite shows and creators.  Yes, our podcast is free and always will be.  But...want to learn more, much more, about esoterics and the tarot? Interested in exclusive Fortune's Wheelhouse benefits and features?  
Become our patron!
  Patreon lets you participate at whatever level you choose, starting at a dollar per episode.  With each level you gain access to added site features and benefits, and the higher levels are entered in our giveaways. What do we have for our giveaways, you ask? So glad you asked!
tarot decks
tarot cases
tarot art prints
tarot books
esoteric perfumes...and more!
Once we reach a certain level of sponsorship, we will commit to continuing beyond the 22 major arcana and working our magic on all 78 cards.  You want us to! We want us to! What better reason to become part of the Fortune's Wheelhouse community!
Fortune's Wheelhouse is the brainchild of Sagittarian
Mel Meleen
and Virgo
Susie Chang.
Fortune's Wheelhouse, the name, combines the tarot card for Jupiter,  the ruler of Sagittarius (
Wheel of Fortune
) with the Hebrew letter for Mercury, the ruler of Virgo (
Beth
, meaning house). The astrological chart for our launch has the rising degree with the Sabian symbol "Two heads looking out and beyond the shadows." Perfect for two tarot nerds unpacking a whole lot of esoteric symbolism!
Susie
 picked up her first tarot deck in 1996 because she was "just curious," little realizing she was embarking on the journey of a lifetime.  In the years between then and now she has held down legitimate work as a book editor, sustainability advocate, cookbook reviewer, author, and writing teacher - all the while keeping her ongoing tarot activity tucked neatly in the closet.  A couple of years ago the closet door burst open, unleashing a veritable tsunami of tarot.  She now reads tarot weekly at the Inspirit Crystals shop in Northampton, teaches occasional tarot classes, sells hand-sewn tarot cases and esoteric perfumes at her 
Etsy shop, Tarotista
, and is writing a book on tarot correspondences for Llewellyn (due out in Fall 2018).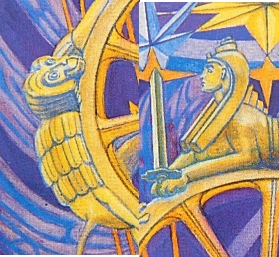 Mel
considers herself an "astral surfer", more of a mystic than a scholar; the inside of your head is bigger than you think and wormholes are
everywhere
! Hamlet sums it up well: "I could be bounded in a nutshell, and consider myself a King of infinite space." She developed an interest in all things esoteric at a very young age and once she discovered Crowley's vast universe of writings everything changed. For they are like tube torus or Mobius: infinite and ever revolving, and each time through a new passage can open up all sorts of possibilities. A lifetime isn't enough! Mel has created two tarot decks and two tarot guidebooks. The
Rosetta Tarot
and
Book of Seshet
were first attempts, but along the way things expanded so drastically that she had to do it again as suddenly there was so much more to say. Thus the
Tabula Mundi Tarot
and
Book M:Liber Mundi
were created to share her new perspective. With that revolution of the wheel things expanded again and
that
wasn't enough; she is now happily at work on a new tarot as the tree flowers again. To learn more about tarot works past present and future, visit her blog 
www.tabulamundi.com
. Or check out her decks and books as apps: The apps include the entire book:
Susie and Mel live in western Massachusetts, about 45 minutes away from each other, but knew nothing of each other and their shared fascination with esoterics till 2015, when they were introduced, ironically, by a fellow tarot lover living on the opposite side of the planet.  They now happily babble on for hours about emanations, color scales, and Hermanubis while their spouses, pets, and children flee the environs.