Fountain of Chris
is creating information for people who want to improve our world
Select a membership level
T1 - E pluribus unum
Out of many supporters comes one unshakeable foundation to build upon.  
Patrons at this level receive access to a 120-page PDF document, "Things We Can Learn: Important Information for People Who Want to Improve Our World," with my top 10 notes selected from each of the first 100 books in the Fountain Notes Project. This is the same information I am releasing one-book-at-a-time on my Instagram (@fountainofchris), but it is much easier to refer back to and study from.
E pluribus unum patrons also receive access to the private Fountain of Chris Facebook group where I share relevant posts and articles and where patrons can network with each other. There is also a monthly Q&A YouTube video with patrons being the ones who submit the questions, as well as a special Discord group for Fountain of Chris patrons. I'll be in there often, and there will be a lot of opportunity to connect at a higher level than what will be possible through the private Facebook group.
Thank you for your interest in becoming a part of the Fountain of Chris community and for supporting the improvement and continuation of what I have to offer.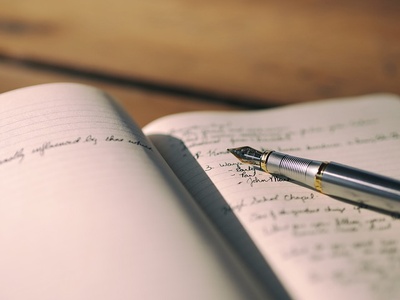 T2 - Calamus gladio fortior
Ludwig von Mises wrote that an idea always prevails over force. If true, then the pen truly is mightier than the sword.
Patrons in this tier receive all the benefits of E pluribus unum
plus access to the complete volumes of notes from each book I cover, as they become available. As of July 2019, the first 19 are done, and I'll aim to release one more each week. While I only share ten of the most important notes from each book on social media, the average book yields about 130 notes, with some in the 20s and others over 400. The documents I create contain only the information from each particular book I feel is important for people who want to help lead our world toward a better future.
Calamus gladio fortior patrons also receive monthly news notes, selected from "The New York Times," "The Wall Street Journal," and "The Washington Post." These notes are selected in the same spirit as the book ones, and average about five pages of notes each month.
The final benefit for supporting at this level is the ability to vote for the final ten books that will be in Volume II of "Things We Can Learn" (due in late 2020). Patrons from Calamus gladio fortior and the higher tiers will get ONE VOTE EACH PER MONTH. These votes can be toward a different book each month or the same one, up until voting closes in July 2020. 
T3 - Illegitimi non carborundum
Especially in times of struggle, don't let the bastards get you down. 
Illegitimi non carborundum patrons (or, if you are a fan of "The Handmaid's Tale," Nolite te bastardes carborundorum patrons) get all the benefits of the first two tiers along with a monthly interview with someone related to the Fountain of Chris theme; such as politicians, bureaucrats, businesspeople, political consultants, diplomats, charity workers, and many more. When possible, the interviews will be available in video, audio, and text formats.
This level is also THE way to get Fountain of Chris merchandise. You'll receive your choice of either a pen or a jar opener when you join this tier, followed by either a mug or a pint glass after six months, and then a t-shirt or a canvas bag after a year of support.
About Fountain of Chris
This information needs to be shared. The nature of time dictates that now, right now, is the best possible time to start making positive changes in our world, and it also dictates that now is immeasurably better than later. These reasons are why I want to keep the vast majority of what I do free of charge. For those of you who feel I've shared something of value through social media, or the "Ten Things We Can Learn" document, or in podcasts or videos and you are able to support the continued creation of this content, that support is sincerely appreciated, and it doubles as a signal to me that I am on the right track. For those of you who would like to see the Fountain of Chris project continue to grow, I have created a series of Patreon levels with accompanying rewards for your patronage, to go along with my profound gratitude. Thank you, and I hope you continue to find value in what I share.
I'll create an audiobook version of "Things We Can Learn" for those of you who prefer listening to reading. This will be available for patrons at all levels.
1 of 9
Recent posts by Fountain of Chris