Foxfeather R. Zenkova
is creating Art & Doing Wildlife Rehabilitation & Conservation Education
Select a membership level
Tip Jar - Thank You Tier
 - Help support my wildlife work, art, and farm! Pitch in towards food for the birds, wildlife rehab supplies, and sponsor education work. Get happy feels every time I do a conservation show, release a new design or post a new picture, knowing you had a part in making it happen! 
-Behind the scenes stories and photos about the animals!
-Access to exclusive pre-release design updates from us, and first purchase options for new original art and projects.
 -A huge thank you for supporting me!
Honorary Flock Member
Help us feed our flock -  This tier helps us buy a half a bag of bird feed (we go through 1-2 a day depending on season), or five frozen mice or one frozen quail for the raptors!
-You get all the benefits as the previous tiers, and my heartfelt gratitude for your support!



Sev-Mail Card / Postcard / Sticker Tier
 - Get a fun surprise card, postcard, or custom-made art sticker in the mail from the farm each month!
-You get all the benefits as the previous tiers, and my heartfelt gratitude for your support! 

About
I'm Foxfeather, and I'm passionate about wildlife education and rehabilitation.  I'm working to develop a program for my local community to help connect people and animals through live shows and events as well as online, especially focused on vultures and raptor conservation. Your patronage allows me to do more of this work, and offer programs for free to schools and community groups where I'm at in southern Minnesota.
One of our education ambassadors, yellow-headed vulture, Sev.
I'm also a beekeeper, falconer, yak-wrangler, and owned-by-emus artist who is making creative things like theater masks, paintings, and totemic jewelry while running a small farm and blogging about it online. You can keep up to date with my adventures on
Twitter
or on my website,
Foxloft Studios
If you've ever wondered what it's like to hatch emu eggs in your living room, bottle feed yak babies, or drive through downtown Chicago at 2 in the morning with a car full of pigs, my blog is probably for you. :)  Also, lots of cool animal art.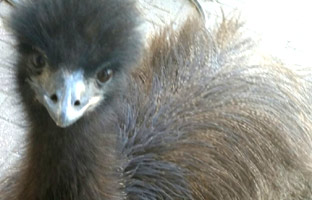 I'm a part-time-farmer and animal caretaker for the love of it, but my day job is creating art. For almost 20 years, I have been making animal totem glyph designs and compiling an extensive online encyclopedia of their unique symbolism. I have now a collection of over 130 designs and want to keep adding to this growing list with new designs and new totemic information!
See a list of all our current totems here!
With your help, I can expand my offerings and will be creating at least one new animal glyph design each month, along with its symbolic information!  The more support I receive, the more time I can dedicate to creating new designs and expanding the current species information write-ups.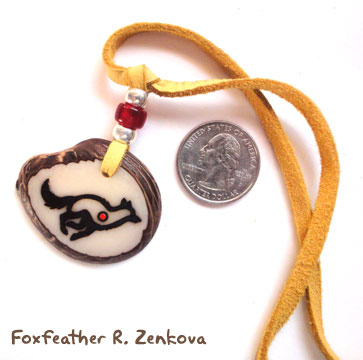 I also focus on wildlife and animal artwork, primarily in watercolor. The series I am best known for are my 'Animal Stack' and 'Yin-Yang' designs.  Patronage of my art allows me to expand these series with new species and dog breeds!
How Does Patreon Work?

Please think of this as a tip-jar. If you enjoy my work, have found my animal symbolism useful, laughed at my crazy emu videos, or just want to help keep me making new designs, this is a way to show your appreciation and get a lot of mine! :)
You can have a direct impact on the creation of new art, growing the farm, and sharing photos!
Patreon offers the ability to become a patron of the arts and support work that you love (and the artists who make it!). By pledging even just $1 a month you can help keep me making new artwork, spreading the word about conservation, and sustainable farming - with additional benefits listed below!
Being a patron gets you access to exclusive work-in-progress artwork and behind the scenes with the animals!
I  share lots of stories about what it's like to be a falconer, work with and raise raptors, educational ambassador animals, and critters around the farm. I'm sharing what it's like to develop shows and programs, care for the outreach animals, and work in wildlife rehabilitation. If you've ever been curious about this work, you're in the right place!
If you'd like to see how my glyph designs are created, from concept to final design, all levels of patronage offer the chance to see my progress artwork, including sketches and process art as well as a sneak peak at the designs I'll be working on before anyone else knows.
Thank you so much for considering backing my work! I can't tell you how much it means to me all the support I've gotten from so many amazing people who have helped me to make a career out of doing what I'm passionate about! Thank you for being a part of it!
Do wildlife education and rehabilitation part-time!
This goal would allow me to greatly increase my time spent doing wildlife education and rehabilitation (which is unpaid and done completely as volunteer work to help animals in need). It would also help us expand our native prairie restoration projects, accelerate reseeding the pastures with sustainable grasses, fix/restore our historic early 1900s barn, and work towards raising all our own feeds for the farm.

3 of 5
Become a patron to
Unlock 42 exclusive posts
Connect via private message
Recent posts by Foxfeather R. Zenkova