Frameable Faces
is creating videos, podcasts, tutorials on photography, social media, & life
Select a membership level
Private Periscope Crew!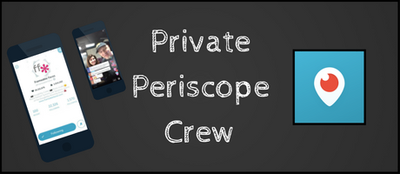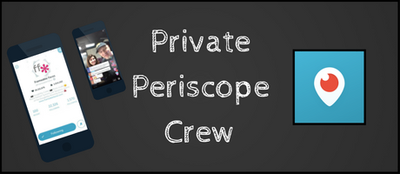 NEW
(as of
6-7-18
)!!!  We have reduced the price from $3 to
TWO DOLLARS
per month with
MORE STUFF
to be added to Doug & Ally's privates!  Wait.... that sounded bad.  Let us explain....  Having a private Periscope group allows us to go live with just our Patrons - it's been fun!  We do it at some random times with no trolls, superhearts, bots, or pressure - just more intimate hangouts or quickies when we feel like it with our peeps!  And now we might even do it as #JustAlly or #JustDoug once in a while from our personal accounts to have specific chats on music, history, sports, being a parent or whatever.  We'll still do privates together as FF but it might be fun to cover a topic
outside
of our brand that we're passionate about once in a while.    
If you don't know what Periscope is, it's a live streaming app owned by twitter.  You can download the app here: http://pscp.tv/frameablefaces.  It's really an amazing app where you can literally see the world and meet people right from your smartphone in ways you wouldn't believe!  We highly recommend you sign up for the service with your twitter profile - if you don't have a twitter profile we suggest you make one and use it to sign into Periscope.
***For those already following us on Periscope this private group will NOT be used for any broadcasts to replace our public broadcasts such as the Doug & Ally Morning show, cooking scopes etc.  You will not be forced to subscribe to avoid missing anything you've always had access to.  Same rules apply - no drama or politics!
Podcast Crew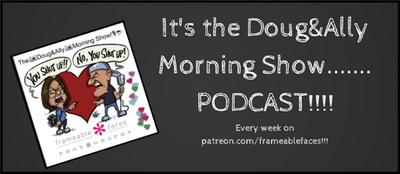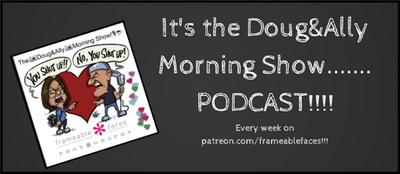 Here is where you'll find our (that would be Doug & Ally) archived podcasts we did just for Patreon, but now we have ALSO rebooted the podcast for everyone at anchor.fm/frameablefaces!  You can also get it at Spotify and it's FREE!  We are still very appreciative to the peeps who choose to support it here and we will give shoutouts to those who do on the podcasts!  More to come on this...  
Topics can include anything in the Frameable Faces world, social media, photography, recaps of happenings in the community on Periscope and elsewhere, stories of mall drama (always very entertaining), special guests perhaps - whatever comes to mind!  Oh - and we'll mail you a 
📷 Doug&Ally 📷 Morning Show!🎙☕️  bookmark for signing up (to most countries)!  You'll also get access to the $2 level Private Periscope group! 
Octosquad 🐙 Podcast + Tutorials + Fresh Takes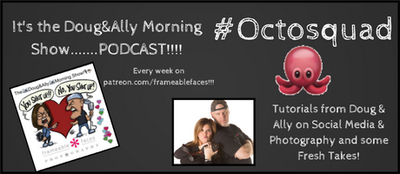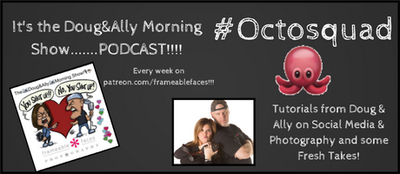 The "Octosquad" is a thing on the Doug & Ally Morning Show on Periscope - anyone can be a part of it there.  Here on Patreon it means you get the podcast AND in-depth tutorials & fresh takes from Doug on something social media / small biz related and tutorials from Ally on something Photography related as well as "Photoshop Edits With Ally".  Tips, tricks & opinions from both of us that you can use for either or both interests whether in your personal life or your own small business or photography studio!  Oh - and we'll mail you a bookmark AND a handwritten thank you note!  You'll also get everything that's included in the lower levels!
About Frameable Faces
THANK YOU for checking out the Frameable Faces Patreon Page!!!  We are Doug & Ally Cohen and we own and operate Frameable Faces Photography - an independent mom & pop studio in West Bloomfield, Michigan in the USA.  We have been livestreaming from our studio since March 2015 and we've been in this location for almost 10 years!  Ally is the photographer and Doug is the marketing guy, and our strategies have been featured on Social Media Examiner, SmallBizTrends and The Huffington Post.  We have been featured panelists at Summit Live and Podcast Movement and we have trended on Periscope where we are Silver VIP Superbroadcasters with over 22,000 followers worldwide!
In addition to our fun story in general and the rewards you see outlined here, we have an in-depth blog post at our website that outlines the 
5 Reasons You Should Totally Join Our Patreon Page!
  Click this link:  
http://www.frameablefaces.com/2018-06-14-5-totally-legit-reasons-patreon-page/
We have an amazing community that really gives us life, and we have a zany time that often goes off the rails on our 
Doug & Ally Morning Show on Periscope
T-F (& sometimes Sat) sometime between 8:30-11 AM EST.  But even when it goes off the rails the ground rules of positive vibes and NO politics always applies.  We share our lives and our knowledge and there have been many requests for a platform where we can be more focused with training and helping people with their own photography, social media approach for their own small business and entrepreneurial endeavors.  It's hard to accomplish that with the freewheeling live setting with a wide open audience on Periscope and a dedicated platform with a subscription service would allow us to prepare some content with real value for folks in a sustainable way.  A win win for everyone!
So we're resetting this - This is our first goal upon the launch of our Patreon page and we are pretty close!  Our goals for you - for the community - are high, but in the meantime you gotta start somewhere.  :-)  These goals and what we do here are really just tied together - hitting these goals will make creating Patreon-specific content sustainable and allow us to spend more time GIVING back to you guys!
1 of 1
Become a patron to
Unlock 66 exclusive posts
Connect via private message
Recent posts by Frameable Faces
How it works
Get started in 2 minutes