Freedom Farm Sanctuary
is creating peace through education
Select a membership level
Help pay for Nir's prosthetic leg!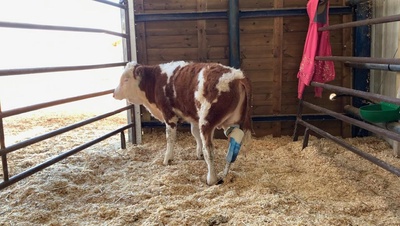 Please welcome Nir, our newest Freedom Farm Sanctuary member and the first cow in Israel with a prosthetic leg! He arrived to us two days ago, after months of work to get him to us, where he will live his life with compassion and respect. We had a very successful campaign where we raised $19,000 to cover his first year of medical expenses and prosthetics. Because he will grow very fast he will need a new prosthetic every few months. After our prosthetic expert came today, we learned that he will grow much faster and bigger than we had originally planned for and so his monthly expenses will be higher. Which is where you come in! Please consider a monthly donation to our Patreon account that will go directly to covering the cost of making him a new prosthetic leg every time he outgrows his! How cool is that? It's one of the most meaningful fundraisers we've ever done where each person can have a huge impact on the health and independence of a rescued animal! 
About


Freedom Farm Sanctuary is a first-of-its-kind educational center and our target is to be a place to reconnect between people and animals that were rescued from the food industry. We believe that knowledge is power so we are giving an example of a way of living that can be possible when we live with compassion and sensitivity towards all creatures. We believe that everyone has a willingness and a right to live in harmony, in peace, and with compassion and we help people to find this path through a very powerful experience. We believe that everyone has a very warm heart with a lot of compassion but that it's covered in layers, from habits to cultural norms and traditions, and Freedom Farm allows people to shed these layers and live a peaceful lifestyle. Far from the eye is far from the heart so we allow people to meet these special animals when they are healthy and happy and this enables us to open our hearts towards them.

We believe that a great example of our impact in our community is with our educational programs that bring children to interact with our rescue animals. When a child learns to be compassionate towards an animal that doesn't look like him, doesn't speak the same way, and doesn't walk like him, including interacting with our many animals with disabilities, that same child will return to school and treat another child who is different in some way with respect instead of bullying this other child because of their differences. We feel that our farm is a milestone in helping to make our society more patient, less violent, and more respectful. We believe that the truly magical experience of visiting Freedom Farm creates a better society.

We have over half a million followers on social media, thousands of committed volunteers, and huge goals of bringing as many people: youth, disabled, seniors, Palestinian, and everyone who wants to experience true freedom. But first we need to build our education center and that's where we hope Patreon will help us to achieve this life-changing, community-building project! With this education center, Freedom Farm will be able to host elementary school's field trips and let children who have never seen a pig feed Yosi and Omri and learn about Gary the sheep and his disability, so that they will go back to school beaming with compassion for their peers. This education center will allow us to start our peace project between Jewish and Palestinian youth, to help show our next generation that just like their new animal friends, we are not so different when we get to know each other and can live together with respect and in harmony. There are many, many projects that we have developed and are just waiting for this educational center to make real change happen in our community. We need to build the education center so that we are able to invite bigger groups, build a lecture and workshop room, screen documentaries, and have the space to grow more freedom - for animals and in people's minds and hearts.

The most powerful way you can help is by supporting us monthly with a $3 donation… it may feel like a small amount but it truly adds up to make a big impact on the work we do: buying our pigs Omri & Yosi veggies, getting hay for Eden and all our cows, continuing to build our educational programs, and bringing more people to our farm to show others the compassionate lifestyle that we believe is life-changing and the path for a better planet.
Recent posts by Freedom Farm Sanctuary