FreePrintable.net
printable documents & templates
Select a membership level
Every little bit helps, and provides inspiration for me to keep creating exciting new printables.
Ad Blocker Guilt Absolution!
Do you use an ad blocker to visit my sites? Do you feel just a little guilty about that? At this level, you may use your ad blocker on my printables sites 100% guilt-free.
A bit of adult beverage can help grease the gears of inspiration for new printable things. At this pledge level, Kevin will enjoy a monthly beer thanks to you.
About FreePrintable.net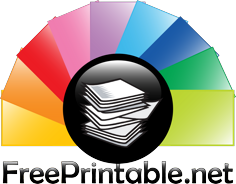 FreePrintable.net has been serving up awesome printable files since 2005. From calendars and medical forms to stationery and coloring pages, the family of 100+ sites now has more than 54,000 printables for home, school, and business. There's a free option for each item, and everything can be instantly downloaded and printed on your inkjet or laser printer.
My commitment to beautiful printables that cannot be found elsewhere is why there have been millions of downloads and thousands subscribe to the free weekly newsletter that highlights the latest stuff and also gives an inside look at the intermittently fascinating life of a guy (me, Kevin Savetz) who loves his family, spoils his pets, is a lifelong computer nerd, and digs working on printables from his home office in Portland, Oregon.
But enough talking about me in the third person. I am honestly so proud of the forms, charts, papers, activities, holiday designs, and so much more that I've been able to provide, thanks largely to fans spreading the word as well as sending in their ideas for new printables. In the course of a decade, FreePrintable.net has saved school teachers money, spared businesses cash, and kept kids entertained. Even if it's just the desperate need for graph or lined paper to finish an assignment in the middle of the night, FreePrintable.net has been there for you. And to think it all started with a handful of business cards, certificates, and coloring pages. 
Many FreePrintable.net users have asked over the years if there's anything more they can do to express appreciation for these time- and money-saving printables. Lots of you have emailed to tell me how a letter template got you out of a jam or a kid's printable activity saved your sanity on a long car ride. Folks have even asked outright why I hadn't yet offered a Patreon pledge option. This campaign is for you, the die-hard printables lovers!
Support FreePrintable.net!
The 54,000-plus printables are all absolutely unique to FreePrintable.net, designed from scratch. But it takes time and skill to create them and money to host and serve them up. Fortunately, the premium content, along with ads on the sites, currently offsets the cost of making the free printables available. But with the rise of ad-blocking software, revenue isn't where it needs to be to grow the sites. I may have to scale back on the number of new printables I add in the future. This bums me out.
I promise that I will continue to provide the free versions of everything that's available now at the FreePrintable.net sites. Even my sites where there's a premium upgrade to an editable DOC, XLS, or other customizable file offer PDF or PNG versions for free. That won't change!
What your support does is offer MORE awesomeness, MORE variety, MORE fun and functional printables. Each dollar you pledge will go directly toward creating fresh, sweet printable goodness that anyone can download and print for free. If you've used and enjoyed a printable, or you've gotten a kick out of one of my goofy pet stories or other personal anecdotes in the weekly newsletter intro, here's a way to let me know you're not just a FreePrintable.net fan, you're a dedicated FreePrintable.net patron.
What Do You Get?
It depends on the level at which you choose to support FreePrintable.net! You can get one or more of these benefits:
* Ad Blocker Guilt Absolution!
* The first look at unreleased printables!
* Exclusive access to thousands of educational worksheets and the custom worksheet generator at InstantWorksheets.net!
* Your name on FreePrintable.net as a supporter!
* Your school or organization's name on the main site with (if appropriate) a link
* Any FreePrintable.net products you want: coloring books, printables collections, and more!
Your support will let me focus on the creation of excellent designs, useful forms, and all kinds of great printables. More, more, MORE than I've ever offered before.
Thanks so much and happy printing!
By becoming a patron, you'll instantly unlock access to 9 exclusive posts
By becoming a patron, you'll instantly unlock access to 9 exclusive posts
Recent posts by FreePrintable.net