Frisson Comics
is creating Horror comics and zines
Select a membership level
A show of support- Digital Subscription
For $1 you're showing supporting us doing what we love, thank you! 
At this tier you'll have access to previews for future comics, as well as PDFs of our horror zine as it comes out!
Knock Knock Subscription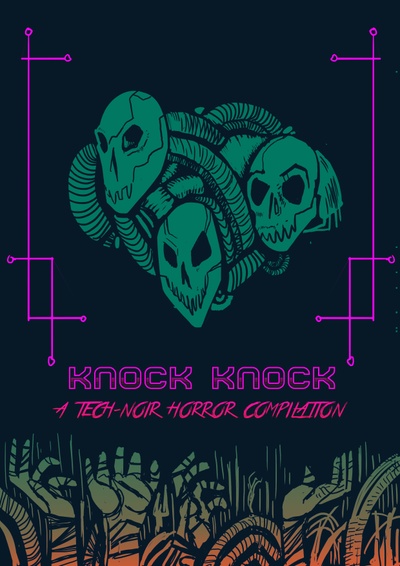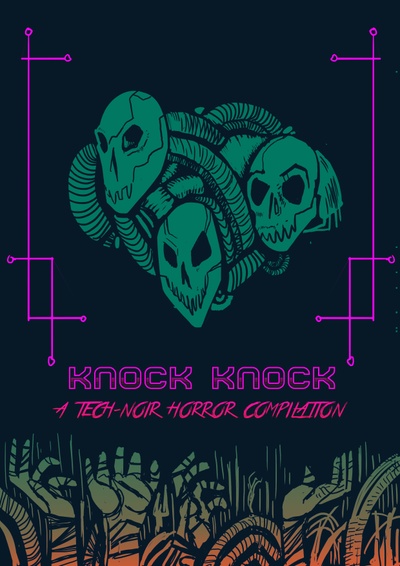 For $2 you'll get a subscription to Knock Knock- A Horror Compilation!
Every time we produce a zine (every 6 months) we'll send it straight to your door plus a PDF copy of the zine to keep! 

Knock Knock Subscription + Art
For $3 you'll get a subscription to Knock Knock- A Horror Compilation plus you'll also get a limited edition poster with the zine!
Every time we produce a zine (Every 6 months) we'll send it straight to your door plus a PDF copy of the zine to keep! 

About Frisson Comics
Knock Knock horror zine subscriptions!Note- All patreons from issue 12 on wards will have their name as a thank you in the finished horror zine!Tier 1- Show of support digital subscription$1 a month 
For this tier, you receive a digital copy of our quarterly zine as it's completed before anyone else does, as well as this your name will be included in the Patreon thank you section in the the finished zine! 

Tier 2- Physical Knock Knock subscription 
$2 a month  
For this tier you'll receive a physical issue of Knock Knock, straight off the presses as it's produced (every 6 months), You'll also receive all the rewards of the above tier! Keep in mind that this subscription also includes your postage and packing :) 

Tier 3- Physical Knock Knock subscription + Art 
$3 a month
As with the $2 tier, you'll receive a physical copy of Knock Knock every 6 months as published, plus you'll also get an exclusive Knock Knock poster included for that particular issue! You'll also receive all the rewards of tier 1. 
Tier 4- Graveyard Buddies

$5 a month
For this tier you get all the rewards from the previous tiers, plus you get associated merchandise that comes with the zine for example badges or stickers (this will vary per issue). 
You will also get your place in the Frisson Comics graveyard in the banner! Katie will design you your own personal grave (plus a copy that you can use as a profile picture if you like), you can choose what decorations/style you would like your grave as well as what name you'd like on the stone plus a quote if desired. You can see our graveyard on the banner of our page!
Who are we?
Frisson Comics is a horror label based in Liverpool, Co-founded by Thomas Smith and Katie Whittle in 2016. We're both massive fans of all things horror as you might imagine people who start a horror label to be, but it was only when we started creating together that we realised we were producing unique work and that there was a niche in the market for the work we create.
Well..What do we create?
Good question, currently Frisson Comics specialise in producing usually horror comics that usually ask a moral question or at least explore ethics, philosophy or the world around us. Our first graphic novel was 'Take Only Photographs, Leave Only Footprints' (2016) a tale that explored human influence on the natural world around us and involved barnacles. Our second work together was 'The Trade' (2017) our take on a traditional vampire story that followed the story of someone who was trying to be a good person but put into a circumstance that disrupted their ethical code (we're proud to say that this comic was included in Bleeding Cool's top indie comics of 2017) 
Since then we've worked on various projects that have been successfully crowdfunded including: 
Foxglove Woods
Call of the Copse
Blue Collars 
As well as our stories that we've been producing, we've also been regularly producing horror zines since 2016.  
Our Zines
As was written earlier, we've been producing horror zines quarterly since 2016. As it stands we've always managed to put out 4 zines a year, each between 40-64 pages in length and featuring a wealth of talented artists, comic makers and writers. When we first started publishing the zines we just had a general call for entries for horror content, after the first year or so we started curating the books so they have a running theme throughout. We also decided we wanted the zines to have a slightly more polished theme so we stopped hand printing ourselves and started printing through a printer. 
All people whose work is featured in our zine receive a PDF of the finished product that they can print and sell themselves, if they wish. We wanted to create a project that supported other creators, as well as introducing readers to artists who they could follow that wouldn't necessarily attend comic conventions.
 Each time we produce a zine, the PDF for the previous issue is put on our website to read free of charge, you can catch up with previous editions of Knock Knock 
here
. We also showcase some of our submissions on our 
Tumblr!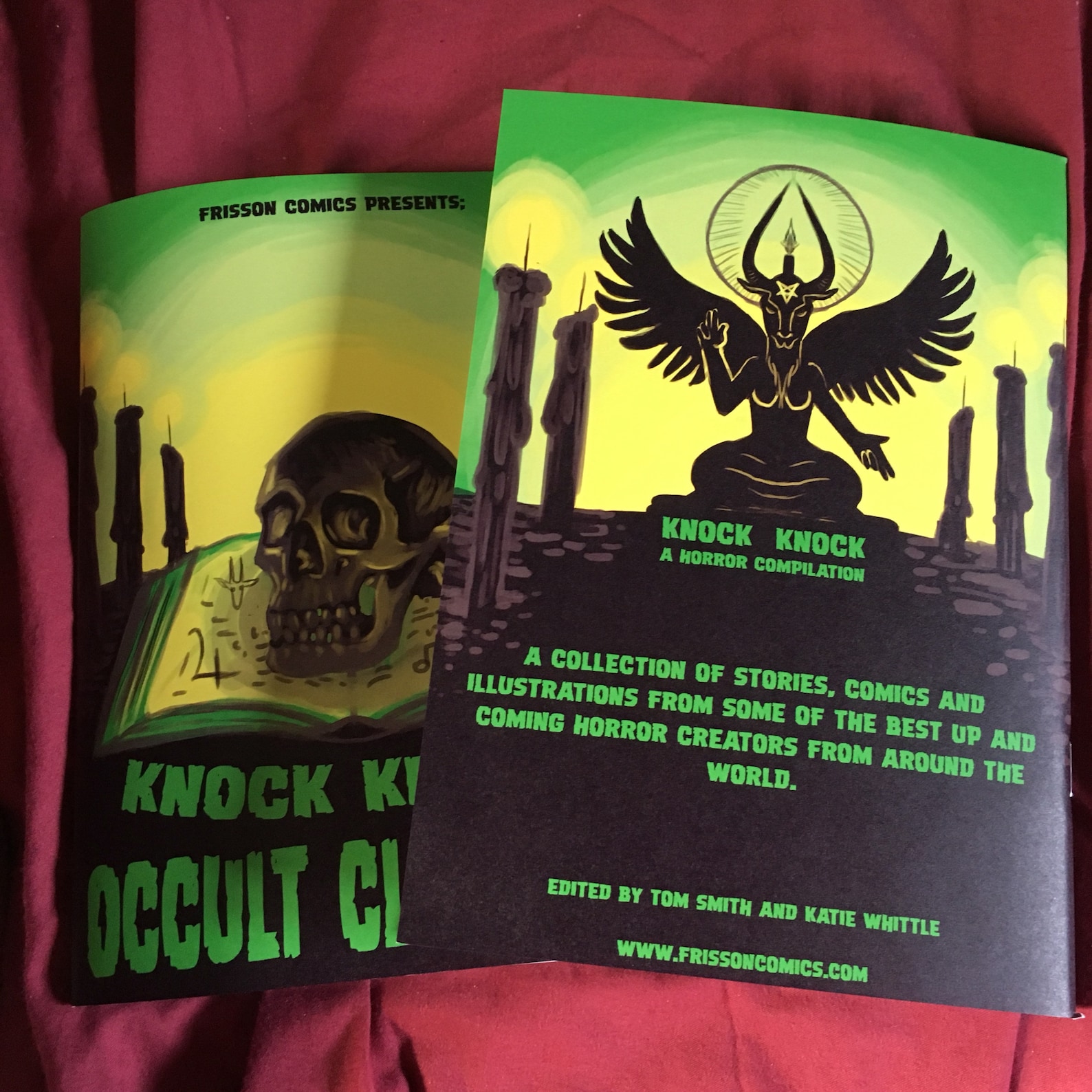 So, why Patreon?
We set up a Patreon account for several reasons, firstly because it seemed like the most sensible way to set up a subscription service that allowed our regular readers a way to receive the new issues as they're created without individually buying copies every time. 
Secondly, because the demand for our zines at conventions has increased so much between 2018 and now we've have to increase print quantities. This upfront cost is fairly expensive, so  any fraction of help towards this when it comes to print is extremely helpful! 
Third and most obvious reason, we really would like our work and our contributors work to reach a new audience. 

We'd like to thank everyone who has supported us thus far, even if its just been a word of encouragement at conventions or online, it means the world to us and it's because of you guys that we keep creating!
Goal - $45  
3 months of $45 combined covers our print costs for our first run of each issue. If we reached that goal it would relieve a large part of the burden of printing our zines. If we exceed that goal we can look into cooler binding methods such as perfect bound, we could look at more interesting paper stocks as well as limited covers for Patreon subscribers. 


1 of 1
By becoming a patron, you'll instantly unlock access to 41 exclusive posts
By becoming a patron, you'll instantly unlock access to 41 exclusive posts
Recent posts by Frisson Comics
How it works
Get started in 2 minutes